National Ice Skating Rink Will Soon Vanish!
News
February 25, 2009 04:05 PM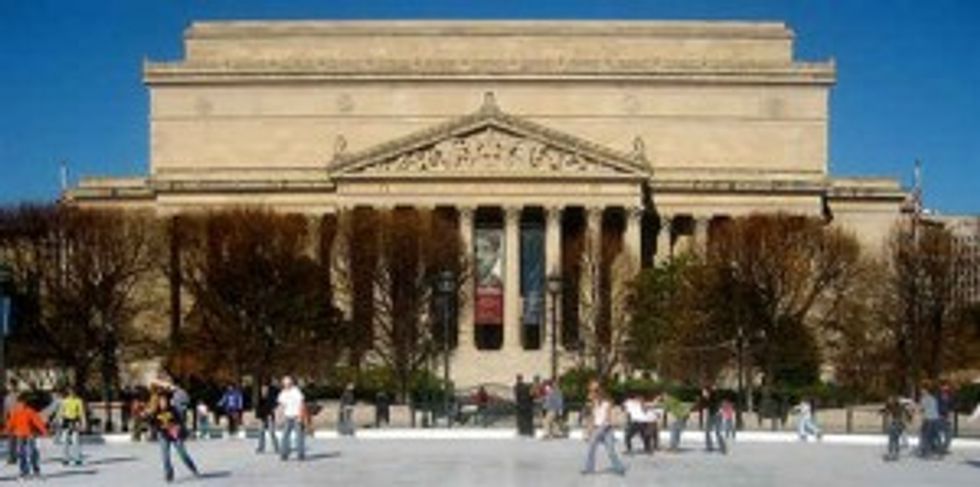 It's still uncomfortably cold outside, but theNational Gallery of Art Ice Skating Rink is nearing the end of its 2008-09 season. Don't miss out again!
---
If you're anything like your Intern the Third, it's usually July before you realize you failed to take advantage of one of the less erudite exhibits the Smithsonian has to offer. No more excuses! Make this the year you finally go, for change.
For just a few more weeks, the huge fountain in the middle of the National Sculpture Garden will magically remain an ice skating rink, proving Global Warming is a liberal hoax.
But the ice! You can slip and slide over the pond to your youthful heart's content. The rink is open until 9PM during the week, and 11PM on the weekend; two hours of skating costs $7, and skate rental costs $3. There's even hot chocolate adorably available for purchase at the Pavilion Cafe next to the rink. Alcohol is also for sale, for the adventurous.
For those that have no idea how to ice skate, with or without alcohol, Things to To Do DC is offering lessons this Thursday at 7PM. A $38 cover includes the lessons, skate rental, pizza and "scenery."