National Organization For Marriage Tries To Cram Endorsement Down Democrat's Throat
News
October 31, 2014 12:50 PM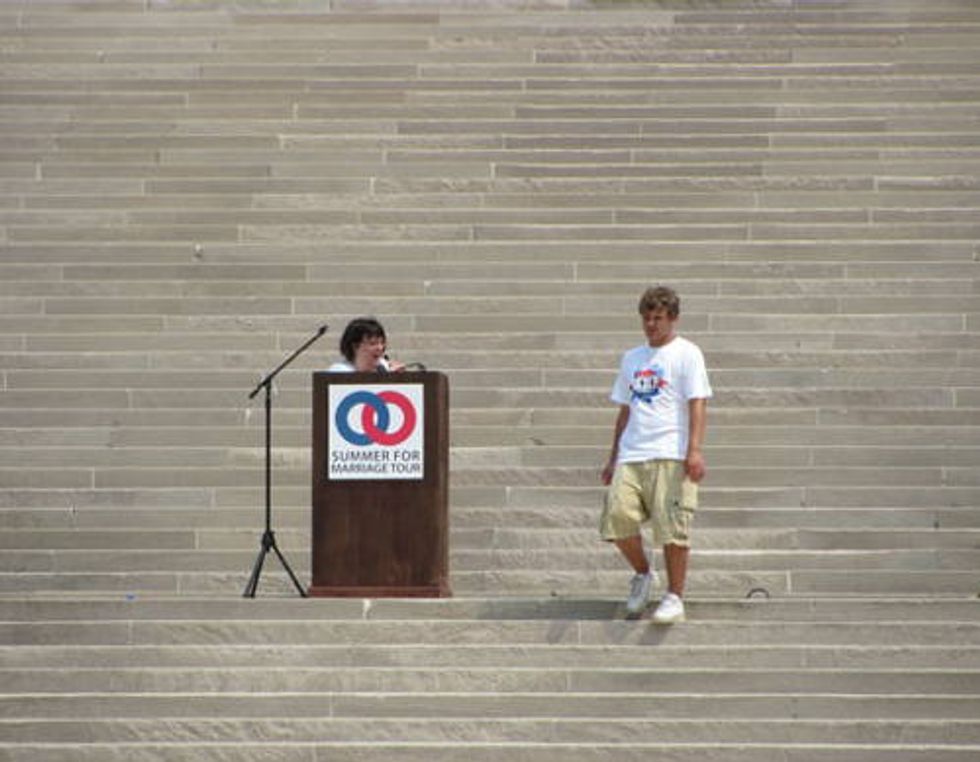 Image viaThe New Civil Rights Movement
---
The National Organization for Marriage is just about as dead as opposition to marriage equality itself. NOM is pretty darned sure homophobia is going to be making a big comeback any day now -- any day, you'll see! -- and when it does, NOM will be there, telling all of us sinners and friends of sinners that NOM was right all along about how The Gay would destroy America and the family and the sanctity of Newt Gingrich's three marriages and freedom and then America some more, thanks in no small part to the Obama administration's evil fascist agenda to let gays do paperwork together, IMPEACH!
NOM is so desperate to prove its relevance (which it has never really had) that it's even willing to offer support to -- brace yourselves -- Massachusetts Democratic congressional candidate Seth Moulton. Why a Democrat, when the Democratic Party is so obviously super gay for the gays? Because Moulton's Republican opponent, Richard Tisei, is A Actual Gay (and therefore a RINO, obviously), and that's even worse than being a Democrat!
Just one little problem with NOM's plan to help Democrat Moulton stop Gay Tisei from gaying up the House of Representatives:
Asked whether Moulton would welcome or reject votes cast in his favor by NOM supporters, a spokesperson for Moulton responded, "Reject."

"Seth Moulton fundamentally disagrees with everything NOM stands for and has long said that equality is the civil rights fight of our generation," said Carrie Rankin, Moulton's communications director. "Fighting against groups, like NOM, that deny equality as a basic human right will be a priority of Seth's in Congress." Rankin noted that Moulton has a gay brother and Moulton has said, "It's fundamentally wrong that he and I don't share the same rights just because of who he is."
Oh, nuts. There goes that plan. Brian Brown, NOM's president, has already been urging Mike Huckabee and whoever the other four supporters of NOM are to vote against Gay Tisei anyway, and the group has spent a whole four grand on its anti-Tisei campaign, which apparently is all the money it can raise from selling for-straights-only cupcakes at its Ewwwww Icky No-Homos bake sales.
While we were already fans of Seth Moulton, who is an actual bona fide hero and yet humble enough not to cram his hero-ness down anyone's throats, we're a little conflicted now* because a victory for Republican Tisei sure would make NOM sad. And we do so love drinking all their tears.
*Just kidding, we are totally not conflicted. Vote for Seth Moulton, duh.