Newt Gingrich Just Knows That Pussy Obama's Gonna Say 'Sorry' To Japan For Pearl Harbor
POTUS
May 11, 2016 04:15 PM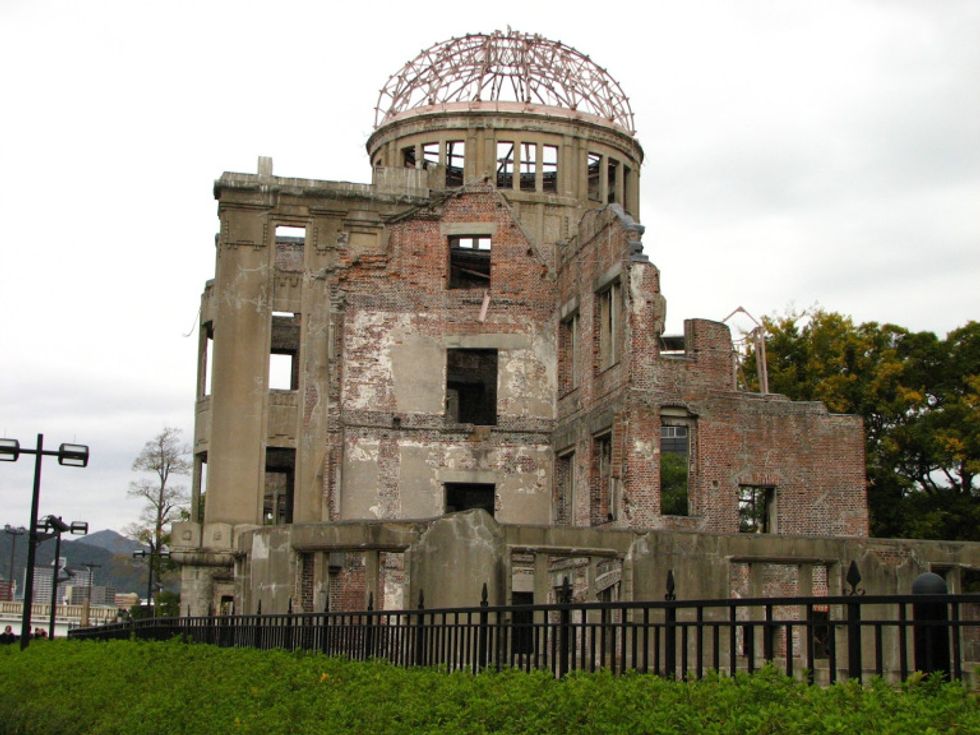 See? Everything's fine now.
---
Newt Gingrich, that brilliant historian of history who knows history real good, is seriously worried Barack Obama will weaken America's place in the world when he visits Hiroshima later this month, the first time a sitting U.S. president has traveled to the site of the first atomic bombing. And while the administration has taken pains to insist that the visit will not involve an apology for the bombings of Hiroshima and Nagasaki, which killed at least 129,000 people, Gingrich told the "Breitbart News Today" podcast he's quite certain the president "will have some kind of mindless anti-American apology at some time," because of course Obama simply hates America that much.
I think he's gonna tell us we should all be against nuclear weapons, which I think we should certainly be against the use of nuclear weapons, but I don't know that the world becomes safer. You know, we had a period here where the U.S. and the Soviet Union, and to a much lesser extent the British and the French and the Chinese held a balance of terror which actually has prevented a war for a very long time. If you look at most of human history, to go for human history for literally 70 years without a major war is remarkable. And there's a chance we'll go further.
Hooray for The Bomb and Mutually Assured Destruction and the Balance of Terror, which have left us safe to have tons of proxy wars without ending life on earth! The Cold War worked, people. But now Obama's going to screw it all up by going to a museum and probably writing some Bible verse about "peace" in the guest book at the Peace Memorial Museum while he's still president, instead of waiting until he's safely out of office like Richard Nixon and Jimmy Carter did.
Somehow, Newt seems to think this will destabilize the world, because America's dick will get soft if Obama so much as suggests that incinerating people in nuclear fire is a bad thing. (And hey, let's not even think about discussing the morality of the American firebombing of Japanese cities, which killed over 300,000, mostly civilians, and essentially wiped out all but five Japanese urban areas -- the ones we were "saving" to drop the atomic bombs on).
Later, Gingrich really got to the point that makes his perspective so much wiser than Obama's wimpy capitulation to our Forever Foe, Imperial Japan (which ceased to exist 70 years ago, but is still the enemy). He patiently explained that Harry S. Truman decided to drop the bomb because he believed an invasion of the Japanese mainland would have cost a million American lives, and also, Gingrich met a WWII vet who said he was glad Truman used the bomb to end the war because he was sure that's the only reason he's alive today. Contrast that with the weak, sniveling apology-laden statement from White House spokesman Josh Earnest:
"What I think the president does appreciate is that President Truman made this decision for the right reasons," said Josh Earnest, the White House press secretary. Those reasons included a focus on the security of the United States and ending a terrible war, he said.

"I think given the way that President Truman approached this dilemma and given the outcome, I think it's hard to look back and second-guess him too much," Mr. Earnest said.
[wonkbar]<a href="http://wonkette.com/457825/nation-weeps-as-obama-daughters-eat-asian-food-on-day-of-infamy"></a>[/wonkbar]So obviously, while Obama won't be apologizing in Hiroshima, and Japan's prime Minister Shinzo Abe has made it clear no apology is expected, we all know this is all said with a wink, because Obama bows to an Emperor or a robot every damn time he's in Japan. The president may as well just be pissing on the graves of all those brave boys who stormed the beaches at Normandy for even showing his face in Japan. As comments on YouTube videos of the 2011 earthquake and Tsunami reminded us, many revenge-minded American teenagers still think Japan needs to be nuked and drowned and earthquaked and Godzilla'd a few hundred more times before we can really get even for Pearl Harbor.
Gingrich went on to praise Donald Trump for his "brilliant" foreign policy and willingness to use force whenever it's good for America, while Obama and Hillary Clinton, and even the Republican establishment, are weak and keep giving away all of America's advantages, constantly relying on stupid things like the UN and other international agreements. You'll never see Donald Trump going to Hiroshima's Peace Museum, unless of course he arrives riding on the nose of a hydrogen bomb like Slim Pickens. YEEEEEE-HAW!
[WaPo / RightWingWatch / NYT / Atlantic / Asia-Pacific Journal]