Nice Florida Teacher Who Tweeted 'Obama Is A Pussy' Nine Million Times Outraged He Wasn't Invited To Obama Speech
News
March 12, 2014 03:48 PM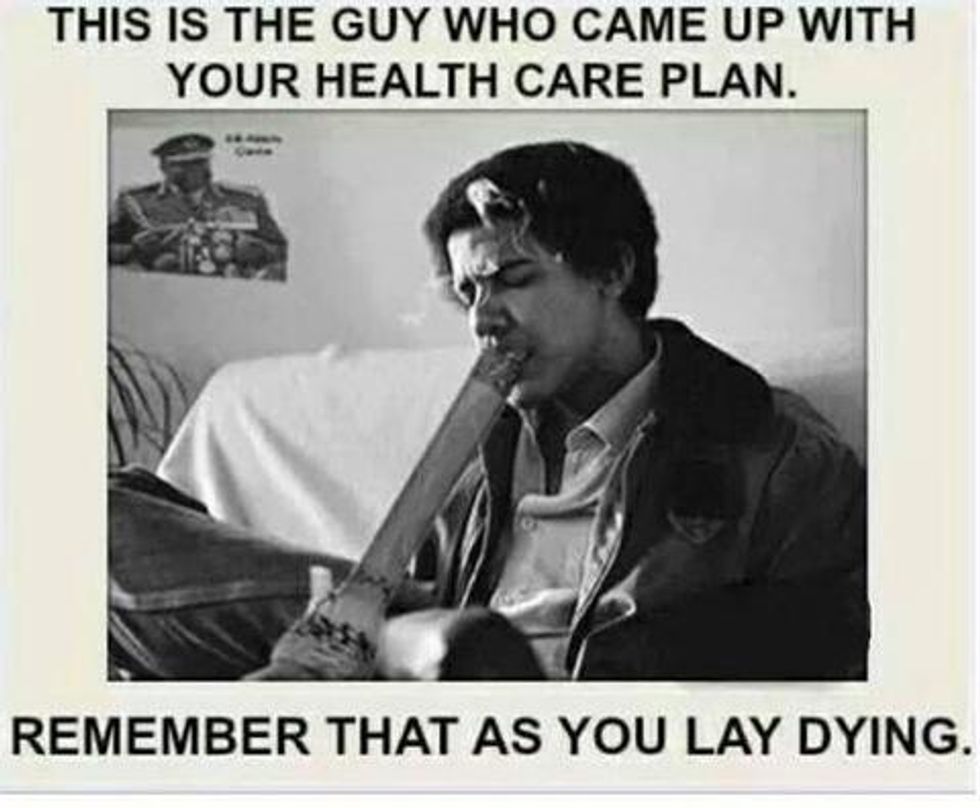 Earlier today we brought you the story of aWisconsin professor whose life was made somewhat hellish because she sent an email saying that the tea party shut down the government last fall. Well we would like you to know that there are martyrs to free speech on both sides! Take the case of Randall Scott, a high school social studies teacher at Coral Reef Senior High in Miami, Florida, who believes that he was discriminated against when administrators excluded him from a speech that Barack Obama gave at the high school last week. It's just the sort of trampling of Free Americans' rights that you'd expect from Barack Hussein Obama against someone whose twitter feed is full of charming Instagram images like the picture above, accompanied by the text
---
A weed smoking Kenyan is your president. And he is in charge of your health care. Seems normal. If your stupid that is.
It's just getting to where if you're a birther who tweets "OBAMA IS A PUSSY" over and over, and make so many remarks in your classroom about how terrible the fake president is that two students asked to be assigned to another teacher, that you just might not be invited to sit in the front row for the guy's speech.
The school's administration had asked all faculty to tone down postings to social media in the days before the appearance, which strikes us as kind of a dumb but understandable attempt to avoid embarrassment for the school; Scott, of course, took it as a challenge and stepped up the "pussy" posts to Twitter, accompanying them with amusing pictures, too!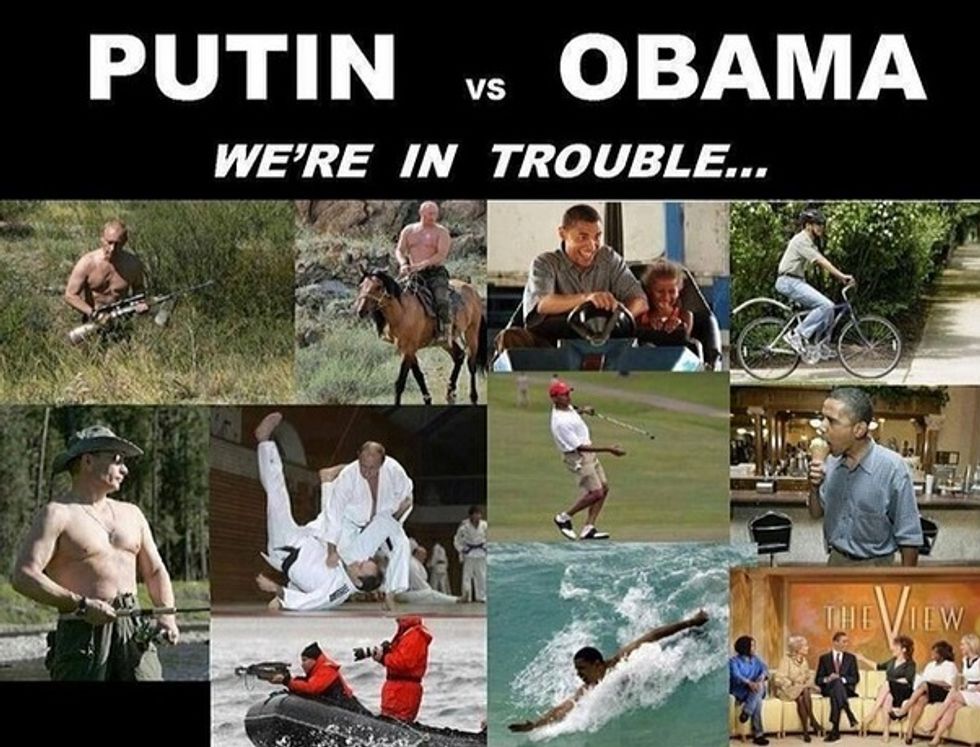 Now, we'll be the first to acknowledge that the worst this guy seems to have done is merely acting like a colossal weaseldick, which means maybe he should be teaching PE instead of social studies. After Scott complained mightily that he was bein' repressed, school district spokesman John Schuster issued a statement saying,
"Because of the sensitivity surrounding the allegations regarding remarks that were made -- remarks that were reviewed by Miami-Dade Schools Police and the U.S. Secret Service -- the matter is currently under review ... The size and set-up of the event venue did not permit all of the school's staff and students to attend, and local administrators were required to decide who would attend to represent the school."
The suggestion that the Secret Service excluded Scott seems questionable; the video below mentions that the Secret Service and White House both said that decisions about who would attend were up to the school district.
So, discrimination and oppression? If the event truly were open to everyone and Scott was excluded, we might be a bit more sympathetic, but if the seating was invitation only, we can see the case for not picking him. Is just being worried that one of your teachers is going to yell "YOU LIE!" every five minutes sufficient to exclude him from an event, or is it unconstitutional prior restraint -- especially if there's limited seating?
In any case, we suppose it might be worth noting a couple of differences between poor oppressed Florida birther Randall Scott and troublemaking Leftist professor Rachel Slocum: Scott was excluded from a one-time event that had limited attendance, but the administration at his school respects his freedom to rant about the Kenyan usurper as much as he wants, even in his classroom. He is praised all over Twitter for his courage, and will continue teaching until the end of this school year, when he had already planned to retire. Rachel Slocum's email is a good reason for Wisconsin Republicans to cut funding to the university, and her school's administration told her to apologize for her vicious partisan attack on the people who really did shut down the government, and her ability to find another teaching job is doubtful since she has been labeled a troublemaker.
Hmmm... seems like we're forgetting something here... Oh, yes: Here is an adorable sleepy puppy calling the ACLU to make a generous donation.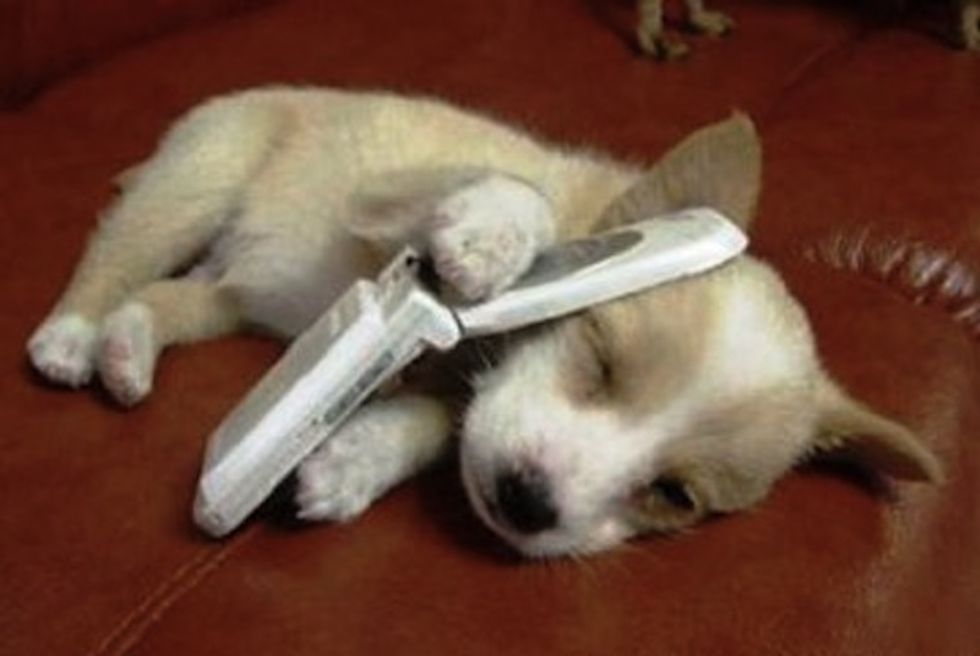 [Miami Herald and Miami New Times via RawStory]
Follow Doktor Zoom on Twitter. He may disagree with you, but will fight for your right to make an ass of yourself on Twitter.