Nikki Haley Will Fix Stuff Right After Finishing These Fake Report Cards
News
October 05, 2011 04:01 PM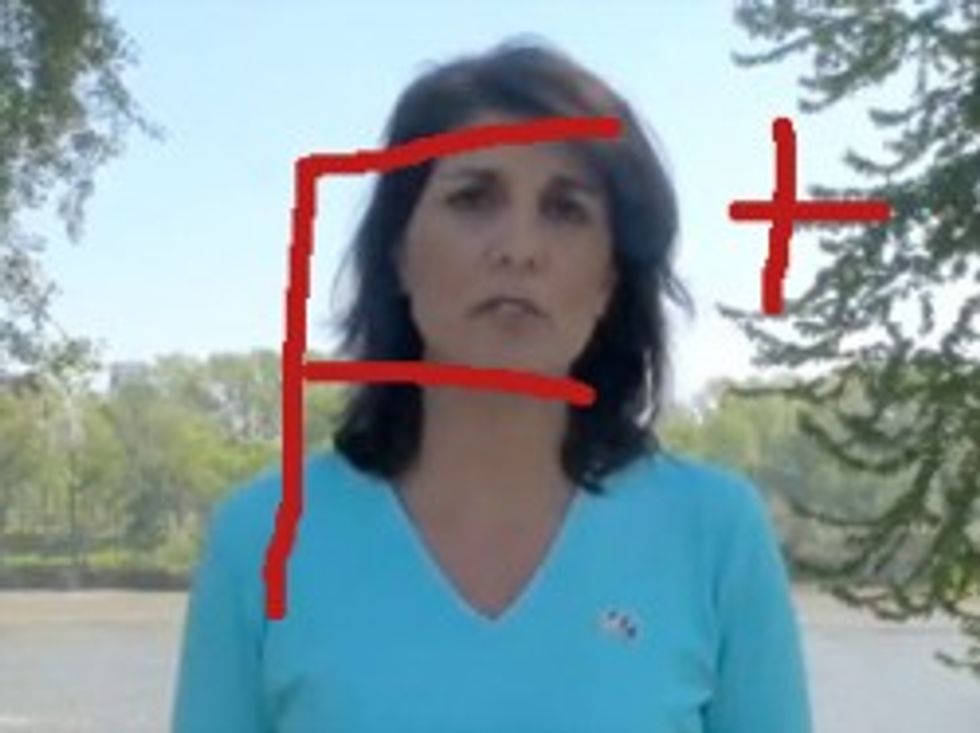 South Carolina governor Nikki Haley --last seen demanding full cooperation from her miserable state employees' souls with a demented Orwellian decree that they answer their office phones cheerfully or else -- has very few actual ideas about how to improve the nosebleed-inducing altitude of the state's unemployment rate, so she's trying some role-play with legislators to ...eh, pass the time, mostly. In today's stupid fantasy-turned-policy scenario, she is the Embittered School Marm who issues "report cards" to all state lawmakers grading them according to how much they annoy her. Most Democrats got an "F," for "fuckers," and Republicans mostly got A or B grades and, notably, not a single F. Kinky?!
---
The Columbia Free-Times has the gross details on this bizarre sex scheme:
Haley graded lawmakers by how they voted on such legislation as on-the-record voting, tort reform, government restructuring and whether or not they'd sustained her vetoes, among other votes. The outcome was predictable and fell along partisan lines.

All of the Fs Haley awarded to members of the Senate, for instance, went to Democrats, including her 2010 gubernatorial rival Vincent Sheheen of Camden. Williamsburg County Democrat Yancey McGill got an A. Incidentally, McGill was the only Democrat to stick up for Republican Lt. Gov. Ken Ard during his ethics troubles.
So what do the "A" grade-winners get? A gentle spanking from Mark Sanford, wherever that weirdo is? A free licking from a Craigslist rent-boy? WHAT WILL IT BE, because there must be a reward, or this is pointless.
And here is the only winning quote we would give an "A" to in this dumb tale of tragedy:
Fairfield Democratic Rep. Boyd Brown had a contentious relationship with Haley throughout the legislative session. He had even been turned away at a summer pool party held at the Governor's Mansion that lawmakers had been invited to attend.

So, naturally, Brown might not have been surprised when he received an F on his report card from the governor. But speaking to Free Times, he didn't hold back.

"She's been busy F-ing the rest of the state," he said. "I'm not surprised that she F-ed me."
The voters of South Carolina also kind of agree! Haley's approval ratings have been slipping the last few months, which earns her a public grade of "you suck." [Free-Times]