No Russia, No Russia, YOU'RE The Russia! Wonkagenda For Thurs., March 9, 2017
POTUS
March 09, 2017 09:35 AM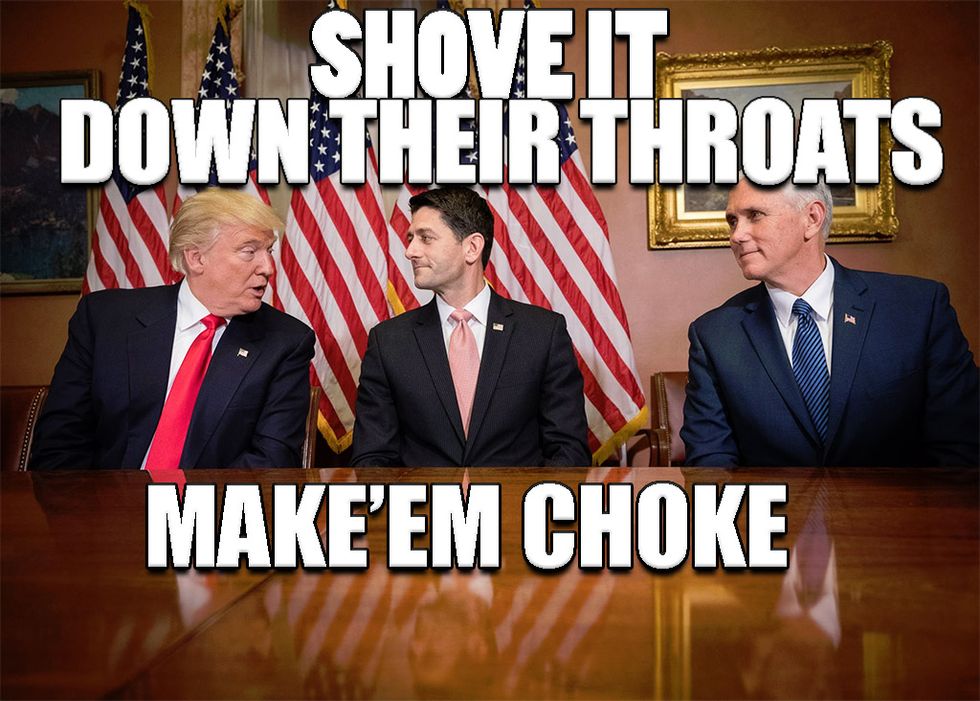 Morning Wonketariat! Here's some of the things we may be talking about today.
---
While (most of you) were sleeping, the House Ways and Means Committee passed its TrumpCare proposal at 4:30 this morning even though all the lobby groups representing doctors, nurses and old people are emptying their collective colostomy bags over the bill.
Paul Ryan has shifted into Maximum Bullshit mode, and Trump is going to woo the Tea Party crazies in the House with pizza and bowling. Literally.
The White House is saying Trump is 100%, no way, no how, seriously not under any investigation about secret connections to Russia, or illegal campaign practices, or any of the other federal laws they definitely haven't broken. Believe me!
Out of nowhere, Trump has tapped John Huntsman to be the U.S. ambassador to Russia, presumably because he needed a reliably sober person to hide his shady Russian business deals from Congress.
Scott Pruitt is filling the EPA with like-minded minions who enjoy bathing in crude oil and giving children coal for Christmas. Hope you like acid rain!
Trump's pick to head the SEC has a storied history on Wall Street with banks, hedge funds and corporations that are already under investigation, including Russian oligarchs. SHOCKER!
Trump's White House is using the state secrets privilege to block testimony over a CIA torture case because they're worried that some former military psychologists might go on the record and say that we committed human rights violations under the Bush administration.
James Comey went to Boston College and told a gaggle of frat kids that we're stuck with him for the next six years, oh, and someone is probably watching you watch porn. Sorry, not sorry.
OH LOOK! Mike Flynn is admitting that he's been lobbying for a Turkish firm before, during, and after the election. What a fucking surprise!
Paul Manafort's little ex-Russian military minion is being investigated for his ties to Russian intelligence since he was apparently a little too mouthy about policy changes to the RNC platform this summer.
Trump's promise to spend $1 trillion dollars on infrastructure to revive desperately needed roads and bridges probably won't happen seeing as how they'll all break before they can figure out how to pay for it.
A $6 billion cut to Housing and Urban Development is being proposed in order to boost military spending, so fuck your free lunches, your poors, your hipster bike lanes, your Section 8, we're going to make the military bigly gooder. Yes, indeed!
Here's some of the people being quietly installed by Trump that you may not know about, but probably should.
This handy-dandy 'splainer of the 100-year history of Mexican border walls (aka the "Tortilla Curtain) not only projects costs, but also rounds up why they have ultimately failed miserably.
China is getting ready to churn out massive amounts of knock-off Ivanka Trump crap from companies that want to capitalize on Trump's little princess.
Here's your Late Night Wrap-Up! Sam Beetook news networks out to the shed and beat the shit out of them, then took a long look at Wisconsin's manbaby in chief Scott Walker;Colbert took a look at things that are bad for you (like TrumpCare);Jimmy Kimmeltalked with Kal Penn on working at the White House with Obama, and then had Drunken Sean Spicer, and Trevor Noah took a look at Ivanka's fake feminism.
And here's your morning Nice Time, TIGER CUBS getting some nom-noms!
It's lovely readers like you who keep us writing, caring for our kids, bartenders, and student loan lenders, so if you promise to donate/subscribe we'll promise to love you many bunches with more mommy blogging and elaborate dick jokes!
Dominic Gwinn
Dominic is a broke journalist in Chicago. You can find him in a dirty bar talking to weirdos, or in a gutter taking photos.