No, Trump Voter Fraud Commission Didn't Want List Of All Texas's Hispanicos! It Was Just A Mistake By The Guy With The Child Porn!
Elections
January 23, 2018 12:40 PM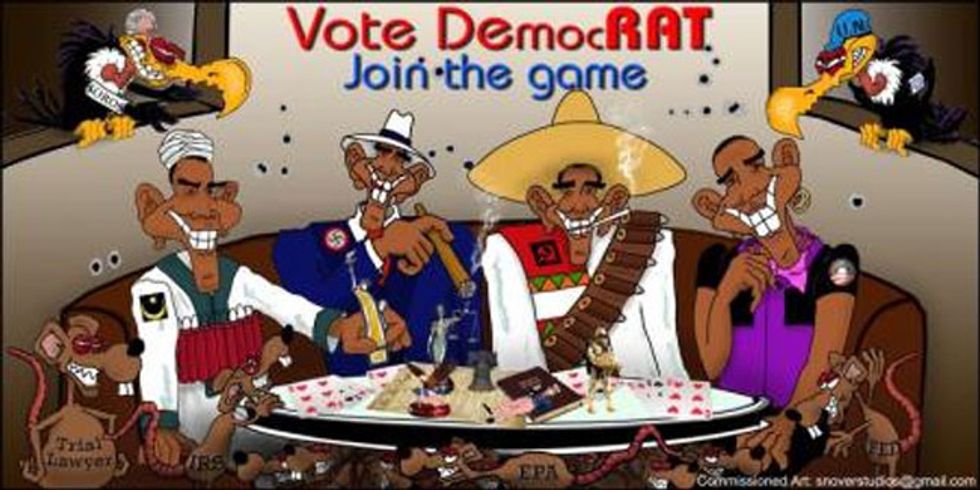 Rememberthis insane thing? Proof we need voter ID!
---
Donald Trump's pet voter fraud commission may be dead -- or really, driven underground -- but we're still learning all sorts of fun stuff about how it operated before Trump disbanded it earlier this month and tasked the Department of Homeland Security with finding the three million illegal voters who gave Hillary the popular vote. For instance, the Washington Post reports today that in its quest to gather every state's voter records, the commission requested not just the full data set from Texas, but also asked for a separate option that flagged the names of all voters with Hispanic surnames:
In buying nearly 50 million records from the state with the nation's second-largest Hispanic population, a researcher for the Presidential Advisory Commission on Election Integrity checked a box on two Texas public voter data request forms explicitly asking for the "Hispanic surname flag notation," to be included in information sent to the voting commission, according to copies of the signed and notarized state forms.
The data was ultimately never delivered to the commission, because Texas voting rights groups were among the many who sued the commission. Silly activists thought maybe the commission might have been trying to push voter suppression measures. Now where would they get such a crazy idea?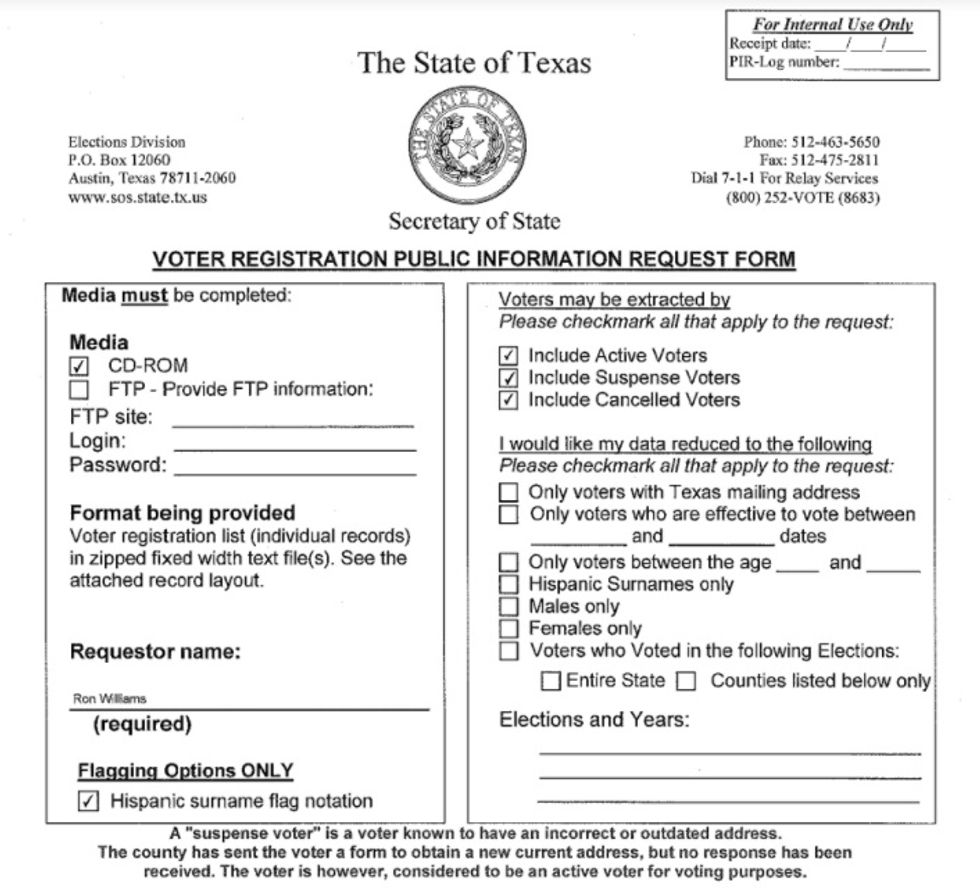 So, sure, maybe from that request to flag all Hispanic voters, but they couldn't have known that when they sued.
The requests for voter data from the states were made by the commission's policy adviser, Ronald Williams II, who was eventually fired from the commission in October 2017 after he was charged with possession of child porn (he should probably not claim it was demographic data). The defunct commission's co-chair, Kansas Secretary of State Kris Kobach, who's now running for governor, insists he has no idea how that checkmark got on the form. He certainly never asked Williams to request that data, heavens no! He told WaPo,
"at no time did the commission request any state to flag surnames by ethnicity or race. It's a complete surprise to me."
As for that awful Mr. Williams, Kobach said he was shocked, shocked that such a thing would happen, and that Wiliams must have gone rogue:
"Mr. Williams did not ask any member of the commission whether he should check that box or not, so it certainly wasn't a committee decision."

Such "information does not, did not advance the commission's inquiry in any way, and this is the first I've heard the Texas files included that," Kobach said Friday.

Kobach said: "I don't know what sort of data analysis you would do even remotely relevant to it, but also having just one state" would be "useless. It just doesn't make any sense."
Following that vigorous denial, Mr. Kobach then presumably paused to thank a cashier who handed him a WND article about illegal immigrants voting and said, "Your winnings, sir."
When the Post attempted to reach him for comment, Williams wasn't answering his phone. Imagine that.
The option to sort voter data by Hispanic surnames is on the Texas forms for legitimate purposes; it's been used since 1983 to send bilingual election notices and sample ballots. Justin Levitt, who worked in the Justice Department overseeing voter rights during the Obama administration, told the Dallas Morning News that tracking Hispanic voters is commonly used to help with redistricting and for legitimate research.
"But for the Kobach commission to ask for it is super weird," said Levitt, a professor at Loyola Law School in Los Angeles. "I mean, super weird."

The request could indicate that the commission was searching for non-citizens on the voter rolls and attempting to check the citizenship status of Hispanic voters, Levitt said.

"That — I cannot say more emphatically — is the sort of discriminatory racial profiling that the constitution forbids in official government action," Levitt said. "It's deeply disturbing."
But wait! Maybe someone at the White House could pull a retroactive explanation out of their ass? An anonymous White House source did just that for WaPo, explaining there was nothing suspicious about it at all, you see:
given the option in Texas, the voting commission asked to identify Hispanic surnames to resolve data discrepancies or confusion caused by the traditional Spanish naming convention that uses the surnames of both parents.

"There was never a request made to flag people based on their ethnicity," the White House official said Friday. "That was never asked for, nor is that what this [Texas] response is saying, though I can see why some could read it that way."
Huh! Almost seems plausible until you combine it with Kobach's denial that the commission had asked for the ethnic breakdown at all.
Not that Kobach is ever particularly honest anyway; Levitt pointed out that Kobach had also said he'd keep advising DHS as its work went forward, although DHS later said Kobach would not be working with it at all. It looks fishy either way, he added: If Kobach's lying about asking for the information, that suggests something nasty was afoot, but if it happened without his knowledge, that suggests the commission was "tripping all over itself" with "no idea what they were doing ... and how they were going to do it."
Which actually sounds like standard operating procedure in Trumpworld. Hey, maybe the commission was both racist AND a disorganized clusterfuck!
We may or may not find out more about the misbegotten inner workings of the fraudulent voter commission; former commission member Matthew Dunlap, Maine's secretary of state, sued the commission last year to disclose its records so he could do his job. Even though a judge ruled in Dunlap's favor, the commission earlier this month refused to turn over any documents because, hey, it had just been disbanded, so there was no need for Dunlap to see any of it. He and others are still suing to get all the commission's internal documents released, because Jesus what a mess.
Yr Wonkette is supported by reader donations. Please click here to send us money!
[WaPo / Dallas Morning News / Governing]