Now THIS Is How You Quit Your Job (Video)
News
September 22, 2014 06:04 PM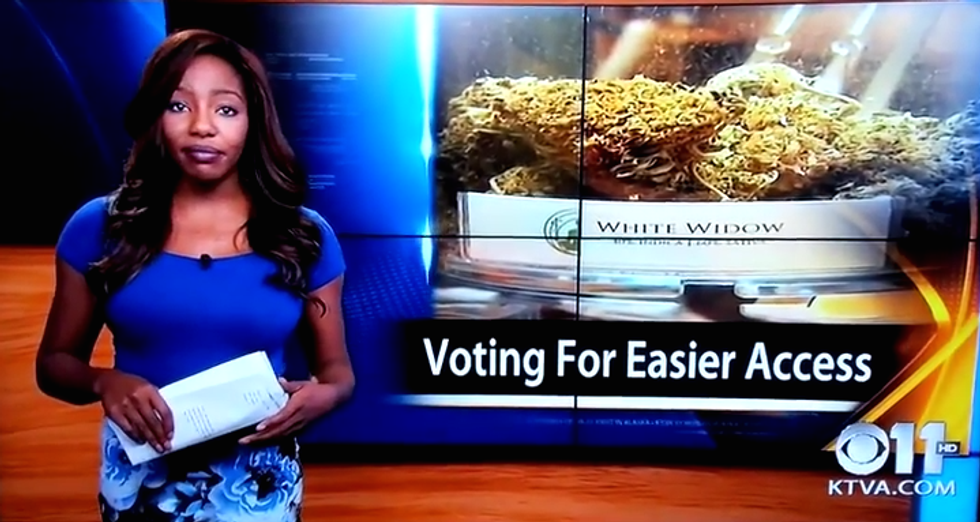 Alaska news anchor Charlo Greene made herself pretty famous overnight by quitting her job in the most epic way since ... who knows? That JetBlue flight attendant who announced his resignation over the plane's loudspeaker, grabbed a couple beers, and slid (literally slid) away, then had his 15 minutes, and now he's just that one guy who flipped out on a plane? Maybe him?
---
Anyway, check out your new Take This Job And Shove It Hero, former reporter for KTVA in Anchorage.
Now everything you heard is why I, the actual owner of the Alaska Cannabis Club, will be dedicating all of my energy toward fighting for freedom and fairness, which begins with legalizing marijuana here in Alaska. And as for this job, well, not that I have a choice but: Fuck it, I quit.
Ms. Greene will now be devoting herself full time to her project campaigning for marijuana reform:
I'm Charlo Greene, the president and CEO of the Alaska Cannabis Club - Alaska's only legal medical marijuana resource. I just quit my news reporting job on live TV to announce that I am redirecting all of my energy toward helping to end a failed drug policy that has ruined the lives of far too many Americans.

Ballot Measure 2, the initiative to Regulate Marijuana Like Alcohol in Alaska, isn't just about marijuana in the Last Frontier, it's about keeping the ball rolling on NATIONAL legalization. Imagine, if after Colorado and Washington have legalized recreational marijuana and are offering the rest of the world a positive outlook on what ending marijuana prohibition can do, Alaskan voters fail to continue moving our nation in the direction toward freedom and fairness. There's no doubt that will impact every other state, national and international marijuana reform effort. Americans with common sense don't want that.

Help us to keep that from becoming a reality.
You can contribute to her campaign if you want. Or just tell us your favorite job-quitting stories. Or fantasies. Let's face it: most of us don't have the ovarian fortitude to pull off an epic mic drop quite like that. But we can pretend.