State Dept. Repeals 2nd Amendment Right to Buy Cheap Korean Guns
News
September 02, 2010 01:31 PM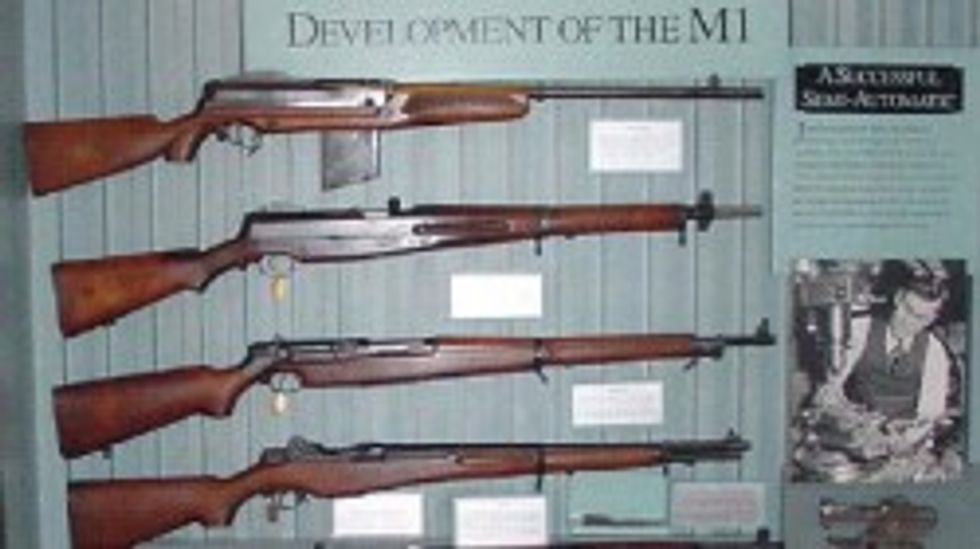 South Korea just wanted to sell 850,000 antique guns to American collectors, which is not a big deal! At least the Obama Administration didn't think solast year, when its flouncy minions heard the word "antique" and quickly approved the sale. But then the Obamars realized that this was about Korean War-era M1 rifles, not old carnival glass, and sneakily reversed their decision, Fox News reports. To add insult to accidental shooting injury, these libtards don't even know anything about the M1 gun thingies they hate so much.
---
An anonymous government spokes-Stalinist told Fox that the Obama Administration developed "concerns" about what Americans might want to do with the rifles. What kind of concerns, you ask? Fox News tried very hard to get an answer from the government, but instead got the runaround:
Asked why the M1s pose a threat, the State Department spokesman referred questions to the Bureau of Alcohol, Tobacco, Firearms and Explosives. ATF representatives said they would look into the question Monday afternoon, but on Wednesday they referred questions to the Justice Department. DOJ spokesman Dean Boyd referred questions back to the State Department.

[...]

The White House referred questions on the issue to the Pentagon, which referred questions to the U.S. Embassy in South Korea, which deferred back to the State Department.
The National Rifle Association's chief lobbyist is calling the Administration's reversal "a de facto gun ban, courtesy of Hillary Clinton's State Department," which sounds about right. Meanwhile, gun rights advocates are speaking out at places across America, from Stubby's Dawgs 'n' Wingz (out there on the highway, just past the landfill and hang a right), to the Guns & Ammo forum. One forumista (they really go nuts with the emoticons over there, by the way) surely speaks for all of us when he writes:
I would LOVE to get my hands on a few M1 carbines. They would be cheap if 850,000 came into the country.
Like MLK, that man had a dream. But dreams have no place in today's America. WAKE UP SHEEPLE. [Fox News/Guns 'n' Ammo forum]