Obama Breaks Up With Putin, Can't Believe Putin Chose Snowden And Persecuting Gays Over Their Relaaaationship
News
August 07, 2013 11:02 AM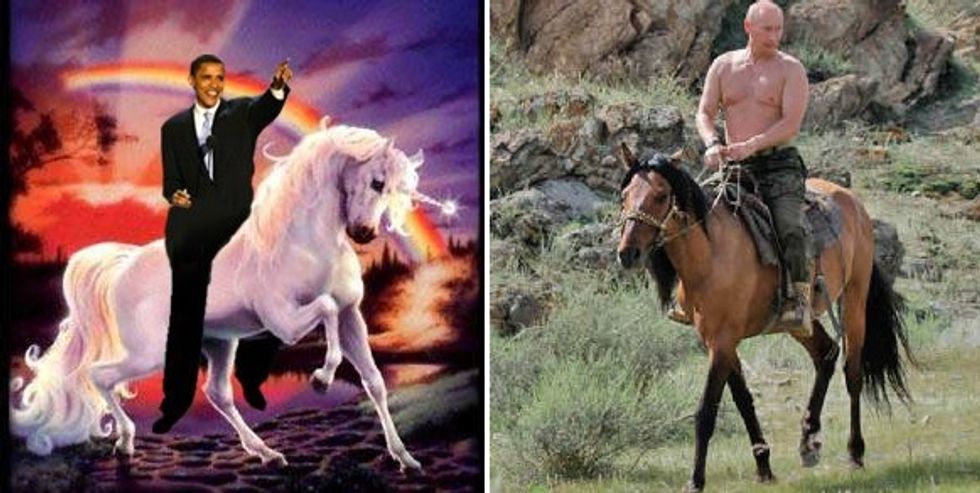 Following Russia's decision togrant temporary asylum to NSA leaker Edward Snowden, President Barack Obama is SO DONE with that date he was planning with President Vladimir Putin in September. Obama will still attend the G20 economic summit in St. Petersburg in September, but will only sit with his friends, and he knows who his friends are. Obama told international relations expert Jay Leno Tuesday night that the breakup was probably best for everyone, since the Russians are just, you know, so set in their ways that you can't even play your Kool & the Gang records:
---
"There have been times where they slip back into Cold War thinking and a Cold War mentality,"
Also, that whole anti-gay-pogrom thing was definitely NOT HELPING, the President noted.
Even so, Obama is hopeful that the two can still be friends and work together on the Fall Formal committee. Even if Vlad is determined to be a total bitch and keep letting that jerk Snowden hang out at his place:
What I say to President Putin is, that's the past and ... we've got to think about the future. And there's no reason why we shouldn't be able to cooperate more effectively than we do."
But for now, you know... and then Obama sadly slipped Putin's Super Bowl ring off his finger and shook his head.