Obama Chief of Staff Bill Daley Quitting Already
News
January 09, 2012 04:00 PM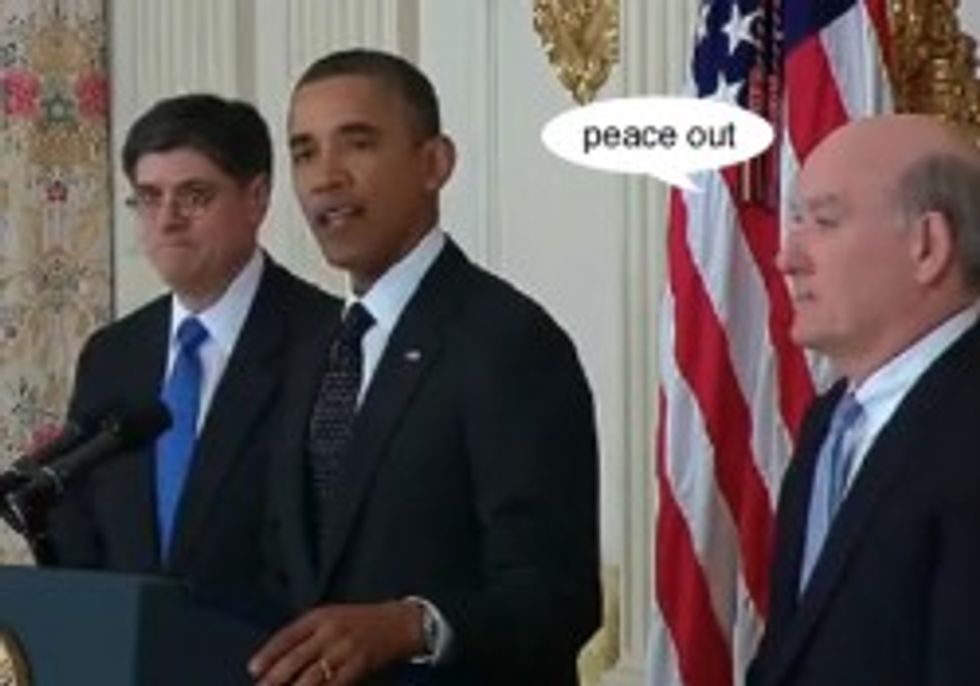 President Obama's Chief of Staff Bill Daley is resigning! He has been on the job for one year, as with each of the President's previous three chiefs of staff (well, one was an interim position). The news apparently came in a letter of resignation Daley delivered to Obama in a private meeting last week. Obama asked Daley to reconsider, but in a follow-up meeting the next day Daley confirmed his decision. Effective the end of January, Daley will be replaced by Jack Lew, currently the administration's budget director. Daley will be going back to where he came from, which is ... Chicago.
---
Is working for Obama so hard? Is there any way to stop the relentless wind-power-generating speed of this administration's revolving door? For comparison's sake, President George W. Bush had two chiefs of staff in eight years; President Clinton had four; and President George H.W. Bush had three in four years, which is still better than the rate at which Obama is going, and that guy was terrible!
Last year, Bill Daley had assured Obama he would remain in his position through the election. But in November Daley's role changed somewhat, and Pete Rouse, a "trusted aide" and former interim chief of staff, was given some of his duties, while Daley's position came to be described as "high-level managerial duties" and being an "advisor and surrogate for the president."
Perhaps not coincidentally, Daley sat down for an interview with Politico in October in which he was pretty frank ("unplugged") about what an awful time of it the Obama Administration has had:
It's been a brutal three years. It's been a very, very difficult three years, an incredible three years. And we are doing all this under the overhang of the worst financial crisis since the Great Depression. F—k! It wasn't like all this was happening in good times.
So, great job, Politico. [LA Times, ABC News]