Obama Makes Us All Cry One Last Time. Wonkagenda for January 11, 2016
Post-Racial America
January 11, 2017 08:42 AM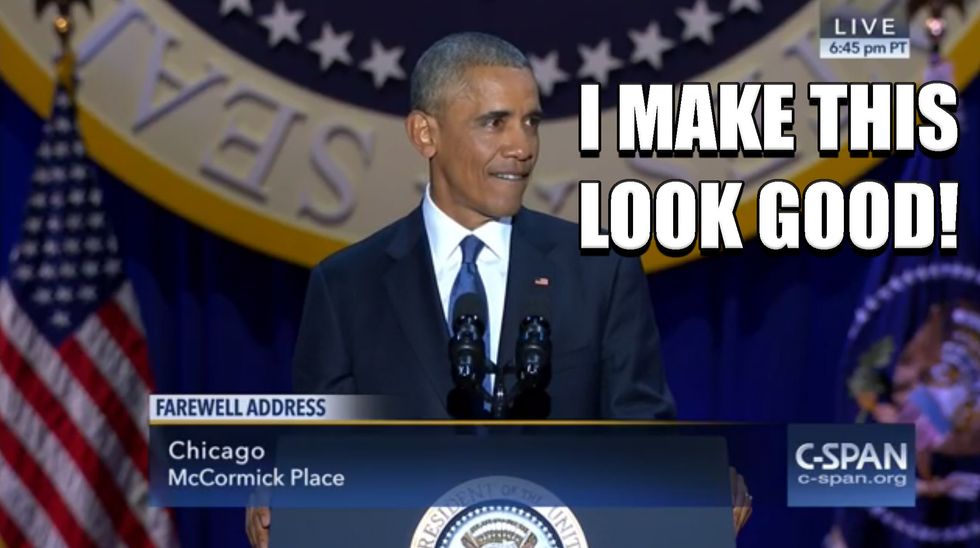 Awwww, yeah!
---
President Obama gave his farewell address to the nation last night and reminded us all how much we love and will miss our one and only B. Barry Bamz. sigh [Transcript / Video]
Last night we mentioned an unconfirmed story about how Donald Trump's fascination with gold might be a bit more fluid, but that was just a little tinkle. The real whiz-bang story is how Trump and Obama were both briefed on the issue, and it's been floating around Washington circles and news outlets for months. For his part, Trump is calling the leak "fake news."
BUT WAIT! There's more! Apparently the FBI was denied a warrant from the Foreign Intelligence Surveillance (FISA) court after finding some strange conversations between Russia and Trump officials, and was told to be more specific.
During a hearing on Russian hacking held by the Senate Intelligence Committee, FBI Director James Comey said Republican systems

were

hacked, however Comey didn't say how much effort was put in because it's an open investigation, and the FBI doesn't comment on open investigations...
A 1986 letter from Coretta Scott King opposing Jeff Sessions's nomination to a federal court has resurfaced, which is undeniably making the gnarled and rat-fucked corpse of Strom Thurmond squirm in racist agony. Good.
Four of Trump's cabinet appointees have had their confirmation hearings delayed because their paperwork and background checks remain incomplete due to conflicts of interest. INEFFICIENT! BAD!
Bernie Sanders damn near passed a bill that would hold Trump's feet to the fire if he breaks his "promise" not to cut Medicaid, Medicare, or Social Security. But that's socialism, by golly!
Hillary Clinton gave brief speech at the dedication to a new museum in D.C. that will honor former secretaries of State for the thankless job of talking to jerks in Not America, and John Kerry threw some shade at Rex Tillerson.
Julian Assange did a Reddit AMA yesterday and it was a massive disaster, but don't tell that to glorious comrade Putin.
Bill O'Reilly says he has not "attacked [Obama] personally," and that he has been "fair" in his reporting and analyses. He must have forgot all times he fed the birther movement and called him a subversive Muslim socialist intent on destroying America with his sexxxy blackness.
KaC was on Seth Meyers last night where she "acted" deaf, dumb and blind about Trump's Russian connections, which is not surprising when you remember how awful she is at her job. [Video]
Trump's inauguration planners are, no joke, saying the inauguration will be more "soft sensuality" than a "circus-like celebration" seeing as how A-List celebrities have told him to go piss off down a golden river.
Two reporters instrumental in the conviction of former Gen. James Cartwright have written statements in his defense because he helped them make lots of money as ink-stained wretches in a boring quest for the truth about the Stuxnet virus. Yay?
Old Handsome Joe will take a train back home after he leaves office because he's a grizzled and rugged commuter who believes in the raw, bustling power of the government subsidized choo-choo!
If he wants to, Obama could help you get your groove back now that he's been offered a gig as "President of Playlists" at Spotify, but I think he might be a little busy.
And now, your morning Nice Time, caracal kittens!
Dominic Gwinn
Dominic is a broke journalist in Chicago. You can find him in a dirty bar talking to weirdos, or in a gutter taking photos.