'Obama People' Just Shanked Jeff Sessions! Wonkagenda For Thurs., March 2, 2017
POTUS
March 02, 2017 09:16 AM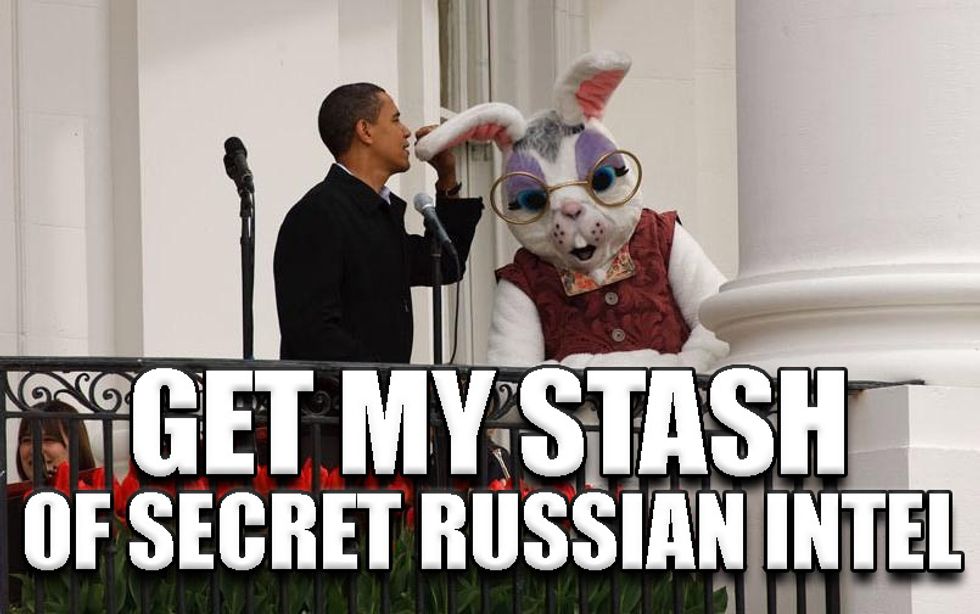 It's over by the cigarettes.
---
Morning, Wonketariat! There's some shit that went down over night, so grab your caffeinated beverages because we've got some serious stuff to talk about. Here's just some of the things we may be talking about today!
Jeff Sessions met with representatives of Moscow and Russian Ambassador Sergey Kislyak on at least two occasions (making him a racist AND a terrible liar -- under oath) and there's a growing bipartisan call to lynch what's left of his political career from all around Washington.
The Obama administration left a trail of super secret spy crumbs about Trump and his surrogates' meetings with Russia throughout the maze of U.S. bureaucracy so Trump and his minions couldn't hide the dastardly schemes they SWEAR they didn't commit. THANKS OBAMA!
Jeff Sessions MIGHT recuse himself from any investigations into the Trump campaigns ties with Russia, but only if he really, really has to since he DEFINITELY didn't lie under oath during his confirmation hearing (twice).
Mike Pence has no plans to meet with Vladimir Putin. I CAN'T IMAGINE WHY!
Democrats on the Senate Finance committee want to investigate Trump's taxes because he might have some secret Russian money that we should know about.
Trump's White House thinks Kellyanne didn't do anything wrong when she started peddling Ivanka Trump swag on teevee, so they're not going to punish her.
The FCC wants to roll back Internet privacy rules, so now might be a good time start learning about TOR and encryption if you put tape on your laptop camera during sexxxy me-time. [Archive]
The Trump administration is going scorched Earth on the EPA with massive cuts to staff, grants for clean-up programs, and an all out elimination of 38 separate programs in an effort to focus on things not required by stupid laws and regulations.
Career foreign service workers at the State Department are freaking out because they have nothing to do now that the White House thinks State is about as useful as a pogo stick during rush hour.
Federal workers are going to war over budget cuts because they're fucking unionized, and they don't have to put up with this amateur hour crap.
The Netherlands Party for Animals is giving the Dutch Donald Trump a run for his money and may potentially gain a number seats in the Dutch Parliament. Hurray, animals!
Some humping, Bible thumping, and gay bashing good ol' boys in Texas have convinced the Texas Supreme Court to reconsider giving benefits to same-sex couples employed by the state on the grounds that it's, "perfectly constitutional for the government to offer benefits or subsidies to some married couples while withholding those benefits from others." Bless y'all hearts.
A Dreamer was arrested by ICE agents shortly after speaking at a rally in support of DACA in Jackson, Mississippi, most likely with the hope that if all unemployed collegiate hipsters are deported, no one will be left to protest.
Republicans in at least 16 states are considering laws that would limit your ability to protest in a attempt to stop those filthy hippy liberal commies from setting up their political grievance taco truck stops.
One of the biggest questions among Washington politicos is whether or not Donald Trump will kill the Easter Bunny and the White House Easter Egg Roll.
Here's your late night wrap up! Jimmy Kimmel talked to Alec Baldwin about playing Donald Trump; Seth Meyers took A Closer Look at the reactions to Trump's speech; Colbert reminded us what it means to be "presidential" and Jon Batiste and friends 'splainered Black History Month;Trevor Noah took a long look at all the bullshit during Trump's address and sat down with Jake Tapper; Conan went to Mexico to get some money for The Wall; and Sam Bee will FINALLY be back next week!
Here's your morning Nice Time, a BABY TAPIR! They're kind of like hipster pigs because they're adorably goofy looking and eat vegetables. Hurray, VEGGIE PIGGY!
Dominic Gwinn
Dominic is a broke journalist in Chicago. You can find him in a dirty bar talking to weirdos, or in a gutter taking photos.