Obscure Congressional Candidate Shares Porn Habits With World, Finally Gets Noticed
Elections
May 17, 2016 12:14 PM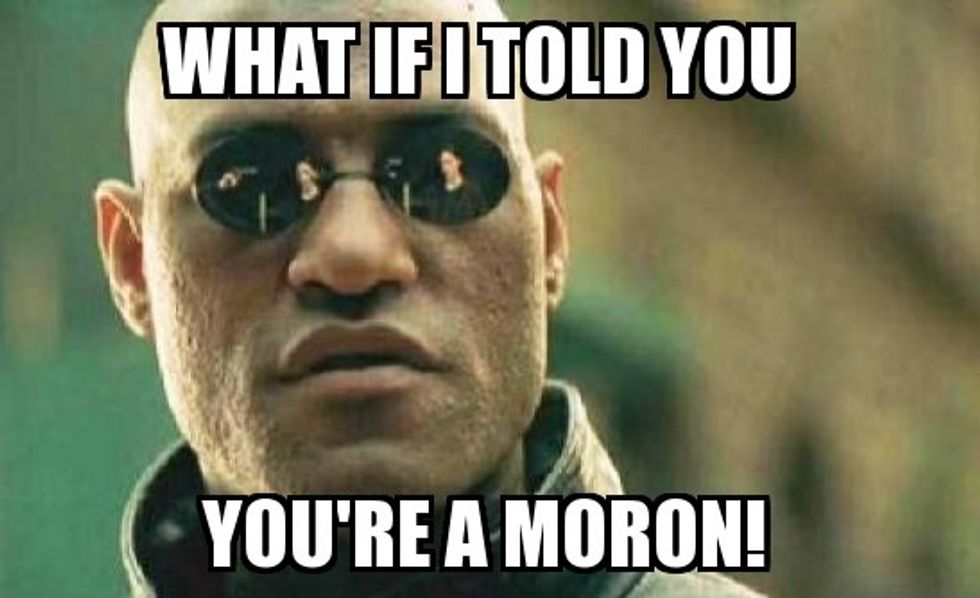 Let us also assume you're running for Congress. Ah, but I repeat myself.
---
It has to suck being a complete unknown whose congressional campaign is going badly. Can't get on TV or even get invited to debates, nobody wants your yard signs, you're less than a blip in the polls, people say "who?" when they see your name on the sample ballot, and nobody's giving your fight for America the attention it deserves. That's where candidate Mike Webb's campaign for Virginia's 8th congressional district was before Monday. Webb lost his bid for the Republican nomination at the May 7 state primary convention to Charles Hernick, then announced he'd run as an independent. But now LOTS of people know Mike Webb's name, because when he posted a Facebook gripe about strange phone calls he'd been receiving, he also included a screenshot of his internet browser, complete with two tabs listing porn videos. Like everyone else on the interwebs, we grabbed a screenshot before Webb deleted his post: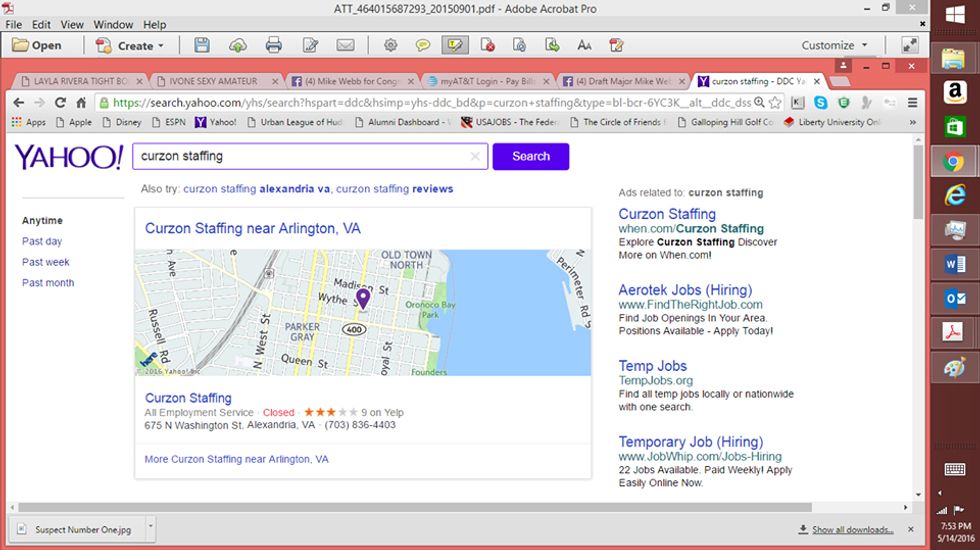 In case you need new bifocals like Yr Dok Zoom does (seriously, pick up the phone and make an appointment), those two tabs at the upper left read "LAYLA RIVERA TIGHT BO[OTY]" and "IVONE SEXY AMATEUR". The embarrassing boo-boo seems to have been discovered by a reporter at Tucker Carlson's Internet Home For Angerbears And Cheesecake Photos; after confirming that "Ivone Sexy Amateur" is indeed a porn video, reporter Blake Neff makes the following witticism about Layla Rivera: "Something about her is apparently tight, and it probably isn't her relationship with her father." Good one! Maybe none of this would have happened if she'd attended a Purity Ball with her dad.
Everyone had a good laugh about the stupid porn-watching dude who ruined whatever already nonexistent chance he had of defeating incumbent Democratic Rep. Don Beyer, but then the story had to go and get just a little bit weirder. Instead of simply deleting the post and apologizing for having been a doofus, Webb went into Full Conspiracy Mode, posting a 2000-word "explanation" of why those porn tabs were open on his browser. Sadly, it too got flushed, but The Guardian captured the gist of it. They think:
It does not make a huge amount of sense, but apparently blames the pornographic images on an experiment Webb was performing to see whether or not someone was using malware embedded on porn sites to infect electoral candidates with malware that would prevent them from filing their candidacy before the deadline.

Maybe. It's honestly hard to parse.
We bet! For a bit of context, we learned that, in April, after he failed to file his quarterly campaign finance report on time with the Federal Election Commission, he had already blamed computer hackers for his tardiness. Arlington website ARLNow noted the April explanation with a certain amount of skepticism, saying "Here's what the campaign said in the lengthy April 21 press release, one of more than 100 it has sent to local reporters since December." That feels like well-earned cattiness.
… this morning, sources close to the campaign of Arlington resident Mike Webb, the putative front-runner in the Republican Party nomination race in Virginia's 8th Congressional District disclosed that they have been the victim of what appears to have been a targeted cyber-attack.

Shortly before the filing deadline for the quarterly disclosure reports to the Federal Election Commission, the Webb campaign indicated that it began to experience glitches with the filing software, making it difficult to input information. However, on the deadline filing date, the software would just crash whenever the data file was loaded, thereby blocking access to all previously entered data.
We like the parts where his campaign's own damn press release attributes the story to "sources close to the campaign," and also where Webb proclaims himself the "putative front-runner" after losing the party nod. Clearly, someone's out to bring down Mike Webb! So it only makes sense that he would go hunting down the source of that targeted attack: viruses embedded in porn videos, duh. Here's the bit of the deleted explanation the Guardian excerpted:
Curious by nature, I wanted to test the suggestion that somehow, lurking out in the pornographic world there is some evil operator waiting for the one in a gazillion chance that a candidate for federal office would go to that particular website and thereby be infected with a virus that would cause his or her FEC data file to crash the FECfile application each time that it was loaded on the day of the filing deadline, as well as impact other critical campaign systems. Well, the Geek Squad techs testified to me, after servicing thousands of computers at the Baileys Crossroads location that they had never seen any computer using their signature virus protection for the time period to acquire over 4,800 viruses, 300 of which would require re-installation of the operating system.
horny Michigan legislator
who had to spread fake rumors he was a gay sex addict to cover up his real affair with a fellow legislator. For those with more patience/morbid curiosity, a
cached version
of the full deleted post is still available -- we do at least learn Webb's still fighting real hard to get the required 1000 signatures he needs to even get on the ballot.
Since deleting the earlier posts, Webb has now decided the best strategy is to proclaim his faith is being tested, and he will survive, because that's what a conservative Christian does when he's not tracking down criminal porn video hackers. After citing Psalm 100:5 ("For the Lord is good; his mercy is everlasting; and his truth endureth to all generations"), Webb explains he's ready to "make a joyful noise unto the Lord," because now his conservative message has made it out to the masses, Praise Jesus!
Today's notorious post reached almost 200,000 people. The succeeding post reached a little more than a tenth of that, and all through the viral infection of social media and word of mouth ... But, the truly amazing thing about today was that "I saw also the Lord, high and lifted up," and I was very much moved by the love and support of those who expressed their encouragement and support, even some in the national and local press.
What has he learned from all this? He has learned that "people are interested and motivated by truth and substance, not flash or even scandal." You see, while his online support had already been impressive, now his Facebook and Twitter traffic is through the roof! Clearly, he concludes, "what does not kill you does make you stronger."
Or a national laughingstock. Definitely one of those. Praise the Lord and pass the popcorn.
[Guardian / Daily Caller via Political Wire / ARLNow / cached Mike Webb post via Kansas City Star / Mike Webb on Facebook]