Oh, Did Something Happen With Trump-Russia Last Night? Wonkagenda For Tues., Sept., 19, 2017
Russia
September 19, 2017 09:16 AM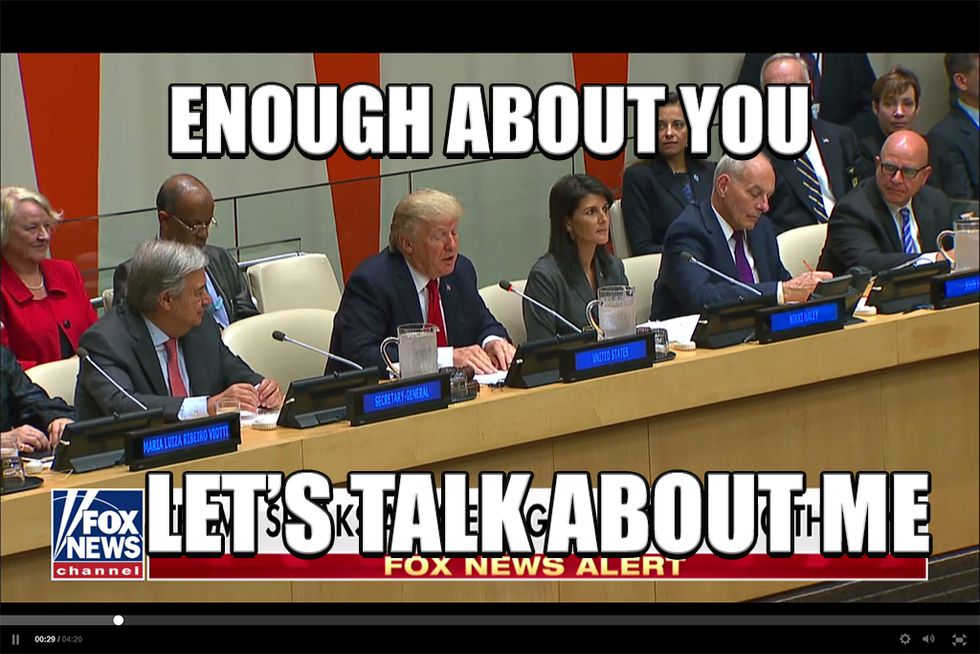 Morning Wonketariat! Here's some of the things we may be talking about today.
---
Catch up on last night's BREAKING NEWS about Trump campaign manager Paul Manafort, and his three-year wiretap[p]! Obama and his time machine back to 2014 STRIKE AGAIN! Plus, $FiveFeminist will be here shortly with Tuesday Funday news of imminent Paul Manafort indictments!
There's ANOTHER deadly hurricane barreling down on the Caribbean right now, prompting officials to warn that people will die if they don't GTFO!
Robert Mueller has been shooting the shit with an old DOJ buddy who happens to be a Watergate veteran, and it looks like he's the shadowy figure eyeballing Paul Manafort.
Son of Zombie TrumpCare: The Quickening hasn't died yet, prompting Republican Sen. John Thune to comment that Bill Cassidy is a "grave robber." However, bitching from hard-line conservatives and John McCain's only-tepid maybe-support is keeping hope alive.
Meanwhile, back in the House, Mark Meadows can't wait to fuck all the sick poor people who need health care, warning that his Tea Party crazies have a "binary" choice.
Somehow the Senate passed its big ass defense spending bill, casually leaving out the trans ban, BRAC and budget cuts.
Jim Mattis has severely pissed off the Pentagon Press corps by kicking them off Not American field trips and limiting their access to top officials, and that has people worried that Trump's war on the press has dragged in the Pentagon's top brass.
Sen. Jeff Merkley wants to be the next Bernie Sanders, but with better hair, so he's been courting liberal and progressive groups, keeping his eyes on 2020.
Now that we've seen what happens when you ignore the frantic flailing of the fuckers in IT, politicos are paying close attention to cybersecurity in fear of being steamrolled by some murderous Russian email-ghazi trolls.
Trump will address the UN General Assembly today, and nobody is sure which "values and traditions" of his Lindbergh-esque America First crap he'll casually gloss over.
In his introductory speech before world representatives yesterday, Trump jerked himself off at the UN, complaining about "bureaucracy and mismanagement."
During some sit down talky-time last night, Hillary Clinton begged federal workers to stop their mass exodus, stating, "At some point they're going to need you, and the country is going to need you. And I hope you're still there." UGH, fine.
Kids these days are less interested in fucking, fighting, drinking, and driving because they're all busy reading Harry Potter and climbing mountains.
You may have been asking yourself what the hell is going on in Burma with the Rohingya, the state's Muslim minority population, and why there are allegations of genocide.
A Fox Business teevee talking head is back on the air after an internal investigation found he didn't rape a guest, but his alleged victim Scottie Nell Hughes is now saying that she's been blacklisted from teevee.
Poor Glenn Thrush! He's so sick of all the lies, and the bullshit, and the trolls, so he "deleted" his Twitter account last night. Enjoy the silence, Glenn!
And here's your morning Nice Time! Slow-mo Snow Leopards! It's so dramatic!
Help us pay our bills! It's readers like you who keep the lights on and the coffee flowing.
Dominic Gwinn
Dominic is a broke journalist in Chicago. You can find him in a dirty bar talking to weirdos, or in a gutter taking photos.