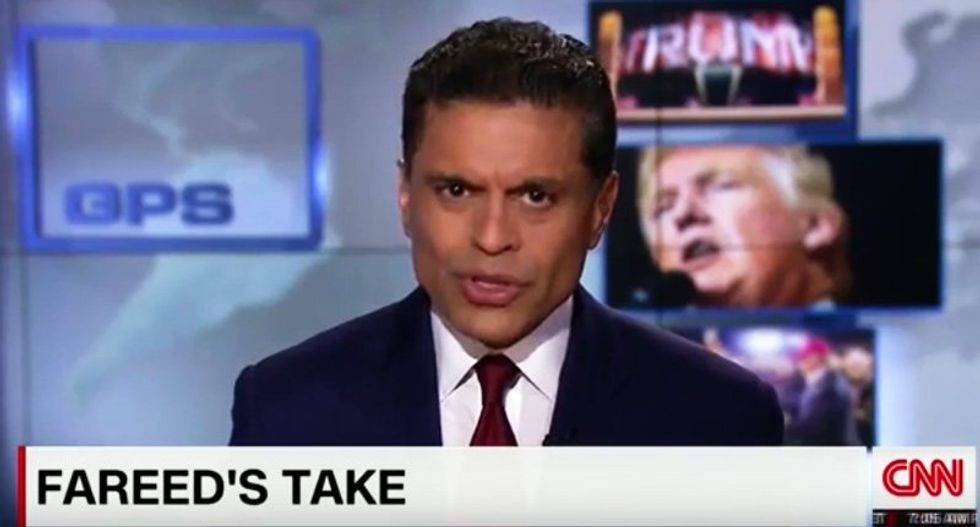 Oh shit.
---
As we all know, there have been two distinct phases in Donald Trump's presidency so far. There was all the bumbling and fucking around and failure that characterized the first 85% of it, and then there was the day Everything Changed, because Trump did boom boom at Syria, and as we all know, you're not REALLY president until you discover that the U.S. military has a bunch of bombs and you make one go boom. In Trump's case, it was a useless, ill-planned strike on an empty airfield in Syria, because (we are supposed to believe) Trump saw some pictures of itty bitty beautiful babies getting gassed by their tyrant leader, something that's NEVER HAPPENED BEFORE IN SYRIA, and immediately decided that something must be done. Ivanka probably emailed him the pictures.
The day it happened, the Trump regime picked up its Obamaphone and said, "Здравствуйте to all our sexual friends in Russia! We have decided to do Boom Boom, and just wanted to let you know, because you are on the opposite side in this Syrian civil war, and we don't want any of y'all to get hurted. Also, go ahead and tell the Syrian government, we guess. Anyway, this is Trump's first big boom boom, so wish us luck!" And Putin was like "да! Have good bomb! Remember I have kompromat videos of you and some pee hookers, allegedly! Anyway, have good day! Always remember, Vladimir love you."
And immediately, the media -- which had been actually doing its job and covering the twists and turns of the Trump Russia scandal, and the disastrous policies of the new regime -- started giggle-jizzing itself, as it frolicked around in a puppy pile of proclamations about how, having done a bomb, Trump was now a VERY SRS PRESIDENT.
Dumb hack pundit (and plagiarist!) Fareed Zakaria was in that jizzy frolicky puppy pile, as he explains in the Washington Post:
I didn't really believe that there was such a thing as Trump Derangement Syndrome — hatred of President Trump so intense that it impairs people's judgment. It's not that I didn't notice the harsh, unyielding language against him — I've said a few tough things myself — but that throughout the campaign, Trump seemed to do things that justified it. Once elected, instead of calming down and acting presidential, he continued the stream of petty attacks, exaggerations and lies. His administration seemed marked by chaos and incompetence.
Fareed Zakaria has been known to utter a saucy zinger about President Pussgrab! But then everything changed:
And then came the strike against Syria.
Oh fuck off.
On that issue, Trump appears to have listened carefully to his senior national security professionals, reversed his earlier positions, chosen a calibrated response and acted swiftly. I supported the strike and pointed out — in print and on air — that Trump was finally being presidential because the action "seems to reflect a belated recognition from Trump that he cannot simply put America first — that the president of the United States must act on behalf of broader interests and ideals."
This is a flowery way of saying that Zakaria got a miniature stiffy when Donald Trump made Go Boom.
Zakaria adds that he is "critical of Trump's larger Syria strategy," and offers a link to a column where he lays out his beliefs about that. We didn't click on it, because unless the headline says, "Trump's Syria Strategy Fucking Stupid, Also Does Not Exist," it's a waste of our time. But other people read it, and apparently poor Fareed became victim of some constructive criticism!
From the response on the left, you would have thought I had just endorsed Trump for pope. Otherwise thoughtful columnists described my views as "nonsense" and a sign that the media has "bent over backward" to support Trump. (Really?) One journalist declared on television, "If that guy could have sex with this cruise missile attack, I think he would do it." A gaggle of former Obama speechwriters discussed how my comments were perhaps "the stupidest" of any given on the subject.
Hahahahahahaha, Fareed Zakaria wants to do love boners to Trump's Tomahawk missiles! For the record, the journalist who said that was Jeremy Scahill, and even though Scahill is a sometimes douche who works at shitty Glenn Greenwald's loser website The Intercept, Wonkette awards him five whore diamonds for saying on TV that Fareed Zakaria wants to make romance to Trump's boom boom.
Zakaria makes a case that Trump's missile strike on Syria was "Obama-like" (PFFFFFFT!), says liberals have a responsibility to evaluate Trump's policies and actions one by one and, we guess, praise the Pussgrabber In Chief when he doesn't completely shit the bed, and asks, "Do we want what's better for America or what's worse for Donald Trump?" The answer to that question is an unequivocal YES.
You see, Donald Trump, who has been president for 84 whole fucking days, is under multiple investigations for possibly colluding with Russia to hack the election (and we hear arrests may be coming soon!); his White House is a juvenile hellscape of infighting and hair-pulling; the policies he's pushed so far have been dazzling both in their cruelty and their incompetence; and oh yeah, HE MIGHT BE ABOUT TO START A NUCLEAR WAR WITH NORTH KOREA FOR NO FUCKING REASON BESIDES HOW IT MAKES HIS TINY HANDS FEEL BIGGER.
Donald Trump has already done untold damage to our institutions, and his White House seems to be crawling with Russian spies, so yes, patriotic, well-read liberals with spines want Trump to fail, and we want him to fail hard, because that is literally the only way America will succeed. It's that simple.
But, you know, keep fucking that chicken, Fareed Zakaria.
Wonkette doesn't make as much money as Fareed Zakaria, and that is a crime against common sense and humanity. Click below, to fund us with dollars!
Evan Hurst
Evan Hurst is the managing editor of Wonkette, which means he is the boss of you, unless you are Rebecca, who is boss of him. His dog Lula is judging you right now.
Follow him on Twitter RIGHT HERE.