Oh Nothing, Just Panamanian Riot Cops Storming Trump Tower, We're Sure It's Fine.
Russia
February 28, 2018 11:41 AM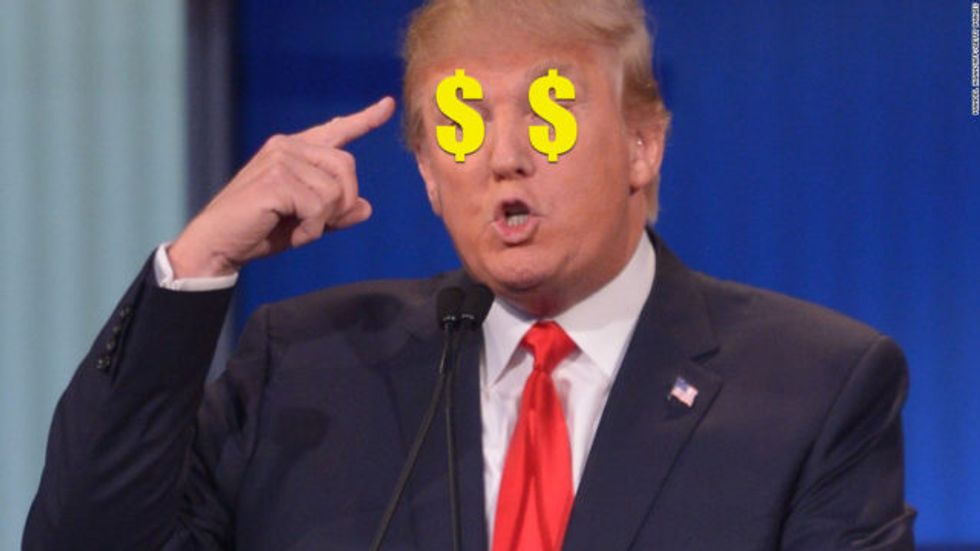 Put a businessman in charge, they said. We need someone who knows how the world really works, they said. Donald Trump is king of the deal, he'll make America great again, they said.
---
Here's a video of the Trump Hotel in Panama, which was raided this morning by Panamanian police.
More police have just entered Trump hotel in Panama. pic.twitter.com/jdsogaqg0S

— Joshua Partlow (@partlowj) February 28, 2018
And here are some friendly fellows from the Panamanian Ministry of Labor, who do not look to be there on a routine inspection.
also Ministry of Labor staff (in vests) who are investigating whether @realDonaldTrump's staff have unlawfully refused to be fired. pic.twitter.com/y9Ofva7vTJ

— David Fahrenthold (@Fahrenthold) February 28, 2018
The trouble started in October, when the hotel's new majority owner (rooms are sold individually as condos, and dude bought up so many!) tried to terminate the management agreement with the Trump Organization. Despite the hotel's abysmal revenues, Donald Trump Jr. and his maybe slightly smarter brother Eric insist the owners are contractually obligated to pay them until 2031. As the case works its way through Panamanian courts, relations in the building have gotten ... tense. AP reports:
Representatives of the hotel owners' association formally sought to fire Trump's management team Thursday by hand-delivering termination notices to them at the Trump International Hotel and Tower, according to a Panamanian legal complaint filed by Orestes Fintiklis, who controls 202 of the property's 369 hotel units. Trump's managers retreated behind the glass walls of an office where they were seen carrying files to an area where the sounds of a shredding machine could be heard, according to two witnesses aligned with the owners.
GREATEST BUSINESSMAN EVER!
The 70-story Trump-branded hotel in Panama is a gilded ghost town. Is it because the Trump brand is toxic? Is it because Don Jr. and Eric are terrible managers? Or is it both? Whatever the reason, the new owners want to fire the American president's company, and they're asking the Panamanian government for help.
What could possibly go wrong?
The Trump Organization has responded by barricading itself in the building's command center and temporarily cutting the phone, internet and electricity.As one does.
Elsewhere in the building, the hotel owners' team and its allies were barred by Trump Hotel staff from entering the room containing the building's closed-circuit TV system as well as key computer servers for the hotel and apartments that share the property. In response, they shut off power to the room — temporarily bringing down phone lines and internet connections within the building.
Here's a video from the Washington Post of the Trumps' goon squad shoving around the owner's security team.
Yesterday, Panamanian police arrested one of Trump's guards who blocked their access. And today 11 Trump employees are supposed to appear before a justice of the peace on charges that they illegally denied entry to the building's owner.
This means that Donald Trump, who reported $810,000 in management income over 15 1/2 months from the property, is conducting American foreign policy with Panama, while the Panamanian government adjudicates his business contracts.
EMOLUMENTS CLAUSE, HOW DOES IT WORK?
And while we're on the topic, let's rewind the tape here. As Reuters reported, the financing of the Panama tower was suspect from the start, with properties being pre-sold (sometimes multiple sales of the same unit) to huge numbers of Russian buyers taking advantage of Panama's lax reporting requirements to get money out of Russia. Trump, who was boxed out of traditional financing because of his many bankruptcies, was then able to take the pile of Russian cash to a bank and get a construction loan.
If you believe the testimony of Glenn Simpson from Fusion GPS -- AND WE DO, especially after we listened to this podcast from WNYC -- this was Donald Trump's business model by the early 2000s. Build a luxury property in an unlikely spot, like Baku, or Batumi, or Panama, and sell the units to low-level gangsters looking for a place to park their cash beyond the reach of the Russian state. Slap the Trump name on the front, lock them into a long-term management contract, and you've got an annuity that pays out for decades. Maybe Trump wasn't really trying to build the Trump Tower Moscow on all his visits to Russia. Maybe he was looking for guys who couldn't afford to buy in London but still wanted to put their rubles on a plane with someone who would turn them into nice, clean dollars without asking a lot of questions.
And hey, what's this? Robert Mueller is looking into Donald Trump's activities in Russia before the campaign. WHAT A COINCIDENCE!
This will not end well. And to all you geniuses who voted for a businessman president, FUCK YOU VERY MUCH.
Follow your FDF on Twitter!
Please click here to fund us! We promise to use it on salaries and not shady oceanfront condos! OR DO WE? Yes, we do.
[AP / WaPo / Reuters / ProPublica]
Liz Dye
Liz Dye lives in Baltimore with her wonderful husband and a houseful of teenagers. When she isn't being mad about a thing on the internet, she's hiding in plain sight in the carpool line. She's the one wearing yoga pants glaring at her phone.