OH SHIT THERE'S TWO OF EM NOW! Wonkagenda For Tues., Dec. 19, 2017
Guns
December 19, 2017 09:16 AM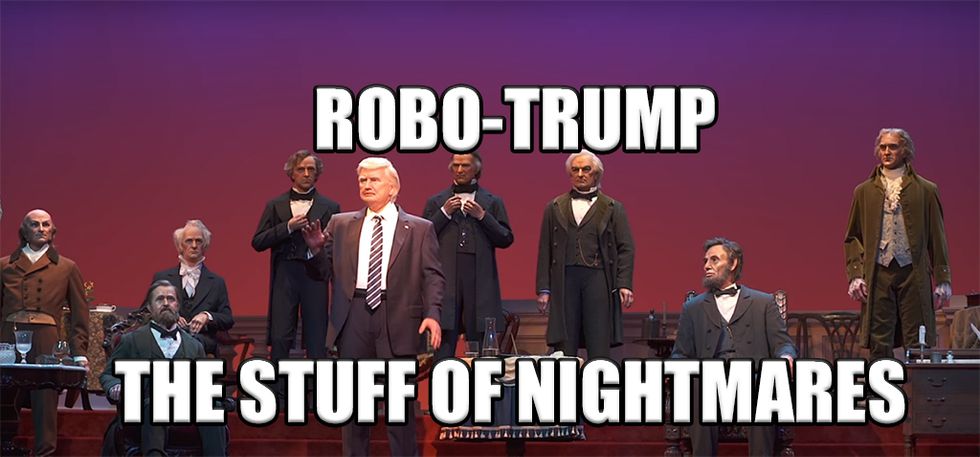 Morning Wonketariat! Here's some of the things we may be talking about today, but first, RESCUED SEA OTTERS!
---
The used car salesmen who call themselves Trump's lawyers will meet with Robert Mueller, who is expected to tell them that Trump-Russia is only just getting started.
Chuck Grassley and Trey Gowdy want Deputy FBI Director Andrew McCabe "You're Fired" because they think he's running a secret coup with Hillary Clinton's magic emails.
The Senate's Trump-Russia investigators want to have a chat with Jill Stein and her lackeys about Russian fuckery and her fancy dinner with Mike Flynn and Vladimir Putin back in 2015. They'd probably ask Gary Johnson too, but he's so stoned he wouldn't remember anything anyway.
Mitch McConnell is performing a delicate circus act in trying to balance tax fuckery and government funding while simultaneously shredding the social safety net without somehow pissing off miners in Appalachia, CHIP beneficiaries, immigrants, and opiate addicts ahead of the 2018 Midterms.
Protesters have been popping up at congressional offices on and off the Hill, vowing to "fight" and "win" against the GOP's plan to screw the poor and sick people with the Trump tax cuts (for the super rich).
The new national security strategy says the US views China and Russia as a "rival power" that threatens US "influence, values and wealth," just like the good old Cold War -- except Trump doesn't seem to have read that memo.
As Congress drags its feet to fund the social safety net, popular research programs like the Special Diabetes Program face a bleak future.
The Swamp is striking back against attempts to scrap Obama-era policies by simply relabeling them, or touting their economic benefits over their environmental impacts. Clever...
Back during the nominating process, Trump thought about "You're Firing" Neil Gorsuch, fearing that he was more loyal to Jesus than to Trump himself.
Another one of Trump's awful judicial nominees is backing down after being publicly humiliated and exposed for not knowing doodly squat about lawyering.
Scott Pruitt is VERY paranoid. Back in March Pruitt charged taxpayers $3,000 to "sweep for covert/illegal surveillance devices," and makes staffers leave their phones behind during meetings, that way nobody can snitch when he rapes Mother Earth in the dead of night.
SCOTUS got a frantic phone call from the Trump administration trying to cockblock ANOTHER Messican anchor baby from being aborted by an underage undocumented immigrant after a judge ruled that Jane's Doe & Poe are legally entitled to abortions.
Even though he spends most of his time trash talking them on Twitter, Congress agrees with Trump a lot, and there's infographics to prove it.
The New York real estate empire of Jared Kushner is a sad lie; he doesn't own much of his "empire," forcing ethics watchdogs to wonder who actually owns the slums and skyscrapers peddled by Kushner Co.
A new suit accuses the Trump administration of being hostile towards women in combat roles, citing the policies of "sex-segregated Basic Training" and "Leaders First" as evidence, however Trump officials are just worried that all the blood coming from their wherevers interferes with their mission to grab 'em by the pussy.
Consumer and advocacy groups are asking multiple federal agencies for their plans to protect service members and their families from predatory lending practices that often leave military families burdened with unnecessary debt.
A leaked internal memo following REXXON's American policy and values speech reads like a foreign policy bitch slap, telling him that we should be doing exactly what our adversaries accuse us of doing: using human rights as a weapon.
The NRA is waving its white flag and signaling support of expanded background checks. Miracles never cease.
The Hill's Office of Compliance denied VA Democratic Sen. Tim Kaine's request to release sexual harassment data despite immediately releasing similar information for the House. Maybe he should have told them it was about Her Emails?
The Charlottesville, VA, police chief has stepped down amid backlash that local cops didn't do anything to prevent neo-Nazis from running around and trying to murder people.
Betsy DeVos spoke at the University of Baltimore (because reasons?) prompting students and audience members to stand and turn their backs in protest.
Climate change is seriously screwing up the Winter Olympics as athletes have to contend with hills of mud instead of snow.
Russia is full of many sads that Trump's national security strategy doesn't give every pro-Putin minister a sloppy blowjobs.
Australia is leaving hundreds of asylum seekers stranded without food, water or toilets after abandoning camps, and the UN is pissed. Think of it like Trump sending illegal immigrants to Gitmo, and then bailing without warning.
In a new op-ed, the Trump administration is laying blame for the Wana-Cry hack on North Korea. Based off a stolen NSA cyber weapon, the malware locked down Not American hospitals and businesses. [Archive]
"Alt-Right" nutjobs are blaming the Amtrak derailment on Antifa, but then denying their own tweets and blog posts after being questioned.
With Twitter readying its Nazi banhammer, "alt-right" trolls have begun migrating to a new Taylor Swift app, flooding it with pro-Trump spam and forced memes for their white queen.
Disney has embraced the dark arts in the Magic Kingdom; they're about to debut the Donald Trump robot at the new Hall of Presidents and it's as bowel churning as it sounds. [Video]
And here's your morning Nice Time! POLAR BEARS...and robots?
We're 100% reader supported by super nice people like you! You want to be a nice person, DON'T YOU?
Follow Dominic on Twitter and ask him nerdy questions!
Dominic Gwinn
Dominic is a broke journalist in Chicago. You can find him in a dirty bar talking to weirdos, or in a gutter taking photos.