OIL! It's Got What Plants Crave! Wonkagenda For Tuesday, December 13, 2016
Science
December 13, 2016 09:00 AM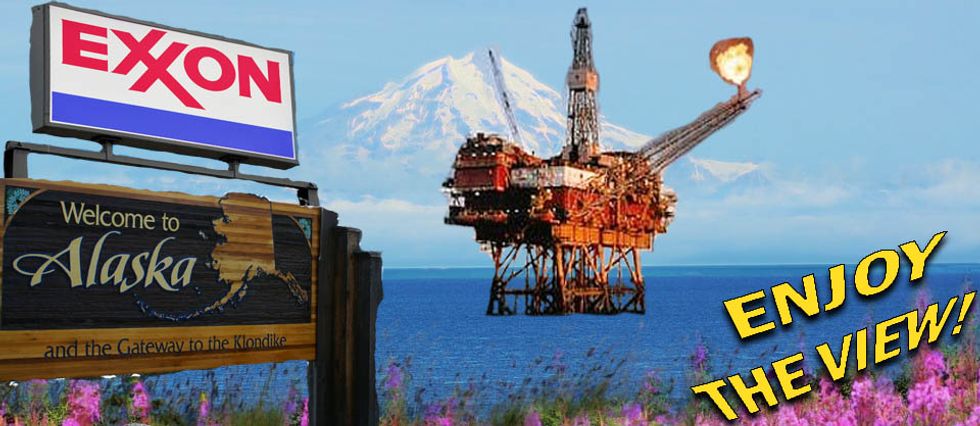 New AND Improved!
---
Exxon CEO Rex Tillerson has been tapped to be the secretary of State, so take a cue from Hillary Clinton and go walk around the woods before they're filled with flammable methane gas leaks and fuzzy animals smothered in oil slicks.
Is it at all possible that Donald Trump's business is already being used by other nations as a bargaining chip to strong arm their own foreign policy agenda? Yes, it is, considering Turkey may already be trying.
Jill Stein's recount effort was stopped after judges in Wisconsin and Pennsylvania certified Trump's win. Now that she's rich, maybe she'll grovel at Trump Tower for a job?
Montana Rep. Ryan Zinke is being considered for the Department of the Interior, which is great if you love grifters being in charge of your environmental policy. (We still think that one's going to Sarah Lou.)
Disgraced former Illinois Rep. Aaron Schock has pleaded not guilty to federal corruption charges that include 24 counts of wire fraud, mail fraud, theft of government funds, making false statements, filing false reports with elections officials, and false tax returns. In hindsight, remodeling his office into a Downtown Abbey set probably was rather un-American.
Former Pennsylvania Rep. Chaka Fattah has been sentenced to 10 years in federal prison after being found guilty of bribery and corruption charges that make Aaron Schock look like a chump because Fattah has one of the longest sentences of any Congress crook ever. And now you have something fun for trivia night!
It's not just Congressional Republicans and Democrats who are wary of Rex Tillerson being nominated to Secretary of State, while Mitt Romney had to go Facebook where he swears he didn't cry or beg. Hell, even super religious people like Tony Perkins are scared that Tillerson might export young gaymo sexual Boy Scouts and aborted babies along with all the deliciously sweet crude oil we'll have! Kind of gives a whole new meaning to drill, baby, drill, doesn't it?
Now that the CIA has said Valdimir Putin was playing electoral grab-ass with Donald Trump, Donald Trump has canceled a press conference that was to detail how he'd lay himself off, and instead he figures he can just give his business to his two sons, while Ivanka tries to quietly keep America from imploding.
There are now 29 electors (including one Republican) asking for an intelligence briefing before voting next week, which still has better odds than Jill Stein's secret soylent cash con.
Democratic Senator Harry Reid might be about to take a road trip down Route 66, but he thinks it's a safe bet that Trump's campaign, and possibly Trump himself, knew about Russian interference in our election. Maybe Trump just really likes playing Russian roulette?
Bamz went on the Daily Show last night to talk about racism and Obamacare, and even offered Donald Trump free advice not to skip his intel homework so that he's ready during finals. Free advice, pff, commie.
Take a minute and watch the lottery that assigns new House Reps their windowless basement offices on the Hill where they can play footsy with staffers or gripe about a lack of pork for their backwater hometowns in Bumblefuck, Wisconsottana or Nowhere, South Arklohoma!
Here's Samantha Bee 'splainering Ohio's new heartbeat abortion bill that even John Kasich thinks might be a wee bit unconstitutional.

And here's your morning Nice Time! Baby goats and puppies because jeebus crispies, look at that puppy!
Dominic Gwinn
Dominic is a broke journalist in Chicago. You can find him in a dirty bar talking to weirdos, or in a gutter taking photos.