OKAY, You People Who Keep Asking Us To Endorse Various Superheroes For DC Mayor...
News
July 10, 2009 02:58 PM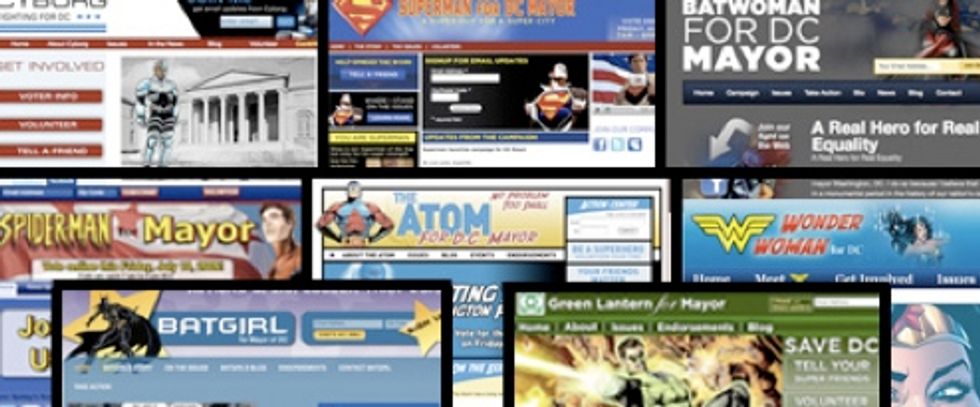 Here's what's happening: a bunch of hippies inspired by the Nobama campaign are giving up consulting and corporate law to become Progressive Activists and Organizers, at least until the recession passes. They are enrolled in something called "New Organizing Institute Boot Camp" and, for Training, have been holding a mock election for DC mayor -- young progressives nationwide care about DC zoning issues more than anything else -- all week. It took us several days to understand this, as these e-mails with subject "Endorse the Green Lantern for DC Mayor" and such kept evading our spam filters. So with voting ending at 6, tonight, let's make an "informed" endorsement!
---
Your choices are Atom, Batgirl, Batwoman, Cyborg, Green Lantern, Spiderman, Superman, and Wonderwoman, oh boy. Well RIGHT OFF THE BAT, "New Organizing Institute," you should know that using alphabetical order on ballots can skew results with an apathetic voting bloc (us!) But anyway, this is the sort of stuff getting sent out from each campaign:
Additionally, word is that the Green Lantern has been hanging out with Steel (the African American Superman), a DC native, and who may be facilitating appearances at key churches and meetings with DC institutions like Fauntroy and Barry. It seems the Green Lantern is hip to the voting constituency of DC … word is he has a plan in the works for a whole host of projects east of the river, including the Green Lantern Corps to move its interstellar headquarters to Southeast DC.

As for other parts of the city, Ward 2 residents should rejoice that the Green Lantern is not letting the Marvel-DC comics divide get in the way of his friendship with Northstar, the openly gay member of the X-Men, and to help bring the Justice League to move their headquarters to the Atlas District for a revitalize NE campaign.

Last, we can be sure to one thing … with that mighty ring in hand, the Congressional votes for DC statehood may finally and literally materialize to bring home our dream of being taxed for a reason.
We have no idea what the fuck is going on.
Wonkette endorses... let's see... Cyborg, because (a) they never sent us a press release with psychotic gibberish and (b) why not. EVERYONE GO VOTE FOR CY-BORG. It is time to WARBLOG.
TRUE NEWS: All of the candidates, except CYBORG, Tell your neighbor!