Oliver North Worried That Bergdahl Swap May Have Financed Terrorists. Yes, That Oliver North.
News
June 04, 2014 07:00 PM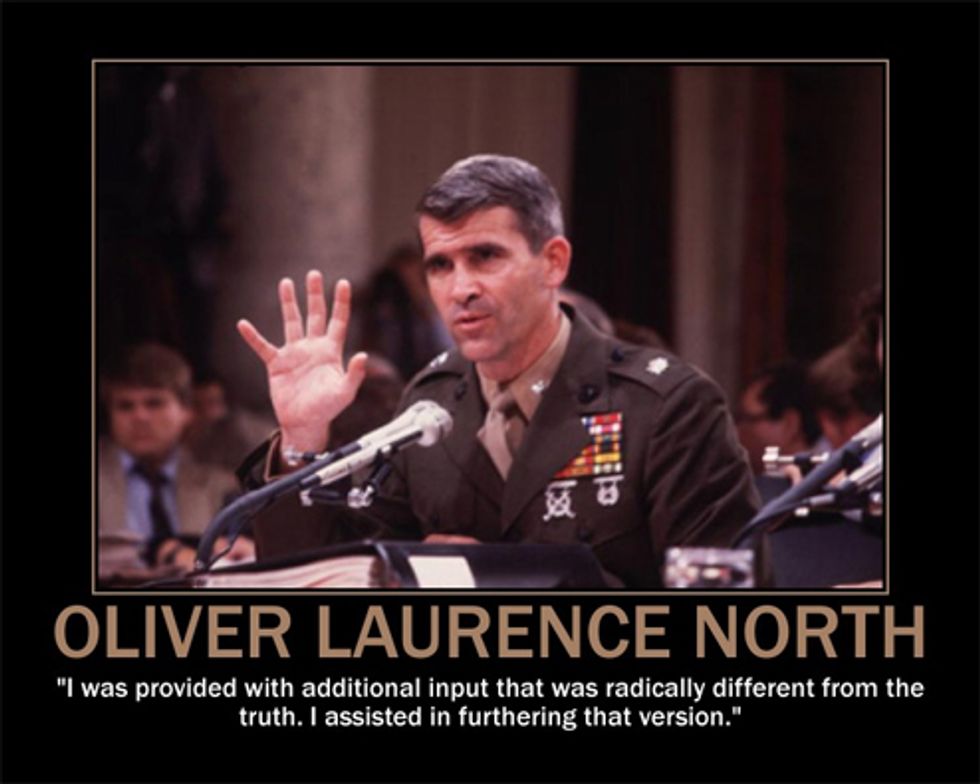 OK, this is just going to be a shortpost because it is already getting late and we have been typing all day but Holy Blessed Jumped-Up Jesus On A Skateboard ARE YOU FUCKING KIDDING ME?Oliver North is Very Concerned that a ransom may have been paid for the release of Bowe Bergdahl, which would be terrible because you just NEVER give money -- or missiles, or so much cocaine -- to terrorists.
---
Speaking to former Rep. J.D. Hayworth (R-AZ) on his Newsmax program, North demanded to know if a ransom was paid to terrorists in order to execute the swap.

"Was there a ransom paid?" North said. "Did the government of the United States, either directly or indirectly, finance a terrorist organization?"
While it would be terrible to give money to terrorists, he presumably added, it would be OK to give money to a freedom fighter group that the USA created. Wait, no, it's only OK if they're a CIA-created group in Central America. And you'd certainly never make a deal with radical Islamists to get a hostage back. Um.
Hey, did you see that picture of North with all the medals? He's a patriot.
Go read the rest at TPM. It's time to go throw out every book we own on irony.
[TPM]
Follow Doktor Zoom on Twitter. He should be pouring another scotch by now.