Oregon GOP Gov Candidate Admits He's Former Swinger, Current Big Lie Creep
State/Local Politics
February 08, 2022 12:15 PM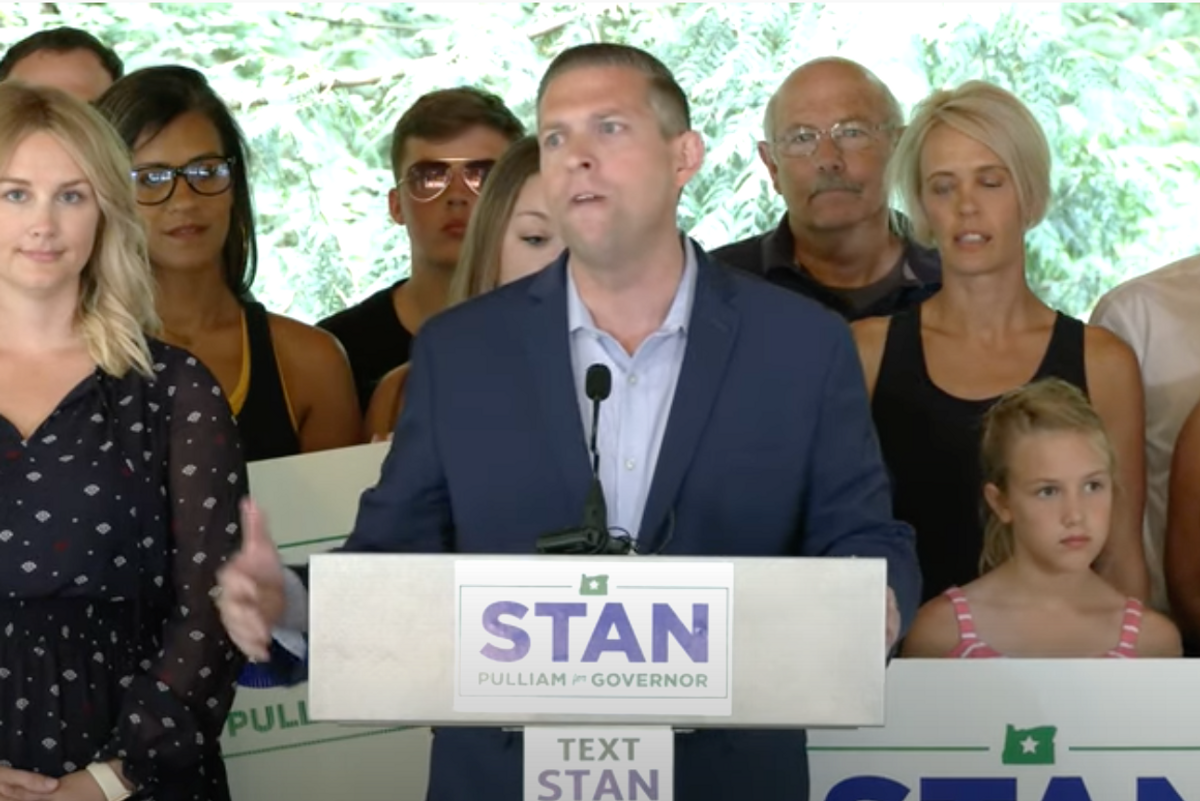 Let's check in on the thrilling race to serve as my next governor. Oregon Governor Kate Brown can't run for re-election this year because of term limits and because she'd probably lose badly. Republicans hope they can flip the state during a red wave when voters are pissed about school closures and COVID-19 restrictions. That's why they are sending their best, such as Sandy Mayor Stan Pulliam.
Pulliam was a vocal critic of Brown's COVID-19 policies, and he led the "Open Oregon" movement that encouraged businesses to reopen fully on New Year's 2021 in defiance of existing pandemic restrictions. He said last year: "If I was a business owner, I would declare I would never shut down again." He doesn't seem to grasp how the law works, so he's a great fit in the current GOP.
REMEMBER? Oregon Gov. Kate Brown Is Nation's Least Popular Governor, So That Seems Unfair
The rural and urban divide in the US has grown so vast that a Republican in a solidly blue state doesn't even sound like a common Susan Collins. He's just Tucker Carlson in a fleece vest. During a speech last year in Troutdale, Pulliam suggested Democratic dominance in Oregon was de facto evidence of voter fraud.
---
Pulliam cited Portland releasing results after the rest of the state as potentially corrupt because city leaders would know the mark to beat.

He is also supportive of poll watchers and ID-based voting.
As governor, Pulliam plans to invade the anarchist state of Portland and restore order. He claims that Multnomah County District Attorney Mike Schmidt has "essentially legalized crime." (Shockingly, the truth is actually more complicated than this.) He wants to triple the size of the Oregon State Police and has described Portland as "an unmitigated disaster — a national laughing stock."
Speaking of which, Pulliam is now in the hot seat after it was revealed that he and his wife, MacKensey, were briefly part of the swinger community. Pulliam fessed up after a 2016 screenshot started circulating from a page called "Swinger Facebook Group PDX." Oh, so Portland's good enough for Pulliam to spouse swap?
The screenshot shows four pictures of the couple and includes a note from Pulliam.

"Hi Everyone!," the message says. "MacKensey and I are excited to be added to your little community. Some of you we have already had the pleasure to meet and we look forward to getting to know the rest of you!" (The swingers group then had 536 members.)
Pulliam told Willamette Week that he and his wife (who's a person not a venture capital firm) had "explored relationships, mutual relationships with other couples, for a brief period of time before ultimately deciding that it wasn't for us."
Call me petty all you want, but it sounds like they got no takers. Pulliam was probably the weak link. That's just not a swinger's voice.
I don't endorse kink shaming so I don't think attempted (or even successful!) swinging should disqualify a political candidate, but I do expect that my governor should know how the Internet works. If you're on a Facebook swingers group, just assume that this is now public knowledge. Own it fully. Grow a thick mustache and hand out special "Stan for Governor" lotions at campaign events.
Instead, during a Zoom interview last Thursday, Pulliam refused to say when the "mutual relationships" began or ended. (Wait, I thought they'd just "explored relationships." I "explored relationships" in high school. That doesn't mean anything happened.) He admitted that 2016 was an accurate date abut he and MacKensey stopped participating well before he launched his gubernatorial campaign. Don't worry. No swinging will distract him while in office.
"I think people can relate from all different parts of the state who have been involved in marriages," he says. "There are different stages of marriage and different ebbs and flows. This is something that was for a brief period in our past and is in the past."
He claims that an online photo of him at the Portland Erotic Ball in 2011 precedes his swinging adventures. He also is adamant that he's a "heterosexual male" and he's "only personally engaged in heterosexual activity." I guess the evangelical voter who is tolerant of swinging probably does draw the line at bisexuality.
Although this "scandal" admittedly makes Pulliam more interesting, he's still a Big Lie-promoting asshole who should not become governor.
Follow Stephen Robinson on Twitter.

Do your Amazon shopping through this link, because reasons.
Yr Wonkette is 100 percent ad-free and entirely supported by reader donations. That's you! Please click the clickie, if you are able.
Stephen Robinson
Stephen Robinson is a writer and social kibbitzer based in Portland, Oregon. He writes make believe for Cafe Nordo, an immersive theatre space in Seattle. Once, he wrote a novel called "Mahogany Slade," which you should read or at least buy. He's also on the board of the Portland Playhouse theatre. His son describes him as a "play typer guy."