Oregon Sen. Merkley Stays Up ALL. NIGHT. LONG. Wonkagenda For Wed., April 5, 2017
Elections
April 05, 2017 09:24 AM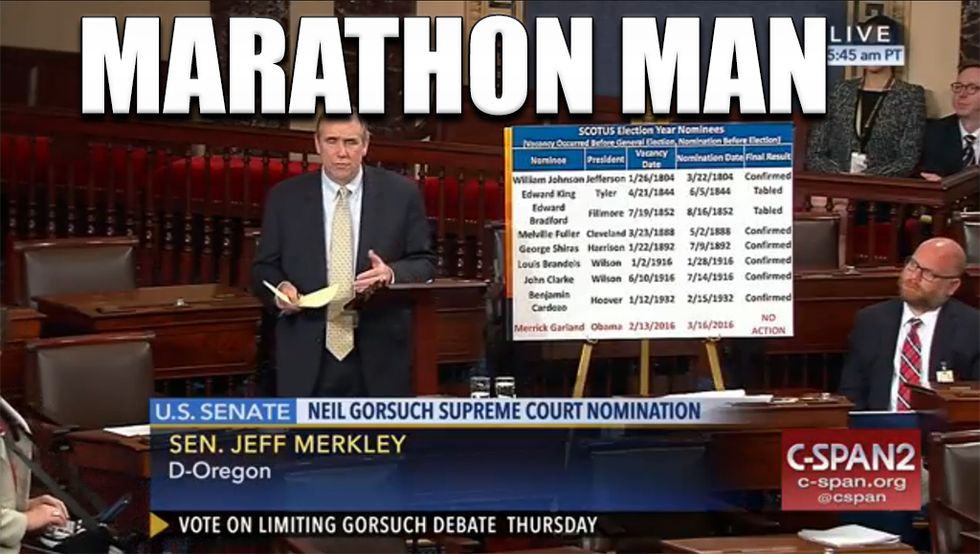 Morning Wonketariat! Here's some of the things we may be talking about today.
---
Democratic Senator Jeff Merkley has been on the floor of the Senate ALL. NIGHT. LONG. in protest of the looming vote to put Neil Gorsuch on the Supreme Court.
Meanwhile, Mitch McConnell popped out of his shell to say he won't use the "nuclear option" to change ALL Senate rules, but he'll still have Gorsuch on the SCOTUS by Friday. Later, WINGNUTZ McCain crashed into a sea of reporters and said anyone who wanted change the rules was "a stupid idiot."
Speaking of Mr. Ice-Road-Truckin', Gorsuch appears to have plagiarized parts of his 2006 book from various law journals and academic articles, a feat of stupidity which would get any serious academic expelled.
OMG! Did you hear the thing about Susan Rice Benghazi murdering all of Trump & Co.'s Russian pee hooker emails? It's such an important story that Mitch McConnell wants you to stop what you're doing, and think about the gorilla mask Mike Flynn was wearing when he violated the Logan Act. And Lindsey Graham thinks someone should investigate all the hairs on that mask too!
Mike Pence and Republicans have healthcare negotiations under control, and everything is normal. There was a slight malfunction, but everything's perfectly all right now. They're fine. They're all fine there, now, thank you. How are you?
Fox News is losing even MOAR advertisers who want absolutely nothing to do with Bill O'Reilly. I suppose they were all good with the race-baiting, gender bashing, and "alternative facts" the network has oozed for the better part of two decades.
This one time, before the inauguration, Trump thought about giving Fox News exclusive broadcasting rights to his coronation as imperial boy king, a charge that is being denied or ignored by everyone except CNN.
While Trump's poll numbers sink ever deeper into the political port-a-potty, Trump wants you to know just how much he's been winning. It's, like, a lot! Like more than 270 wins! And Congress is doing bigly poll numbers too!
Eric Trump gave a talk-time to a smarty-pants business newspaper about the things and said, "nepotism is kind of a factor of life," and you're all overreacting.
Ivanka Trump wants you to know that she disagrees with her daddy on some things, but don't worry your pretty little heads about what those things could be.
Trump wants to put some people in the Office of Civil Rights who have a history of covering up civil rights abuses, like sexual harassment. There's no better way to make America great than to shove all its skeletons deep into a closet and never speak about it again.
GOOD NEWS EVERYONE! A federal appeals court has ruled that gaymosexuals can't be You're Fired for their sexual orientation because it's covered in the 1964 Civil Rights Act.
Two Democrats want the GAO to audit Trump's hiring freeze seeing as how the last two times the government instituted a hiring freeze it actually cost more Ameros than it saved. DERP DERP DERP!
Georgia's Sixth District is becoming the bellwether for Democratic opposition as Jon Ossoff tries to snag Tom Price's old House seat. [Help Him Out!]
The super sleuths at ProPublica decided to shove huge handfuls of facts up Sean Spicer's tweethole after he called the investigative nonprofit a "left-wing blog" during one of the stammering hostage videos we're supposed to consider press conferences.
North Korea fired another ballistic missile last night, prompting someone to rouse Rex Tillerson from hibernation so he could literally state, "The United States has spoken enough about North Korea." Meanwhile, the head of US StratCom is saying that any decision will involve China. Maybe it's a good thing Trump is golfing with Xi Jinping this weekend?
SOMEONE bombed Syria with toxic nerve agents yesterday, leaving us with terrifying and graphic images of a large scale human rights disaster that is in no way funny, however, it's a little funny how Trump has been quietly sending US soldiers into Syria despite previous vocalizations about how he definitely didn't want to put boots on the ground. [Morning Maddow]
And here's your late night wrap-up! Colbertgot some help from the gang at Mystery Inc. , and made the phenomenal Sean Spicer/Muppets mash-up we've always wanted, and talked with Louis CK about Trump; Seth Meyersgot some help telling jokes he can't normally tell; Trevor Noah took a moment to remind us that Turkey is also burning to the ground.
BABY EGYPTIAN TORTOISES!

>
Hey! Wonkette is supported by readers like you, so donate/subscribe and we'll keep giving you all the 'splainerings, dick jokes, and mommy blogging you can stomach!
Dominic Gwinn
Dominic is a broke journalist in Chicago. You can find him in a dirty bar talking to weirdos, or in a gutter taking photos.