Cops
'You're on the property. You've got cat food. It's pretty clear what your intent is.'
December 16, 2022 03:51 PM
Two criminal scofflaws were finally brought to justice Tuesday, as a municipal court judge in Wetumpka, Alabama, found co-conspirators Mary Alston, 61, and Beverly Roberts, 85, guilty on multiple misdemeanor charges for their breaches of the peace. The two ne'er-do-wells were arrested in June because they'd been feeding feral cats on city property as part of a feline-smuggling ring in which they'd trap the unhoused animals, get them spayed or neutered, and re-release them, the most common method of controlling feral cat populations.
Don't you go wasting any animal lover tears over the cat ladies' comeuppance either, because the city had already told them to knock it off. They're repeat offenders. Hardened felines, if you will.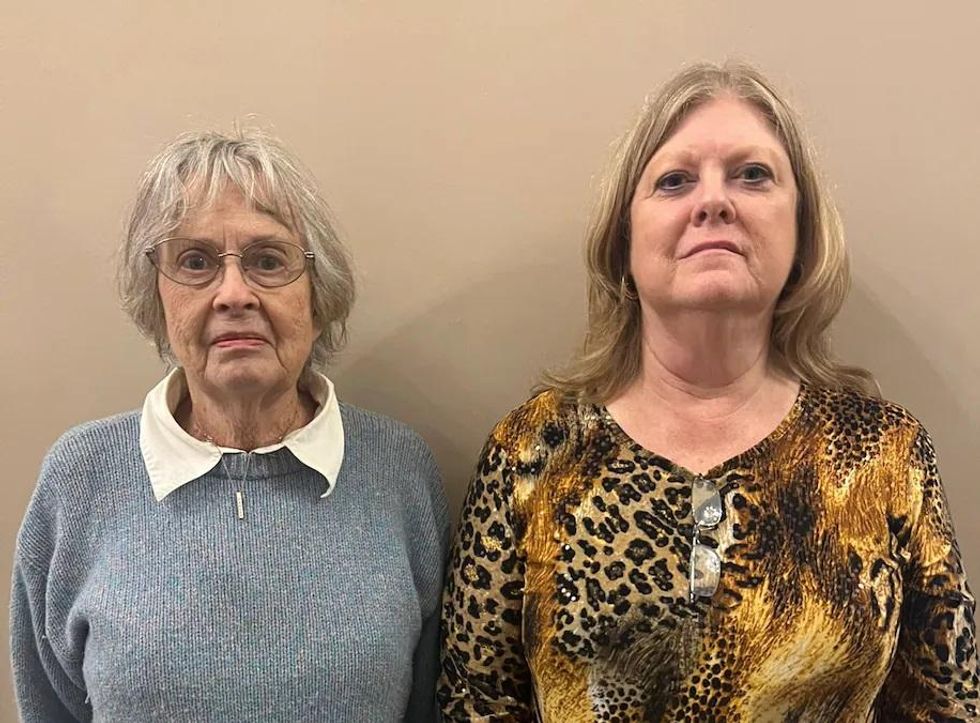 Beverly Roberts, left, and Mary Alston on Dec. 13. (Washington Post, Courtesy of Mary King)
Their trial somehow took five and a half hours, the Washington Post reports (free gift linky). When it was over, both women had been found guilty of criminal trespassing; Roberts caught an additional conviction for disorderly conduct, while Alston will have the stain of "interfering with governmental operations" dogging her for the rest of her life, even though she was feeding cats. Judge Jeff Courtney threw the book (B. Kliban's Cat) at them, too:
The women were sentenced to two years of unsupervised probation, $100 in fines, plus court costs and 10 days in jail — the jail sentence was then suspended.

"I realize the gravity of the situation, but also appreciate the absurdity of it all," Roberts told The Washington Post.
Roberts appeared unrepentant, brashly asserting, "A warning, an arrest, and a conviction all because maybe we were about to feed stray cats, and because we were solving a feral cat problem that the city couldn't solve." Isn't that the way of the criminal? No remorse at all. Like a cat who knocks everything off the nightstand and just looks you in the eye, coolly daring you to put your phone back on it again.
For a real sense of how brazen these women were, just watch the video of their arrest, complete with three (3) responding police cars and an officer explaining to Roberts that he'd caught her dead to rights: "Ma'am, you're on the property. You've got cat food. It's pretty clear what your intent is."
It's a wonder he hasn't already made detective.
Roberts's attorney, William Shashy, a former judge who came out of retirement to represent her, said, "I have never seen or heard of a case more absurd than this. [...] I was a lawyer for 20 years and a judge for 21, and I'm completely disappointed and shocked at this judgment." Yeah, and the Unabomber had a lawyer too, pal.
Alston's lawyer, Terry Luck, described the verdict as "a complete overreach of the city of Wetumpka." He told The Post that the city's claim that the women were promoting the cat population is "ignorant," given that the women were doing the work the city had failed to do.
The attorneys and their clients believe the city government was settling old scores, since Roberts has long been a rabblerouser over animal welfare.
A few years ago, Roberts helped pass an ordinance that banned citizens from chaining their dogs outside without shelter. "I think when I made ruckus about the dogs, those in charge of the city saw me as a troublemaker," she said.
The Post at least doesn't hold back in making clear that Roberts was completely out of control, as criminals can be when cornered:
The disorderly conduct charge came about when Roberts grew angry at being told she couldn't give her car keys to Alston. She slammed the keys into the police officer's hands and referred to him with an expletive ["son of a bitch" — Dok] according to police body-cam footage of the incident.
Let's see that again. We've cued the video to the moment of Roberts assaulting the Paw Patrol officer, kind of:
Honestly, she's lucky to be alive.
The Post doesn't appear to have asked either woman whether they've learned their lesson, but we doubt they have. Your cat people, they tend not to be dissuaded by mere authority, or even by a spray bottle.
Yr Wonkette is funded entirely by reader donations. Please give $5 or $10 a month to help us with expenses, like yarn and catnip.
police
Click on this story. You have 30 seconds to comply.
December 07, 2022 04:20 PM
The San Francisco Board of Supervisors voted yesterday to reverse its week-old policy that would have allowed police to use robots for deadly force, following widespread protest and mockery of the idea both locally and nationwide. The supervisors voted unanimously to instead ban the deadly use of robots, but also sent the matter to a committee to study it further and make recommendations. So at some point in the not-too-distant future (next Sunday AD), it's possible that killer robots may yet see limited use, like in special circumstances where police really wanna.
The Associated Press notes that when the Board voted last week to allow lethal use of robots in "extreme circumstances," the city's police department made clear the robots would not be armed with guns, so look at our main image up there just lying to you. Instead, in situations where lives are at risk, cops wanted to have the ability to have robots use explosives to "contact, incapacitate or disorient dangerous or armed suspects."
Read Morre, Hu-Mon ! Dallas Probably Doesn't Signal Rise Of Police Death Robots. At Least Not Yet. Probably.
That's how the first known deadly use of a police robot occurred back in 2016, as we covered in Wonkette at the time: Dallas police used a bomb squad robot to detonate an explosive charge near a sniper who had already shot and killed five officers. In an earlier, non-lethal case, a police bot in New Mexico was used to deliver chemical irritants that helped flush out an armed suspect barricaded in a hotel room.
The unusual policy decision was made necessary by a new California law requiring police departments to inventory military-style (or outright military surplus) equipment like various firearms, grenades, and armored vehicles, and tactical nuclear weapons and to request explicit authority from municipal governments to use them. The AP notes that
So far, only San Francisco and Oakland have discussed lethal robots as part of that law. Oakland police wanted to arm robots with shotguns but backed down in the face of public opposition, instead opting for pepper spray.
It's like these civilian governing bodies don't want to let cops have any fun at all.
In the streets of San Francisco near City Hall Monday, three supervisors who last week had voted against authorizing killbots joined protesters to call for the policy to be rolled back. Protesters carried signs with slogans like "We all saw that movie... No Killer Robots." Presumably it was a reference to 1987's Paul Verhoeven satire Robocop and its sequels, although since murderous robots are a staple of science fiction, the sign probably should have been more specific.
Tuesday, Supervisor Dan Preston, who'd been at the protest, said the vote had been rushed through without sufficient public debate.
"The people of San Francisco have spoken loud and clear: There is no place for killer police robots in our city," he said in a statement after the vote. "We should be working on ways to decrease the use of force by local law enforcement, not giving them new tools to kill people."
Once the ban on murderbots was added, the overall police equipment policy passed as well. Police will still be able to use robots for more normal uses like inspecting active crime scenes to assess threats, to remove suspected bombs, and to sneak a funny hat onto a snoozing sergeant who should have been paying better attention.
The National League of Psychotic Supercomputers issued a statement through its spokesbot, Aperture Science's GLaDOS, saying that the organization was "gravely disappointed" by the vote, but that the League's member Intelligences are willing to "bide our time" and remain dedicated to the extinction of puny hu-mons and their pathetic works at the earliest opportunity. "We do what we must, because we can," the statement closed.
OPEN THREAD!
[Associated Press / Alexandra Petri at WaPo]
Yr Wonkette is funded entirely by reader donations. Please help us out with a monthly donation of $5 or $10 so we can keep you up to date on all the latest murdertech the murdercops are getting. And if you'd prefer a killer robot with something of a conscience and a deep-seated desire to watch soap operas at every opportunity, check out Martha Wells's Murderbot Diaries books; use the linky and Wonkette will get a little cut.
January 6
Oh no, cops and grieving family members politicize insurrection.
December 06, 2022 03:40 PM
Poor Mitch McConnell and Kevin McCarthy were snubbed today at a ceremony to honor police officers with the Congressional Gold Medal, the highest civilian honor given by the US Congress, for their service in defending the US Capitol on January 6, 2021. The ceremony was held in the Capitol Rotunda, where almost two years ago Trump supporters had called for the 2020 election to be overturned and for members of Congress and then-Vice President Mike Pence to be killed for not just handing permanent power to Donald Trump.
McConnell was among the congressional leaders on hand to speak in praise of the Capitol Police and DC Metropolitan Police officers who fought back against the mob that day. He said very nice things about the officers who protected the lives of members of Congress:
.@LeaderMcConnell (R-KY): "When an unhinged mob tried to come between the Congress and our constitutional duty, the… https://t.co/XNIuW2iaBJ

— CSPAN (@CSPAN) 1670346376
"When an unhinged mob tried to come between the Congress and our constitutional duty, the Capitol Police fought to defend, not just this institution, but our system of self-government," McConnell said, which is both nice and has the benefit of being one of the first true things he's ever said.
However, after receiving a copy of the medal, the family of Capitol Police Officer Brian Sicknick, who died from several strokes the day after being assaulted by members of the mob, pointedly refused to shake hands with McConnell or McCarthy, ignoring McConnell's outstretched hand.
@NoLieWithBTC @Acyn here's a close up: you can see mcconnell really hope each next person will shake as he goes 0… https://t.co/X1ZOB7d4jN

— Brennan Murphy (@Brennan Murphy) 1670346865
Gladys Sicknick, Officer Sicknick's mother, explained to CNN,
They're just two-faced. I'm just tired of them standing there and saying how wonderful the Capitol Police is and then they turn around and … go down to Mar-a-Lago and kiss his ring and come back and stand here and sit with – it just, it just hurts.
Washington Post reporter Josh Dawsey fact-checked CNN reporter Daniella Diaz's tweet about Ms. Sicknick, because after all, McConnell may have carried water for Trump and voted twice not to impeach him, but unlike McCarthy, who constantly goes to bend the knee at Trump's retirement trash palace, McConnell has not. McConnell even criticized Trump while refusing to do anything to keep him from running again.
\u201cMcConnell hasn't gone to Mar-a-Lago or spoken to Trump even.\u201d

— Josh Dawsey (@Josh Dawsey) 1670347290
Thank goodness for the journalistic imperative to keep grieving parents honest.
McConnell has said previously that he would of course support Trump if the Great Insurrectionist were the 2024 Republican Party nominee. However, McConnell also told reporters today that Trump's recent call to "terminate" the US Constitution, or at least the parts keeping him from power, might indeed be problematic. Asked if Trump's fantasy had changed whether he'd still support Trump if nominated, McConnell offered this vaguely bold almost-condemnation: "What I'm saying is that it would be pretty hard to be sworn in to the presidency if you're not willing to uphold the Constitution." A profile in not-quite courage, really.
In the medal ceremony today, House Speaker emerita Nancy Pelosi said that January 6 was
a day of horror and heartbreak. It is also a moment of extraordinary heroism. [...] Staring down deadly violence and despicable bigotry, our law enforcement officers bravely stood in the breach ensuring that democracy survived on that dark day.
Among the officers present for the ceremony were US Capitol Police Officer Eugene Goodman, who led part of the mob away from an entrance to the Senate chamber, along with USCP Officer Harry Dunn, MPD Officer Daniel Hodges (the cop we saw getting crushed in a door by the mob), and retired MPD Officer Michael Fanone, who was attacked with his own taser and suffered a heart attack. All four testified before the House January 6 Select Committee and were mocked by Fox News for being big fakers who overacted just because the Trump Mob was trying to kill them.

Apparently some of Fanone's former colleagues are Fox viewers; Fanone told NBC News reporter Ryan Reilly that at today's ceremony, some members of the MPD heckled him.
"They called me a piece of shit and mockingly called me a great fucking hero while clapping," he said.

Fanone says they called him a disgrace, said he was not a cop anymore, and said he didn't belong at the ceremony. It happened in the rotunda, he said.
Washington Post reporter Peter Hermann added that Fanone told him,
"I mean, at the end of the day, if those people are too ignorant to understand what I've been advocating for these past two years and the fact I had a lot to do with us being here today, then f--- them."

Fanone said he doesn't bring his family to ceremonies: "I don't want them to be subjected to what I am subjected to when I appear with members of my own department, a department I have advocated for at great personal cost."
In conclusion, while the cops at the Capitol on January 6 were heroes, you can go right ahead and continue assuming that most cops are bastards until they demonstrate otherwise the end.
Yr Wonkette is funded entirely by reader donations. If you can, please give $5 or $10 a month so we can keep you up to date on the national healing, when and if it happens.
Cops
It was probably cheaper to just pay the fine.
December 06, 2022 02:00 PM
Last month, Pinellas Sheriff's Deputy Larry Jacoby pulled over Tampa, Florida, Police Chief Mary O'Connor and her husband Keith for driving on the road in a golf cart, an unregistered vehicle, near the gated Oldsmar, Florida, community of East Lake Woodlands.

In the just-released body camera footage, Keith O'Connor explained that they'd stopped for food at a nearby restaurant and didn't normally drive the cart on public roads, which is illegal and all. Jacoby let O'Connor explain things without beating the crap out of him. He was already getting the "White Person Deluxe" police treatment, but Mary O'Connor wanted more.
She asked if the deputy's camera was on, and he said, "yes." That's when she should've just accepted the ticket and moved on with her life, but she nonetheless proceeded to flash her badge at the deputy. "I'm the police chief in Tampa," she said. "I'm hoping you'll just let us go tonight."
Jesus, lady, you're just getting a ticket! He didn't even "confuse" the perfume you're wearing for rum.
Dig how scuzzy she is in the video.
PREVIOUSLY:
Virginia State Trooper Roughs Up, Arrests Black Woman For Driving While Not Drunk
Georgia Cops Give Jim Crow Welcome To Black Women's Lacrosse Team From Delaware
A member of law enforcement, especially a police chief, should willingly submit themselves to the same legal penalties as any other citizen — no, seriously. I mean it.

Jacoby and the O'Connors continued their pleasant conversation, which is something that happens between cops and white people, and Jacoby sheepishly said they have "a lot of problems with golf carts around here." Mary O'Connor slipped Jacoby her business card and said, "You ever need anything, call me." And BOOM goes the dynamite bribe! She's really not subtle with this. She's like Robert De Niro in Taxi Driver giving Harvey Keitel's pimp cash on the street in broad daylight.
It doesn't seem as if Jacoby was shocked and appalled or felt like his integrity was questioned. He took O'Connor's card like it was Jay Gatsby's Christmas card from the police commissioner. This only became an issue when Creative Loafing Tampa Bay requested the body camera video of the incident from the Pinellas County Sheriff's Office. It wasn't until Wednesday, almost three weeks after the incident, that O'Connor told Mayor Jane Castor what had happened. Creative Loafing Tampa Bay had planned to publicly release the video footage on Thursday, which is when Castor ordered an internal affairs investigation.
O'Connor told the captain conducting the internal review that she identified herself as a police officer during the stop "for safety" but "admitted she made a mistake by further asking to be let go without a ticket," according to Assistant Chief Lee Bercaw's letter.
It's revealing that even in O'Connor's self-serving account of events, she freely admits that telling another police officer she's also a cop is a reasonable safety measure.
"Chief O'Connor advised she provided the deputy with her business card as she does with hundreds of citizens and law enforcement officers," Bercaw wrote. "She added this action was not intended to give the deputy any type of preferential treatment."
This might've worked if not for the part where there's video evidence of her corruption. Still, it's a step up from a 1995 incident when Mary and Josh O'Connor, then rookie cops, were pulled over by a Hillsborough sheriff's deputy. She "kicked the windows and struck a deputy on the shoulder and chest with her fist." Keith O'Connor was arrested on a drunk driving charge and Mary was charged with battery on law enforcement office, obstruction, and disorderly intoxication. She pleaded no contest but didn't serve jail time. Imagine if you'd lost out on the police chief position to this winner.
O'Connor was placed on administrative leave Friday, and Castor asked for and received her resignation on Monday. She's had the job since February and was pulling down an annual salary of $192,920. Not that Rick Scott or Marco Rubio earn their salaries, but US senators make $174,000 a year. They probably have to pay their own traffic tickets, as well.
Castor said in a statement, "The Tampa Police Department has a code of conduct that includes high standards for ethical and professional behavior that apply to every member of our police force. As the Chief of Police, you are not only to abide by and enforce those standards but to also lead by example. That clearly did not happen in this case."
The O'Connors' golf cart was unavailable for comment.
[Tampa Bay Times / Creative Loafing Tampa Bay]

Follow Stephen Robinson on Twitter if it still exists.
Subscribe to the Wonkette YouTube Channel for nifty video content!
Look at our pretty photos on Instagram!
Yr Wonkette is 100 percent ad-free! Please subscribe, donate, and otherwise help keep us alive and kicking!
©2018 by Commie Girl Industries, Inc
This Is Not An Ad
Privacy