Polling Funtimes: Moneyball Edition!
Congress
October 01, 2018 01:23 PM
Follow the money, kids! Follow it all the way to the GOP PANIC ATTACK over the November midterms. Because when the Republican money machine starts closing the checkbook to incumbents five weeks before the midterms, you know they're SHIT SCARED and deep in triage mode.
First up, Kansas, where The Hill reports the National Republican Campaign Committee (NRCC) just axed $1 million of ad buys for KS-03 Rep. Kevin Yoder. Were they upset that he signed off on pilfering $10 million from FEMA to fund ICE storm troopers and baby jails? Maybe! Or maybe they looked at the polls and decided they like politicians who aren't about to get their asses kicked by an openly gay, Native American, veteran lawyer who used to be an MMA fighter. Yeah, it's probably that second one.
Yoder skated to an easy victory in the past four elections, even in 2016 when Clinton took his district by one point. But he's sinking fast this cycle against Sharice Davids, a rockstar candidate backed by the Democratic Congressional Campaign Committee's (DCCC) Red to Blue Campaign of flippable seats.
Can #Democrats win multiple seats in #Kansas ?! #KS03 e-Poll 🔵 @sharicedavids 47% 🔴 @KevinYoder 41% 🤔 Undecided 1… https://t.co/c5tCm4vCzW

— Emerson Polling (@Emerson Polling) 1538402450.0
---
But it looks really, really bad when the chair of the Homeland Security Subcommittee loses to a girl, so Paul Ryan's Congressional Leadership Fund (CLF) SuperPAC is still in it for Yoder, with $750,000 of ad buys booked before the election. Which we endorse, wholeheartedly -- keep it up, Pauly, don't let anyone tell you to stop burning that pile of cash!
Even Paul Ryan's beneficence has limits, though. (And his vapidity, allegedly.) Last week, CLF cut off CO-6's Mike Coffman, another four-term incumbent in a district won by Clinton in 2016. How bad was Coffman's internal polling that it sent CLF running for the hills? Strangely, the campaign kept that info to themselves. But the NYT/Sienna poll has Coffman trailing lawyer and former Army Ranger Jason Crow by 11 points, and the Democratic House Majority PAC was confident enough to cancel $700,000 of ad buys for Crow.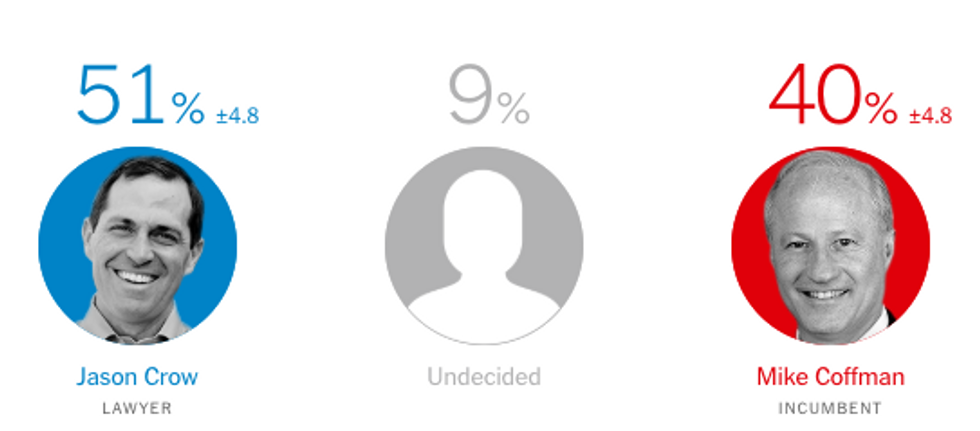 Image via NYT
Wait a minute, Wonkette. Are you taking one party canceling ad buys as a sign of weakness, and the other party doing the same as a sign of strength? Yes, but we are not Republicans, and we don't lie our faces off! See those polling numbers up there? The two things are different, because they are different.
But don't fret because the WSJ reports that Coffman's not worried.
Mr. Coffman's campaign manager, Tyler Sandberg, dismissed CLF's move.

"That's Washington, D.C.," he said. "One day you're up, the next day you're down. But that's not how Mike Coffman is wired. He's a Marine, damn the torpedoes, team Coffman is full speed ahead."
Okay, then.
And speaking of back-benchers who are dead to Paul Ryan, CLF just pulled $2.1 million in ad money for MI-08's Rep. Mike Bishop. Public polling shows Bishop competitive with CIA and NSC veteran Elissa Slotkin, also a DCCC Red to Blue candidate, in a district where Trump eked out a victory in 2016. But the NRCC flagged Bishop in May as part of its Patriot Program, which sounds like an honor until you read the fine print and see that it's a club for Republicans who look like they're about to crash and burn. Did CLF look at the tailwinds from Michigan Democratic Senator Debbie Stabenow and gubernatorial candidate Gretchen Whitmer and tell the two-term GOP Congressman to sink or swim on his own? Safe bet.
But guess which GOP Rep is absolutely swimming in cash despite being written off by most pundits? Why it's Rep. Barbara Comstock of VA-10, who's down by double digits against state Senator Jennifer Wexton and is still getting $4.8 million from the NRCC! Could it be that living in the richest district in the country, with a median income topping $120,000 and chock full of wealthy GOP donors who expect to turn on their televisions and see ads for Republicans, means that Comstock won't get her allowance docked? Probably. But outside of Loudon County, the laws of gravity and math still apply. Take it from Rupert Murdoch's crazy paper,
House Democratic candidates have $75 million in TV time reserved. House GOP candidates have $47 million in reserved TV time.
BLUE WAVE coming. Hang in there.
Follow your FDF on Twitter!
This week is going to be UGLY. But we'll be here for you. Can you be here for us?
Liz Dye
Liz Dye lives in Baltimore with her wonderful husband and a houseful of teenagers. When she isn't being mad about a thing on the internet, she's hiding in plain sight in the carpool line. She's the one wearing yoga pants glaring at her phone.