Post-Racial America
Because America is a zero sum game.
October 07, 2021 02:30 PM
On September 14, a slate of rightwing candidates who stirred up fears of "critical race theory" won all five Republican primary spots in the school board elections for Guilford, Connecticut (population a bit over 22,000). For Mary Beeman, who managed the candidates' campaigns, it was quite the feather in her cap. Truly, she must know how to appeal to voters who care about excellence in education! Or maybe she just knew that not very subtle race-baiting can win Republican primaries these days, who can tell?

Unfortunately, in a big black eye for her reputation, Beeman's own racist comments in a University of Connecticut online forum on "critical race theory" were noticed by Hartford TV station WFSB, which reported on the comments yesterday. The station didn't specify when the forum took place, but it had a screenshot, and Beeman was quick to insist that heavens no, she didn't mean anything bad when she'd typed "Helping kids of color to feel they belong has a negative effect on white, Christian, or conservative kids." Of course she didn't! Here's the video, cued up to the story so you don't have to be confused by several minutes of silence at the start, yeesh, guys, you work in teevee.
That's pretty much the chief doctrine of white supremacy and "replacement theory" going back forever: If those people have rights, then we white people are losing our beautiful America. They've tried, with varying success, to hide such zero-sum thinking behind a lot of dog whistles and bad-faith appeals to "equality," but that's the simple brutal form of it. "Helping children of color feel like they belong" harms white kids, it just does, because if they have to share, they'll have less America all to themselves.
Jesus, you might as well freak out over a children's TV show that teaches about inclusion and getting along with people who are different.
Beeman explained that her comment in the forum was "poorly worded" and that it had been "shown out of context," because surely there's a context that would make "Helping kids of color to feel they belong has a negative effect on white, Christian, or conservative kids" a perfectly acceptable statement. Hey, let's see how she does when given the chance to polish that turd! Beeman told the TV station that what she really meant was more words with the same meaning and an attack on political bad guys.
Guilford students who may have staunch Judeo-Christian values — or simply are conservative thinkers — have been bullied into submission by their teachers and fellow students with left-leaning ideologies.
That's so much better! No mention of race at all, so now it's not controversial, you see!
For some reason, Bill Bloss, a former member of the town's school board who served 20 years, 14 years of them as chair, didn't buy a bit of it, asking reasonably enough, "exactly what context would that comment be positive in?" Bloss is advising several independent candidates for the board this year, and says Republicans are full of it when they claim public schools are teaching critical race theory to kids. He's probably right, since we've seen no evidence that Guilford schools have a law program or other graduate level offerings for the tots.
The report went on to interview a guy who has no children in Guilford schools, but who wants to stop critical race theory anyway, whatever he thinks it is. He explained that America is a "great country" whose "founding documents say all men are equal," which pretty much proves there's no such thing as systemic racism, now doesn't it? How can anyone know anything about anything, really?
Also too, we should note that before Beeman's comments came to light, the worthies at the National Review weighed in on the school board election in Guilford, presenting it as a case study of how the "specter of critical race theory in the classroom has galvanized grassroots moms and dads without prior political credentials" to "recapture their progressive-dominated school boards and expel even Republican members deemed too complaisant." The piece notes that the one thing that pisses such parents off is when school officials insist they're not actually teaching critical race theory, because by god they are, at least as Fox News defines it.
The National Review piece is especially noteworthy for this mood setting paragraph that tells us Guilford is for only white people, without actually saying it's only for white people.
With its rural, colonial roots, Guilford is a quintessential New England community. It is home to Connecticut's second-largest agricultural fair, complete with goats, a circus, and a harvest celebration fit for E. B. White's Charlotte's Web. Its postcard-esque town center features a village green, a church steeple, and a cozy cluster of mom-and-pop shops. Twenty years ago, Guilford was a red town. But once Yale graduates and Manhattan commuters started occupying and gentrifying it, a liberal consensus hardened within it, making political commotion rare.
Clearly, not the sort of place any kids of color need to feel like they belong, if there even are any. The Census Bureau reports the town is 92 percent white, but should there be any kids of color at all, they maybe need to just shut up and not make a fuss.
We also learn that the furor over CRT in Guilford kicked off last year when a student reading The Catcher in the Rye was given the option of discussing that very whitest of books "using a racial justice score card," and also when there was a move to get rid of the school mascot, which OF COURSE was "The Indians," in honor of the people genocided so that New England could be such a white place. So suddenly, after the murder of George Floyd, the schools were full of Marxists in Kente cloth we guess, and that's why white people are suffering so much.
So, if Guilford is "the story, in microcosm, of what's been happening around the country," we should assume that pretty much every campaign against "critical race theory" is being pushed by people who assume that if kids of color feel like they belong, then white kids will suffer. That certainly makes intuitive sense to us. Thanks for the clarification, guys.
Ms. Beeman says she will not resign from managing the campaigns, and lord only knows what'll happen next. Probably Tucker Carlson will be elected mayor.
[WFSB-TV / Daily Beast / National Review / DC Comics blog]

Yr Wonkette is funded entirely by reader donations. If you can, please give $5 to $10 monthly so we can keep you up to date on all the stuff that's being said out loud by people who think they're very clever.
Keep reading...
Show less
White Nonsense
His request should piss you off.
October 06, 2021 08:57 AM
Georgia father-son lynching duo Gregory and Travis McMichael are on trial for the senseless murder of Ahmaud Arbery. When your fate is up to a jury of your less homicidal peers, you try to set a good impression. You show up every day in a suit. You don't giggle randomly during testimony. And if you're Travis McMichael, you don't want the jury knowing how much of an obvious racist you are.
McMichael and his attorneys have asked that the court ban from use as evidence at trial a photo of his license plate, which bears the Confederate emblem. The Confederacy lasted all of four years more than 150 years ago, but these losers can't abandon the cause.
The vanity plate is described as showing the old flag from the state of Georgia—out of use since 2001—that incorporates the Confederate battle flag. McMichael's attorneys argued that using the photo of his plate as evidence is "not relevant and is prejudicial."
McMichael's choice in vanity plates is extremely relevant. He's 34 years old. Georgia replaced its state flag after much debate 20 years ago when he was barely in high school. He's deliberately made open defiance of racial progress a part of his identity. It's fair for us to judge him for this.
More to the point, the plates were on McMichael's truck when he and his father hunted down Arbery like an animal. They were in plain sight and Arbery would've seen it. According to Gregory McMichael's own self-serving account in the police report, he and his son shouted, "Stop, stop, we want to talk to you!" The visible Confederate flag might've led Arbery to assume the conversation wouldn't be productive.
It's also absurd for McMichael to claim the photo is "prejudicial." The flag wasn't hanging in the basement of his private home. It was on the front of his very public truck. He purchased the vanity plates and paid an annual fee for the privilege of telling everyone he's an asshole.
The state's attorneys more or less laughed derisively at McMichael's motion to exclude the plates:
Defendant Travis McMichael's choice, and the fact that this vanity plate was on the front of his pick-up truck on Feb. 23, 2020, are intrinsic evidence in this case and can be fully used by the State to illustrate the intent and motive of Travis McMichael.
If McMichael is so worried that his own vanity plate is "prejudicial" evidence, maybe he shouldn't have tried to make his truck resemble the General Lee from the Dukes of Hazzard (still a cool car, all the racism aside).
Some relevant history: Georgia's flag was changed in 1956 to incorporate the traitor emblem. This was in obvious response to the 1954 Supreme Court Brown v. Board of Education decision that desegregated public schools. Civil rights activists and Black legislators fought for decades to have the emblem removed. A compromise was reached in 2001, following a tense legislative battle, and a new flag flew over the state capitol for a couple years. It was finally put to a vote in 2004, and Georgians could choose between the "compromise" flag and a new flag. The new flag prevailed.
However, as Time Magazine reports, the current Georgia state flag is almost identical to the actual Confederate flag, which is different from the "battle" flag you might recall from Trump rallies. The Confederacy was never an actual country just a rebel insurgency, so the "actual" flag is like a "fantasy nation" flag.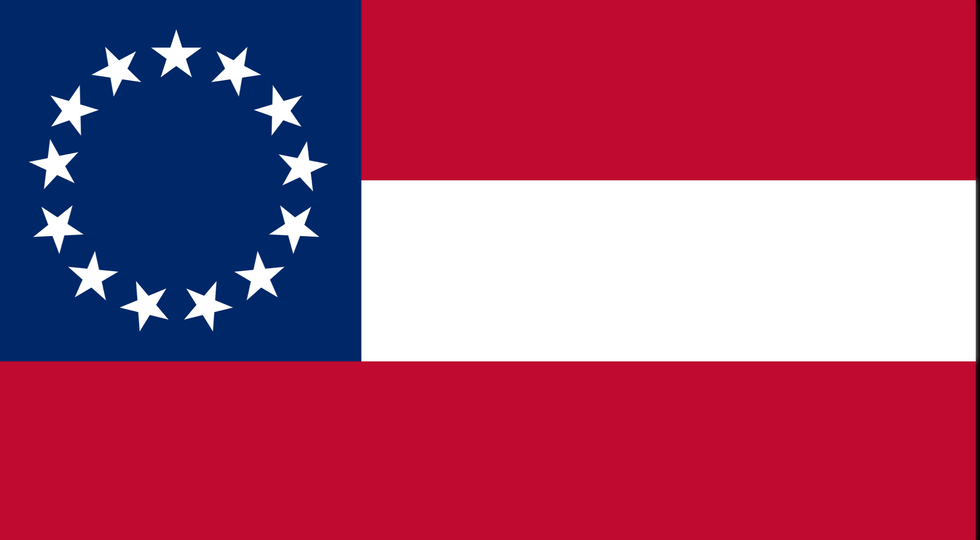 Actual Confederate Flag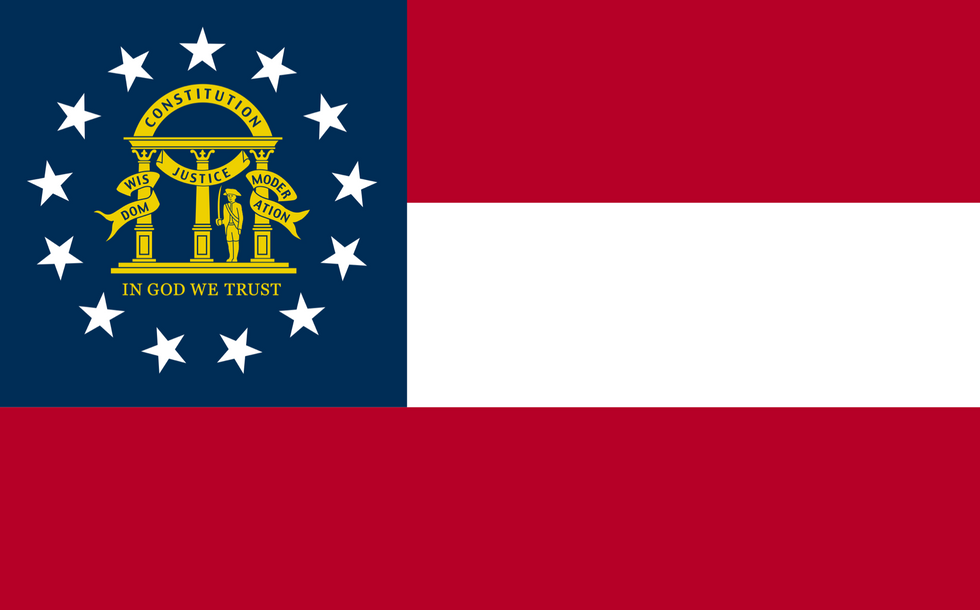 Current Georgia Flag
The Confederate battle flag soon replaced the imaginary nation flag because it was more easily distinguished from the Stars and Stripes. When you saw the battle flag, even from a great distance, you knew whoever held it up didn't believe in America and would kill to preserve a brutal system of racial oppression. The flag still conveys that message, and it's one Ahmaud Arbery understood all too well.

[Fox 5 Atlanta / Time /Newsweek]
Follow Stephen Robinson on Twitter.

Do your Amazon shopping through this link, because reasons.
Yr Wonkette is 100 percent ad-free and entirely supported by reader donations. That's you! Please click the clickie, if you are able!
Keep reading...
Show less
Class War
October 4 in labor history!
October 04, 2021 03:44 PM
On October 4, 1978, nine Ellis Prison inmates in east Texas went on strike against the unpaid labor they had to do every day, refusing to pick cotton in hard labor. This small action, coordinated by an interracial group of prisoners, was a protest against both the almost unbearable hard labor they had to do every day and against the broader dehumanizing elements of the prison system.
The Thirteeneth Amendment outlawed slavery in 1865. Or did it? It reads:
"Neither slavery nor involuntary servitude, except as a punishment for crime whereof the party shall have been duly convicted, shall exist within the United States, or any place subject to their jurisdiction."
Well, that's a pretty big exception! The South immediately realized it could round up Black people for "crimes" and then send their labor out to the highest bidder. Sometimes that was a private company, especially railroads and coal mines. Sometimes it was the state. Over a century after the end of official slavery, this hadn't changed that much, including in Texas.
Prisoners at Ellis Prison, located 12 miles north of Huntsville, Texas, were expected to pick between 200 and 300 pounds of cotton a day. The fields were racially segregated, with Black, white, and Mexican-American work crews. Like the stereotype of an antebellum cotton plantation, a prison guard, called by the inmates the "cap'ain," rode a horse through the fields armed with a shotgun. The Texas prison system was modeled on slavery and had largely been since the period of slavery. The state's prison system was notorious among criminologists as the most backward in the nation going back to at least the 1940s. Guards frequently brutalized inmates. Earlier systems of prison work had led to a lot of white outrage, particularly the convict labor leasing system that undermined white wages and sometimes led to active resistance from competing wage workers. Texas attempted to reform its prison system by the late 1940s by emphasizing work, not as work competing with free laborers, but as agricultural laborers. They worked the prisoners like slaves, 10 hour days, at a rapid pace due to aggressive overseers. In 1978, most of these prisoners were from cities and had no experience picking cotton, so this was especially brutal. The racial segregation made things worse. The prisons used the potential of indoor work as incentives to work the outdoor laborers even harder. Texas was one of only seven states by the 1970s that did not pay their inmates anything for their labor.
On October 4, nine inmates decided to not work. They sat down. This action inspired other prisoners. By noon, 408 other inmates has joined them. Word of this spread like wildfire around other east Texas cotton plantation prisons. Through the next week, the prisoners were in open rebellion. On October 10, 1,500 inmates at the Canfield prison barricaded themselves inside their cells to refuse going to the fields at all. The Texas Department of Correction then stormed the building, using tear gas. By the end of the week, six of the prison system's 15 units had a work stoppage, involving about 15 percent of the state's prisoners.
Of course, this was far from the first prison action of the era. Everyone in those prisons knew about Attica and about George Jackson and what happened when a group of prisoners stood up to their exploitation. But there were a lot of actions like this taking place. In late 1972, a lawsuit, Ruiz v. Estelle, was filed that demanded Texas end the practice of having inmates serve as guards, force the prisons to end overcrowding, and grant inmates access to attorneys. Prisons picked select prisoners to serve as convict guards, giving them guns, and leaving them in charge of the prison. In the South, with unpaid or nearly unpaid cotton labor the usual occupation of the workers, these were invariably white prisoners lording their power over prisoners that were often majority people of color, making sure no one escaped. The potential for violence and exploitation is obvious and was extremely common. In Texas, it was slightly different in that the actual guards controlled prison labor while the convict guards controlled matters inside prison walls. Prisoners who resisted this system often faced violence.
When a veteran SNCC organizer turned Black Power advocate named Ernest McMillan went to prison for inciting a riot after a protest against a white-owned store in Dallas, he began organizing the prisoners. When his group refused to work on a Sunday in 1973, the guards forced them to run a gauntlet, then stripped the prisoners, and forced them to work in the fields picking corn while still being beaten by the guards. McMillan continued organizing and got word out to African-American state legislators in Texas, leading to an investigation. David Ruiz himself was a nearly life-long prisoner who learned to take his rage and direct it toward the prison system and when he wrote a 12-page petition in 1972 describing the prison system, it attracted attention, eventually leading to the 1978 lawsuit.
This case had just convened a couple of days before the Ellis prison workers' action. One of the nine inmates from Ellis, Butch Mendez, wrote to state Senator Chet Brooks to explain their actions: "On Oct. 4th eight comrades and myself threw off our cotton sacks while out in the cotton fields and told the overseer that we refused to work. All of us nine quit at the same moment for the same reasons, which was to show our support for the brothers in court…The following day as men were on their way to work some 148 just sat down and refused to go to work. Chicanos, blacks, whites! It was a united front to show support for the trial." The strikers hoped the multi-racial makeup of the strike would attract media attention. They managed to keep the strike up for two weeks and the media attention meant that they did not suffer the expected physical consequences for their actions. That they embraced nonviolent means instead of a prison takeover also helped their cause. All of this did bring public attention to the Ruiz case.
Finally, in December 1980, Judge William Wayne Justice (now that's a central casting name for a Texas judge!), who had originally seen Ruiz's 1972 petition, ruled in favor of the prisoners and declared the Texas prison system unconstitutional. Texas started having its prison workers do things like tend gardens instead of work cotton. By 1985, Texas had changed the major issues around its plantation work regime backed with violence, at least to the satisfaction of the courts. Of course, neither the exploitation of prisoners nor forcing them to labor for near slave wages has really changed, even if the convict guard system is no more and, at least to my knowledge, prisoners are no longer picking cotton under chattel slave-like conditions.
WHY IT MATTERS
While the situation of prison labor isn't quite replicating actual chattel slavery with cotton production under overseers, our prisoners, which is an unbelievable number of Americans, are routinely forced to work for nearly no money and without any choice in the matter. This still sometimes spawns protest movements. In 2018, prisoners around the nation went on strike, protesting the conditions of their work. In Louisiana, prisoners can make as little as 4 cents an hour. About 800,000 Americans are put out to work with little to no choice because they are in the prison system. We still have prison slavery in this nation. It needs to be at the top of the progressive agenda to end it. All workers — including prisoners — need to make at least the minimum wage.
FURTHER READING
Robert T. Chase's chapter, "'Slaves of the State' Revolt: Southern Prison Labor and a Prison-Made Civil Rights Movement, 1945-1980 in Robert Zieger, ed., Life and Labor in the New New South.
Robert Chase, We Are Not Slaves: State Violence, Coerced Labor, and Prisoners' Rights in Postwar America.
Wonkette is fully funded by readers like you! If you love Wonkette, please hit the donations button below!
Keep reading...
Show less
Media/Entertainment
Confronting the insidious myth of a white supremacist savior.
October 03, 2021 12:02 PM
The mainstream image of Jesus Christ is a pasty white guy. He doesn't even have much of a tan. Yes, J.J. painted a Black Jesus in an episode of "Good Times" and Madonna might have hooked up with a Black Jesus in her "Like a Prayer" video, but Jesus is usually presented as a blonde surfer dude, who the disciples might've nicknamed "Moondoggie."
When I was a child, family members would point out the Bible verse that described Jesus as having hair like wool and "feet like burnished bronze, refined as in a furnace" (i.e. a dark brown complexion like someone from the Middle East). This didn't wear down my religious skepticism, because a Jesus of any other shade is still a scam. It's like when a corporation makes its CEO a woman or a man of color without actually changing any of its awful policies.
I've been contemplating the conflicting images of blonde surfer Jesus and Soul Brother Jesus after watching the Seattle-area documentary Manifest Destiny Jesus from filmmakers Josh Aaseng, Daemond Arrindell, and T. Geronimo Johnson, who also serves as narrator. Aaseng and Arrindell met author Johnson in 2017 when they adapted his novel Welcome to Braggsville to the stage. I know Aaseng from our time at Seattle's Book-It Repertory Theatre, where he was literary manager and later associate artistic director. He adapted and directed an amazing version of Kurt Vonnegut's Slaughterhouse-Five in 2015. Aaseng's a white guy from Montana, but he nonetheless questioned the popular conception of Jesus as white.
He told South Seattle Emerald:
"I was in New York City during 9/11, and I started thinking, 'Jesus looks more like Osama Bin Laden than he does Mel Gibson,'" Aaseng said. "There is this complete fantasy of what Jesus looks like and how mind-altering that is for the people who think that's an accurate representation of Jesus."
As Black men, Arrindell and Johnson have lifelong experience confronting the perverse fact that so many Black Americans worship what is arguably the idealized image of their oppressor. Johnson describes white Jesus as an "extension of our bondage," and the documentary features the searing line from James Baldwin about how "Black people are victimized by an alabaster Christ."
Christianity is part of America's legacy of slavery, and there were always two racially distinct interpretations of the scripture: The still-prominent white prosperity gospel that claims rich white people have earned the favor of God because they are rich and white, which is convenient. An incredibly on-the-nose demonstration of this nonsense is when Senator Joe Manchin from West Virginia frets about an "entitlement culture" while chilling on his yacht as his broke-ass constituents appeal to him from tiny kayaks.
However, enslaved Black people had a different brand of Christianity forced upon them: Submit to the horrors inflicted upon them in this life and perhaps, if they're very good, they'll enjoy salvation in the next one. There was no indication, however, that the white enslaver was destined for hell.
Theologian James Crone called the crucifixion a first-century lynching. I've resisted that comparison on the grounds that Jesus's brutal death and eventual resurrection were supposedly his grand plan. No Black person ever wanted to be lynched. But perhaps I've looked at this from the wrong angle. White liberals especially have an unfortunate tendency to romanticize Black suffering. Slavery, segregation, and even today's racial oppression aren't indelible stains on American history but part of some benign narrative where the nation is in a state of perpetual self-correction. America was always great, even when it's a slave state, because eventually slavery will end. Go, America! Untold numbers of Black bodies must suffer for generations so Abraham Lincoln can end up on Mount Rushmore. Black people are forever dying for America's endless sins.
When I moved to Seattle almost decade ago, I lived in the Central District, which was what realtors would call a "neighborhood in transition." Manifest Destiny Jesus features interviews with Black people who grew up in the neighborhood and watched as white Amazon employees "discovered" the area. The documentary makes a clear link between gentrification and colonization. Even the terminology, while racially coded, is similar. White "settlers" arrive and set about "civilizing" a place where "savages" live. White people think nothing of saying a neighborhood is "improving" when in reality they mean it's getting whiter. Meanwhile, the very presence of Black people in sufficient numbers implies an area in decline, one white people are warned to avoid. It's a "critical race theory" everyone grows up learning.
This is deliberate, of course, as redlining barred Seattleites of color from "good" neighborhoods — segregation through real estate covenants that explicitly forbade selling or renting property to anyone who wasn't white.
There's an interview with a Black man who recalls how his father, despite having worked for decades to save up for a down payment, was told that buying a home in West Seattle in 1955 was an "unrealistic option for a negro." Instead, he would have to settle for a neighborhood that the city actively oppressed by refusing to invest key resources (consider which neighborhoods have the most convenient public transportation routes, newer schools, well-maintained grocery stores). My own father was my son's current age in 1955. This was not so long ago.
The image of white Jesus is directly connected to European and American imperialism. The documentary's title is a reference to a church in Columbia City, another rapidly gentrifying Seattle neighborhood. The church features a stained-glass window bearing the image of a white Christ seemingly directing his followers westward. A pastor visiting the church once asked, "What's the deal with Manifest Destiny Jesus?"
Johnson states that the racial wealth gap and the myth of Black inferiority is the product of a racist feedback loop that we must break to move forward. Evidence from local schools boards implies that white America will choose the ostrich's head in the sand option, but the people willing to at least try can start by watching Manifest Destiny Jesus.
You can view the documentary online here through the end of October.
Follow Stephen Robinson on Twitter.
Do your Amazon shopping through this link, because reasons.
Yr Wonkette is 100 percent ad-free and entirely supported by reader donations. That's you! Please click the clickie, if you are able!
Keep reading...
Show less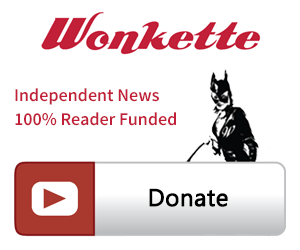 ©2018 by Commie Girl Industries, Inc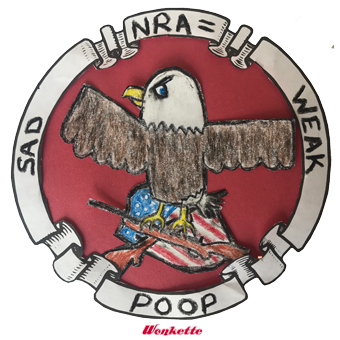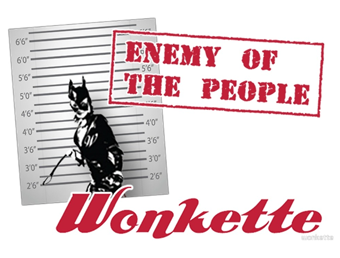 This Is Not An Ad
Privacy