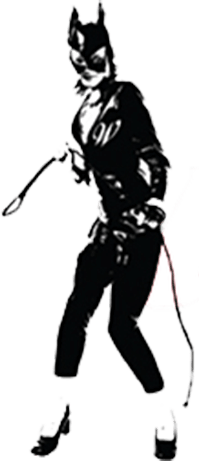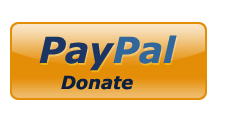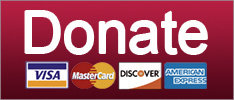 Post-Racial America
Every part of Rebecca Traister's Stacey Abrams profile is FUCKING DELIGHTFUL. What shall we excerpt? How about this?
It was, perhaps, particularly awful for a black girl in a predominantly white elementary school in Mississippi. "Stacey may have read on the same level as the teachers," her sister Leslie recalls. "And she wasn't shy about correcting you. She was never rude, but she'd say, 'This is silly.' It was: 'What is the purpose of this finger paint? When I go home I'm reading Nancy Drew. So why am I reading Dick and Jane at school?' " Leslie laughs. "But you couldn't punish her for being smart! And she wasn't a bad child. So the teachers were like: 'Will you go do something useful then? Go make copies!' Stacey made a lot of copies." That meant she spent a lot of time with adults, like her principal, and less time with her peers, whom she studied with a kind of distant curiosity.

"I was born trying to figure out why other kids were just playing in a circle," Abrams says. "What are you doing in the circle? Duck, Duck, Goose? What is the goose supposed to do? You could be organizing; you could be producing products that are for sale. You have a circle, but how are you utilizing it?"

As an adult, Abrams made a conscious decision not to hide her braininess, unlike so many extremely smart women who've been told that their intellectual prowess is off-putting and unattractive. She knows the perceived costs of this. In her book, she writes about how "older women of every racial category" blame the fact that she is single on her achievements, while men cite her "tendency toward strong opinions" as a romantic turnoff. (In our first conversation, back in 2015, she told me, "I like to be successful at things, and I was not good at dating and so I just stopped," one of the most deeply human observations I've ever heard come out of the mouth of a politician. Four years later, she says she is very open to the possibility of a relationship.)


Go on, now, CLICK!
Post-Racial America
She doesn't even bother to say his name.
There's been a lot of fuss over Monday's Washington Post interview with Nancy Pelosi. Although a metric ton of Democrats want to impeach Donald Trump, the House Speaker officially declared it a waste of time.
PELOSI: Impeachment is so divisive to the country that unless there's something so compelling and overwhelming and bipartisan, I don't think we should go down that path, because it divides the country. And he's just not worth it.
"He's just not worth it" is such delicious shade it should appear on a t-shirt or a mug. People are misinterpreting this as Pelosi going soft and promoting foolish bipartisan harmony. No, she just has a brain in her head. The eyes in her head have also witnessed Republicans shamelessly cover for Trump and protect him even when his former personal lawyer testified to what a sleaze he is. Robert Mueller's final report probably won't change the world. It's not a new Harry Potter novel.
Keep reading...
Show less
Post-Racial America
It's The Sunday Show Rundown!!
Let's begin our Sunday show rundown this week with Republican "strategist" and Mr. " Kamala Harris/Cory Booker/Obama black primary" himself, Alex Castellanos. On ABC's "This Week" with George Stephanopoulos Martha Raddatz, the panel began with a discussion about Ilhan Omar's unfortunately worded comments about Israel, and Nancy Pelosi's decision to focus a House resolution on denouncing hate and bigotry in all its forms. The vote itself received bipartisan support in condemnation of hate ... except for 24 Republicans.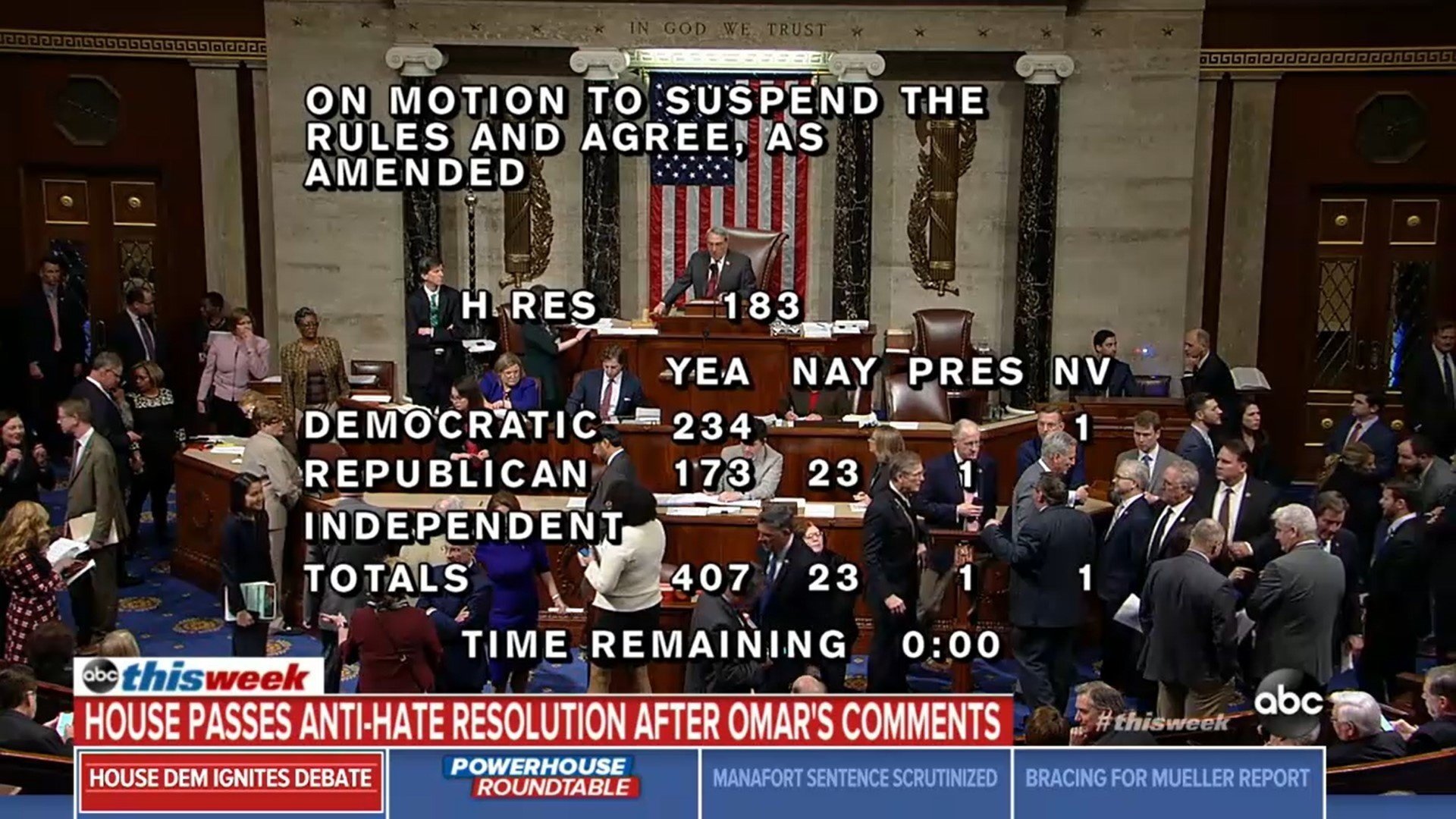 While many sensible people would see this as a larger victory in condemning hate, Alex Castellanos is NOT one of these people:
Keep reading...
Show less
Post-Racial America
Pirro accuses Rep. Ilhan Omar of dual loyalty.
Saturday, during the opening monologue of her Fox News show, "Judge" Jeanine Pirro took aim at the Right's current favorite target, the "very scary" Rep. Ilhan Omar. She wondered what set the congresswoman apart from others in the "Democrat Party," who she believed aren't collectively "anti-Israel" like she claims Omar is. Pirro suggested the answer rested on top of Omar's pretty Muslim head.
PIRRO: Think about it. Omar wears a hijab, which according to the Quran 33:59, tells women to cover so they won't get molested. Is her adherence to this Islamic doctrine indicative of her adherence to Sharia law, which in itself is antithetical to the United States Constitution?
Pirro is presumably a judge of more than just beauty pageants and hot-dog eating contests. She should understand that the First Amendment of the Constitution protects the right of a Muslim politician or even a random American citizen to wear a hijab, a yarmulke, or even a nun's wimple. Pirro basically accused Omar of having a "dual loyalty," which is the exact same anti-Semitic trope everyone has denounced Omar herself for invoking.
Keep reading...
Show less
Post-Racial America
Megs still supports President Trump though, because why wouldn't she?
We didn't want to write about Meghan McCain twice this week or really at all, but she went and cried on "The View" yesterday, so what choice do we have, really? McCain tearfully warned the world about the threat of global anti-Semitism, as apparently represented by a freshman House member whose every dumb statement is immediately and publicly derided.
(We're going to just refer to McCain as "Megs McCabe" for the rest of this post, so you're not inclined to treat her opinions with more respect than they deserve because her father was someone important. You're probably already thinking, "Why the hell should I care what Megs McCabe thinks?" Exactly!)
Megs McCabe starts her audition for Meritocracy in the Age of Nepotism with a passive-aggressive warning to her co-hosts, who've already had too much of her shit: She's about to discuss an "issue that's very intense" for her and she asks her co-hosts to "bear with" her, as if that's not what've they've done every damn day for the past 17 months.
Keep reading...
Show less
Elections
Republicans hate HR 1 even more than condemning racism.
The House of Representatives voted today to pass HR 1, the Democrats' big package of voting-reform measures, aka the "For the People Act." The measure passed on a party-line vote, because Republicans just can't stand the bill. Letting more Americans vote more easily is obviously a "power grab." Also, some no doubt grumbled that phrases like "for the people" are Republican Worship Words and shall not be used by dirty evil Democrats who all hate America. Let's take a look at the excellent democracy-restoring ideas in this bill, after a brief pause for some asshole to sneer, "it's not a democracy, it's a Republic!!!!"
HR 1 is a great big grab bag of terrific ideas to restore and protect the right to vote for millions of Americans after years of Republican efforts -- at both the federal and state levels -- to rig the system in Republicans' favor. So in a sense, Mitch McConnell was right when he condemned it as a "power grab"; he just failed to mention it's grabbing power back from the rightwing minority that's been imposing its will on most Americans. HR 1 includes a whole bunch of neat features to fix our broken voting system and expand access to the ballot:
Keep reading...
Show less
Congress
Ilhan Omar, you get back here right now!
The House voted yesterday on a resolution condemning anti-Semitism and bigotry of all kinds, like anti-Muslim hatred and white supremacy. The measure passed overwhelmingly, but was opposed by 23 Republicans because of their very deep principles, most of which amounted to the principle that Rep. Ilhan Omar (D-Minnesota) needed to be the sole focus of condemnation because she's the only source of hatred in America today. Oh, yes, and one brave R, white nationalist Steve King of Iowa, bravely voted "present," because darned if you're going to trap him into supporting a condemnation of hatred. Let's take a tour of the very good reasons some Republicans gave for opposing a resolution opposing hatred, shall we?
Several of those who opposed the resolution were quite clear about their reason: This was supposed to be a chance to accuse Ilhan Omar of hating all Jews because she said some really clumsy stupid things about how she was being required to vow "allegiance to a foreign country" -- which is true, in that we are literally outlawing a boycott of Israel, Texas is literally requiring anyone who contracts with it to vow allegiance to Israel, etc. -- but with words that evoke a stereotype (that Jews have a "dual allegiance") that was directly addressed in the text of the resolution. But that doesn't count because the resolution didn't specifically condemn Omar. Wyoming Republican Liz Cheney called the resolution a "sham" for not censuring Omar by name, and claimed it proves the entire party is now "controlled by far-left extremists who can't even muster the courage to stand up to blatant anti-Semitism." You know, as long as you ignore the multiple parts of the resolution condemning anti-Semitism in very specific terms.
Keep reading...
Show less
Culture
We are telling you to CLICK on a David Brooks article? We just don't know anymore.
David Brooks is for reparations now? He IS? We ... go ahead and CLICK.
Nearly five years ago I read Ta-Nehisi Coates's Atlantic article "The Case for Reparations," with mild disagreement. All sorts of practical objections leapt to mind. What about the recent African immigrants? What about the poor whites who have nothing of what you would call privilege? Do we pay Oprah and LeBron?
But I have had so many experiences over the past year — sitting, for example, with an elderly black woman in South Carolina shaking in rage because the kids in her neighborhood face greater challenges than she did growing up in 1953 — that suggest we are at another moment of make-or-break racial reckoning.


Back never, our eyeballs clearly need fixing.
Post-Racial America
Wingnuts: Condemning all bigots 'watered down' the resolution.
You probably heard the calls for the ritual disembowelment of Rep. Ilhan Omar, who has an unfortunate habit of criticizing Israel in language that reeks of anti-Semitic tropes. The House is now scheduled to vote on a resolution condemning anti-Semitism, but that sneaky Nancy Pelosi went and turned the resolution into a condemnation of all the many hatreds that have recently infected American politics. How is that even fair? This was supposed to reflect Democrats' DEEP RIFTS over how to deal with the only bigot in America, a single freshman Democrat from Minnesota, not an opportunity to reaffirm so-called American values! Guess maybe Pelosi isn't about to be overthrown after all; sorry, Fox News.
The resolution is a serious, detailed criticism of the rise of hatred in recent American politics, affirming the value of the First Amendment and freedom of religion, then drilling down into the wheareases:
Keep reading...
Show less