Pretty Sure Bobby Jindal Just Said Ted Cruz Gives Donald Trump Snail Blowjobs
News
September 16, 2015 11:15 AM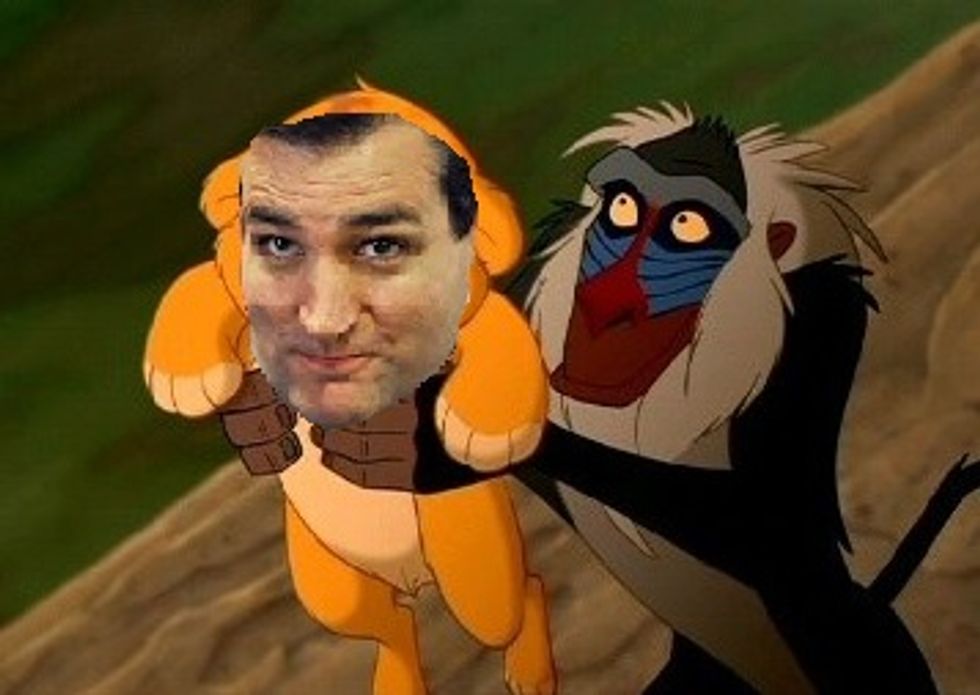 Except replace the lion fur with a shell, and then you understand what's sucking off Trump right now.
---
Sea snail blowjobs to exact. LIMPET blowjobs. Yes, Bobby Jindal, a presidential candidate in only the loosest sense of the word, seems to be trying to get somebody, ANYBODY, to give him attention in advance of tonight's presidential debate, and so he writed an article on the CNN website about how Donald Trump is the baddest and the worst, and also Ted Cruz is a big blow-jobbing mollusk:
Jeb Bush, Rand Paul and Rick Perry admirably called Trump out for his conservative heresy, but it backfired because he doesn't give a hoot about conservatism. Meanwhile, Ted Cruz is clinging to Trump like a limpet to an oil tanker, hoping to suck up his votes when Trump eventually sinks.
[contextly_sidebar id="AbRAKISe1lZaKSAIZ84nHezxTjDlA9m4"]
LIKE A LIMPET! So according to Wikipedia, a limpet is this one kind of ocean snail, and unlike Bobby Jindal, it has participated in evolution. Here's what it does when it's on "hard surfaces" like oil tankers or maybe all up on Trump's dick, yo:
[W]hen they need to resist strong wave action or other disturbances, limpets cling extremely strongly to the hard surface on which they live, using their muscular foot to apply suction combined with the effect of adhesive mucus. It often is very difficult to remove a true limpet from a rock without injuring or killing it.
So basically Jindal says Ted Cruz is a pussy who can't survive in "the ocean" by himself, so he's doing the old mucus foot sucky sucky to Donald Trump, who is the "oil tanker," and if you tried to pry him off Trump's dick right now, you'd probably kill him, the poor thing. THIS IS A FUCKING BRILLIANT METAPHOR! It is also a good idea for that new hardcore bareback Ted Cruz gay porn video we were telling you about.
[contextly_sidebar id="bs78t1hjcq4DPxQ48JpGtkrkLMXb3PVc"]
Unfortunately that is the only funny part of Jindal's piece, though that wasn't the only time he tried to make people for to be amused. Here's the beginning:
President Trump today announced that the first season of "The Apprentice: White House Edition" will air on CBS this fall. Contestants, including Gary Busey, Ted Cruz and Kanye West, will vie for Cabinet positions. The announcement came as the newly renamed "Hair Force One" touched down in South Dakota for the unveiling of President Trump's face on Mount Rushmore. Meanwhile, first lady Melania had reason to celebrate as her White House-branded perfume, Trump, by Trump, hit Macy's shelves ...

No, this is not a story from The Onion. It's a vision of our future.
Oh good, we were so confused that it was The Onion, due to how it said "by Bobby Jindal," and how it wasn't very funny.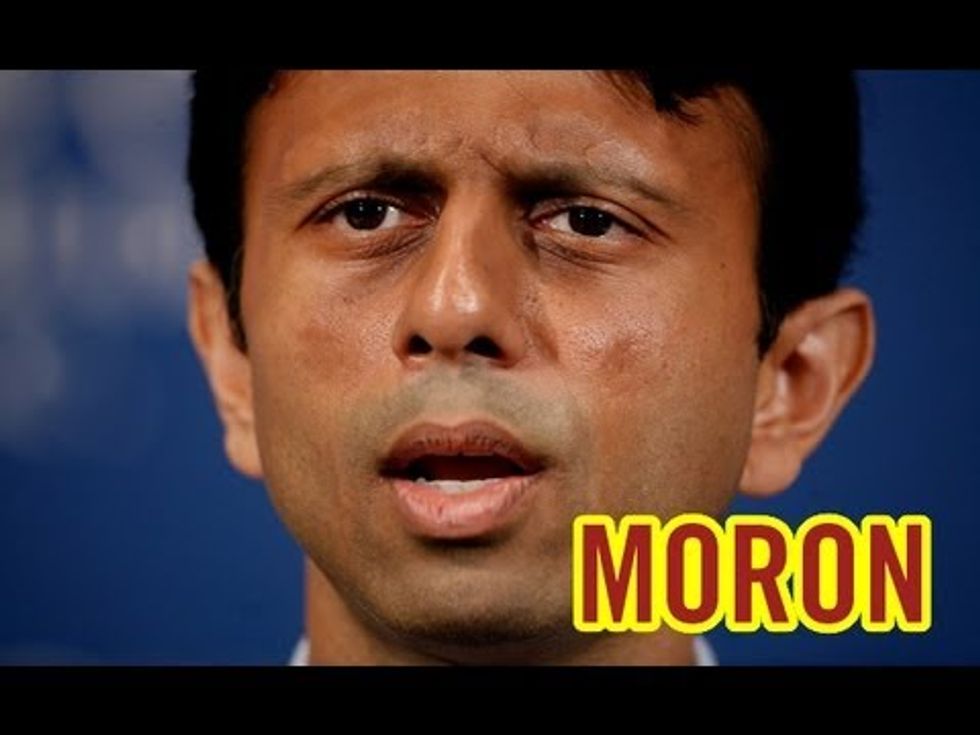 Anything else you need to tell us before we stop listening, Bobby?
I said on national television that Donald Trump is a shallow, unserious, substance-free, narcissistic egomaniac. [...] According to him, his plans will be "fabulous" and "something terrific." [...]

Like all narcissists, Trump is insecure, weak and afraid of being exposed. That's why he's constantly telling us how big and rich and great he is, and how insignificant everyone else is. [...]

Conservatives need to say what we are thinking: Donald Trump is a madman who must be stopped. [...]

We do need to Make America Great Again. We do need to burn down Washington. We do need to eradicate political correctness. But we will not achieve that by nominating a walking punch line.
Okay, Bobby, we get it. You are very GRRRRR mad. And all of these things you're saying are, you know, kind of true! But we're not sure it actually matters for you to say them, because remember how Trump doesn't even know who you are? You won't even be on the debate stage with him, watching Ted Cruz suck off Trump like the sluttiest limpet in the XXX gay limpet film industry. Maybe you should save your breath.
[contextly_sidebar id="EPLCMOANTNV0OM35VgMDWGv9BMszCixs"]
But thanks for the snail sex metaphor, Piyush! Yr Wonkette will be using that one for a long time!
[CNN]
Evan Hurst
Evan Hurst is the managing editor of Wonkette, which means he is the boss of you, unless you are Rebecca, who is boss of him. His dog Lula is judging you right now.
Follow him on Twitter RIGHT HERE.