Putin Tells Trump Not To Listen To Mean Old CIA. Wonkagenda for January 6, 2017
POTUS
January 06, 2017 10:03 AM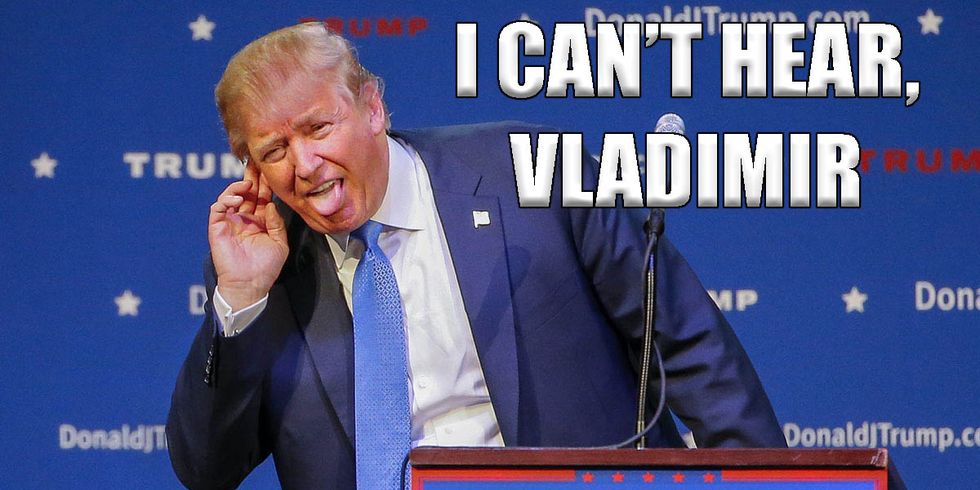 ---

Intelligence officials told Congress they're pretty damn positive Russia was behind U.S. election hacking and that Donald Trump's pissing off the intel community by incessantly tweeting his doubts.

The intel community is so sure Russia was behind those hacks because there is evidence of Russian officials celebrating and congratulating each other after Trump won the election. They even found the third party link Russia used to give Wikileaks the stolen DNC info. This prompted limp congressional warhawks to suddenly stand at attention.

Next Wednesday will see six Cabinet-level confirmation hearings and a long legislative session full of votes, so expect Republicans to try and slip all sorts of ugly things through the cracks during "vote-a-rama."

Republicans love the new trillion dollar budget deficit as long as it results in killing Obamacare. Besides, now that Obama's name isn't on infrastructure projects, there's no need for fiscal conservatism.

Trump has tapped Indiana Senator Dan Coats for Director of National Intelligence. Coats is often called the Senate's "Mr. Rogers," so he should fit right in with the Cabinet of Make-Believe. He might not be terrible, but we're not holding our breath.

Former CIA director James Woolsey suddenly quit Trump's transition team, possibly after realizing he didn't want to associate himself with Trump's cabal of crazies. Smart move.

The Bureau of Land Management under Obama's Interior Department has issued plans to reclassify 6.5 million acres of Alaskan wilderness as public land. Geez, Obama, is there a tree in Alaska you're NOT trying to have sex with?

The House approved a measure that could allow the federal government to give control of federal property to states, leaving gun humpers and energy companies screaming about manifest destiny.

Looks like Mexico won't be paying for Trump's Wall after all! Congress is exploring ways to fund the construction of the big beautiful border wall. Maybe we can just glue together some Ameros?

The State Department has told a number of U.S. ambassadors to quit on Jan. 20, with "no exceptions," at the request of the incoming Trump administration. It's a really dick move.

A new study from the American Medical Association says "Stand Your Ground" laws increase homicides and suicides, so expect firearms fetishists to scream about religious bias.

Some Senators are worried about Trump repealing sexual violence policies on college campuses so they sent a letter to Trump's team asking him to not grab university students by their pussy.

Obama's White House is archiving social media posts and then deleting everything so Trump's team has to start from scratch. Unfair! No friends!

Trump was deposed yesterday in the suit against his D.C. hotel, which also just (coincidentally) jacked up the price of its booze (AGAIN)! Don't get your hopes up -- that's "deposed" as in "gave a deposition," not the other kind.

Greta Van Susteren will start a show on MSNBC Monday, taking over the ancient teevee news talking head hole that is the 6 p.m. Eastern time slot.

The Obama administration's final U.S. jobs report says the economy added 156,000 jobs in December, making it the most extended streak of job growth since the end of the Great Depression. Thanks, Obama!

Here's some bonus nice time! Kay and Peele checked in with Luther, Obama's anger translator, on the Daily Show last night. The man is not happy.

And here's your morning Nice Time, sea lion pups! They're like dogs with flippers, and they make funny noises!
Dominic Gwinn
Dominic is a broke journalist in Chicago. You can find him in a dirty bar talking to weirdos, or in a gutter taking photos.