Rachel Maddow Uses Tiny Words To Teach Rick Santorum How America Works
News
July 23, 2015 11:45 AM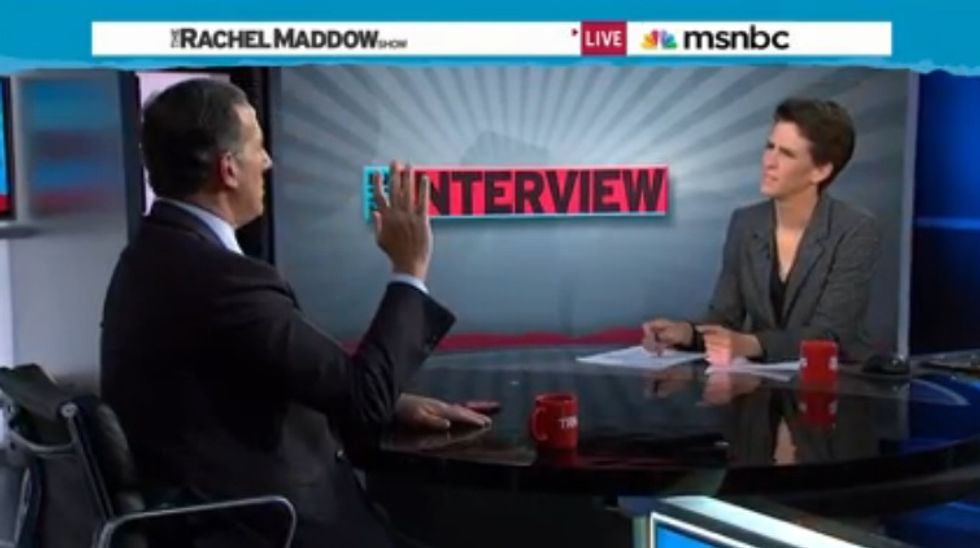 Not that he's desperate or anything, but Rick Santorum chose a pretty weird place for an interview. He sat down with Rachel Maddow for a chat Wednesday, far away from the comfortably familiar Idiot Crew at Fox News. We guess he wanted to show that he could hold his own against the Liberal Media's most prominent nerd or something. They exchanged compliments: Maddow thinks he's one of the best communicators in the Republican field, especially with a live crowd, and Santorum respects that she's tough but sticks to policy, not personal attacks. And despite her generous suggestion to brainstorm some ways of picking a fight with Donald Trump so he can raise his profile enough to get into the first GOP debate in August, Santorum politely declined the offer. Heck, he could try calling Trump an asshole. Noting that he'd run a close second to Mitt Romney in the 2012 primaries, Maddow asked Santorum why all that support has evaporated. Santorum's answer: it's early yet, they'll all come back, you'll see. (Fun fact: That's not the real answer. The real answer is that he benefited from being the least freakish -- barely -- of the anyone-but-Mitt candidates.)
---
[contextly_sidebar id="j0J7TCCkZpHnOqHlQTyhUykCmbjJOYtc"]
In the second segment of the interview, things went weird, as Santorum attempted to make sense of a claim that he'd made last month at the National Right To Life convention, where he explained that in his America, the Supreme Court doesn't have the "final say on anything," because the American People are the ones who really decide that.
Santorum was so proud of his line -- "The American people have the final say on everything. Is that the country you live in?" -- that he repeated it back to Maddow at the start of the segment. It's THAT good a line!
Maddow, a tad perplexed maybe, went into American Government 101 mode:
MADDOW: Well, the Supreme Court is the supreme -- I mean, it is the Supreme Court.

SANTORUM: Yes. But it's not a superior branch of government. I mean, if the Congress comes back and says, you know, we disagree with you and were able to pass a law and get it signed by the president and say, courts, you're wrong, I mean --

MADDOW: You could not pass a law that could contradict the constitutional ruling of he Supreme Court.

SANTORUM: Why not? Why?
Yeah, you big ol' liberal who believes that unelected judges can overrule the wishes of all Americans, or at least all of Rick Santorum's Americans, how about that? Why? Explain yourself, young lady. Do you believe in America or not? Maddow tried to walk him through how this really works:
MADDOW: You can amend the Constitution.

SANTORUM: Why?

MADDOW: They're ruling on the constitutionality of that law.

SANTORUM: What if they're doing it with an -- from an unconstitutional basis? I mean --

MADDOW: They decide what's constitutional. That's how our government works.
Ah, well, the Constitution! Santorum was clearly unhappy with how the Supreme Court just ignores the Constitution and makes stuff up, like the totally fake rights to abortion and gay marriage, which are not in the Constitution at all:
SANTORUM: When I took my oath of office as a United States senator, what did I say? I would uphold the Constitution.

And my feeling is, and I think it's clearly from our founding documents, that the Congress has a right to say what's constitutional. The president has a right to say what's constitutional. And that's part of the dynamic called checks and balances.

MADDOW: Yes. But -- I mean, you're fundamentally wrong on civics, right? If there is, if there is a question as to the constitutionality of a law, it gets adjudicated.

SANTORUM: Right.
Checks and balances! That's why the president and Congress both get to decide what's constitutional, and the Supreme Court gets to have an opinion, too. Sure thing. Maddow pointed out that even if Congress passed a law banning gay marriage a gain, the Court would just strike it down all over, and then Santorum pointed out that after the SCOTUS overturened a ban on "partial birth abortion," Congress came back and passed a new ban on the procedure, with some changes, and the Supremes were OK with it. So sometimes Congress wins. Maddow, ever the radical, pointed out that when it comes to final decisions, "the Supreme Court wins on the issue of constitutionality," but Santorum is apparently a big fan of Congress just passing law after law, with minor tweaks, until the Supremes decide it's in an acceptable form, or even better, you get a new cast of characters on the Supreme Court that will agree with Congress:
MADDOW: So, do you mean that you would want different justices in the Supreme Court? You would want this to go back to the same justices and you think you get a different --

SANTORUM: What I would like to see as president, a whole new group of justices. If you have a new group of justices, I think you might very well get a different decision.
And then there was some absolutely beautiful awkwardness as Santorum fumbled over answering whether he thought people are born gay. At first, he said he didn't know, but then jumped back with a hypothetical for Maddow: What if science identified a gay gene and people wanted to abort gay babies, how would you like that, huh?
Maddow decided not to join him on his slippery slope thread, and pointed out, "But you're worrying about the consequences of this without saying that you know whether or not it's true." On the question of whether people choose to be gay, Santorum figured maybe they do, since he's met people who used to be gay or lesbian, and now they're not, so he guesses "maybe in that case, maybe they did." And then they ran out of time before she could get him to answer whether he thinks people can be made not to be gay, but he did acknowledge that "Again, I don't spend a whole lot of time thinking about these things to be very honest."
Precisely. He only thinks about how the schools are trying to turn all the children gay, with all the books about kids with two mommies.