Reagan Celebrants Impress Press With Money Spent On Cake Instead of AIDS
News
February 07, 2011 11:49 AM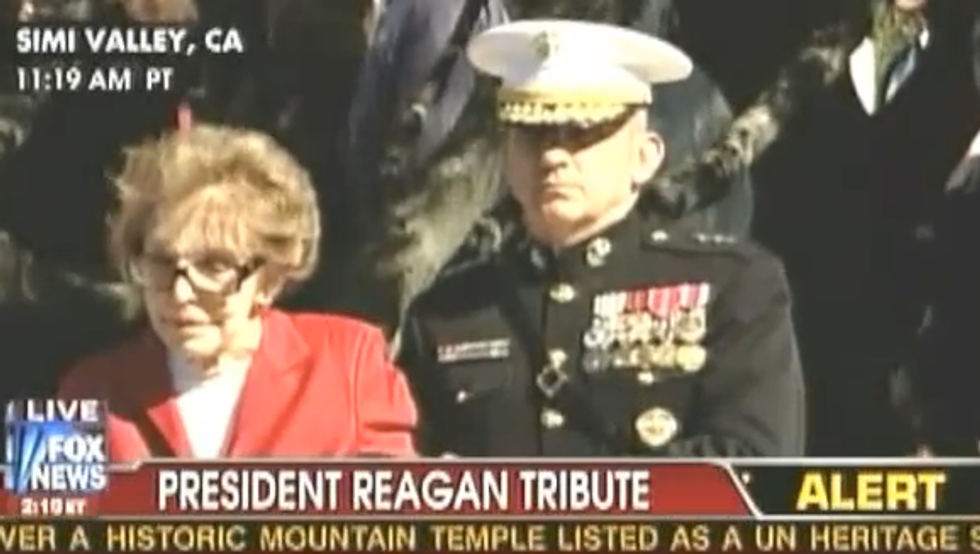 Hey, that dead-guy party happened yesterday. And what should you take away from this? The Reagan people want you to know they spent $10,000 on cake. Like, literally, they went around telling the press they spent $10,000 on cake, so that people would know they spent $10,000 on cake. So here you go, American public: the Reagan Library spent $10,000 on cake. Classic Reagan deficit reduction. It's how Ronny would have wanted it.
---
Amid family, friends and former staffers were a few celebs: the Beach Boys, Lee Greenwood, John Stamos, who appeared at an invitation-only concert Saturday night, and Gary Sinise, one of the speakers at Sunday's tribute at the Reagan Library in Simi Valley.
Lee Greenwood, Gary Sinise, and John Stamos? Good thing a terrorist didn't blow this event up! We would have lost our most gifted entertainers! If they died, who would be the cast of the Three Men and a Baby reboot?
The biggest treat? The $10,000, 400-pound, official centennial birthday cake that was rolled out Sunday. The six-foot-tall chocolate confection had five tiers, 20,000 jelly beans, stars-and-stripes frosting, edible photos of Reagan and a 50-pound chocolate eagle on top.
Then everyone forced Nancy Reagan to eat the whole thing while they took photos with their camera phones. She was adorable, vomiting all over as they held her down. These are the sort of grand measures conservatives need in order to pretend he is still president and live in the past.
Here is something James Baker said, as if he is a relevant human being:
Today we again face stormy seas that are not dissimilar from those of 30 years ago.
Our Soviet Union: a single disgruntled 19-year-old Arab living in a remote cave in the middle of a dirt-poor mountain country who has dreams of killing himself. The only thing he has to his name besides two piles of rocks is a satellite phone and laptop, which means his cave is better connected and way more technologically advanced than Reagan's War Room or even his Pentagon, probably. Yeah, things aren't dissimilar at all. Let's keep living like it's 30 years ago, because that's what's most comfortable for the Baby Boomers.
Meanwhile, here was Newt Gingrich with his latest wife at Reagan's birthplace yesterday: