Rep. Alcee Hastings Of Florida Dies, Probably Of Cancer And Not All The Rest Of This Sh*t
Congress
April 06, 2021 03:35 PM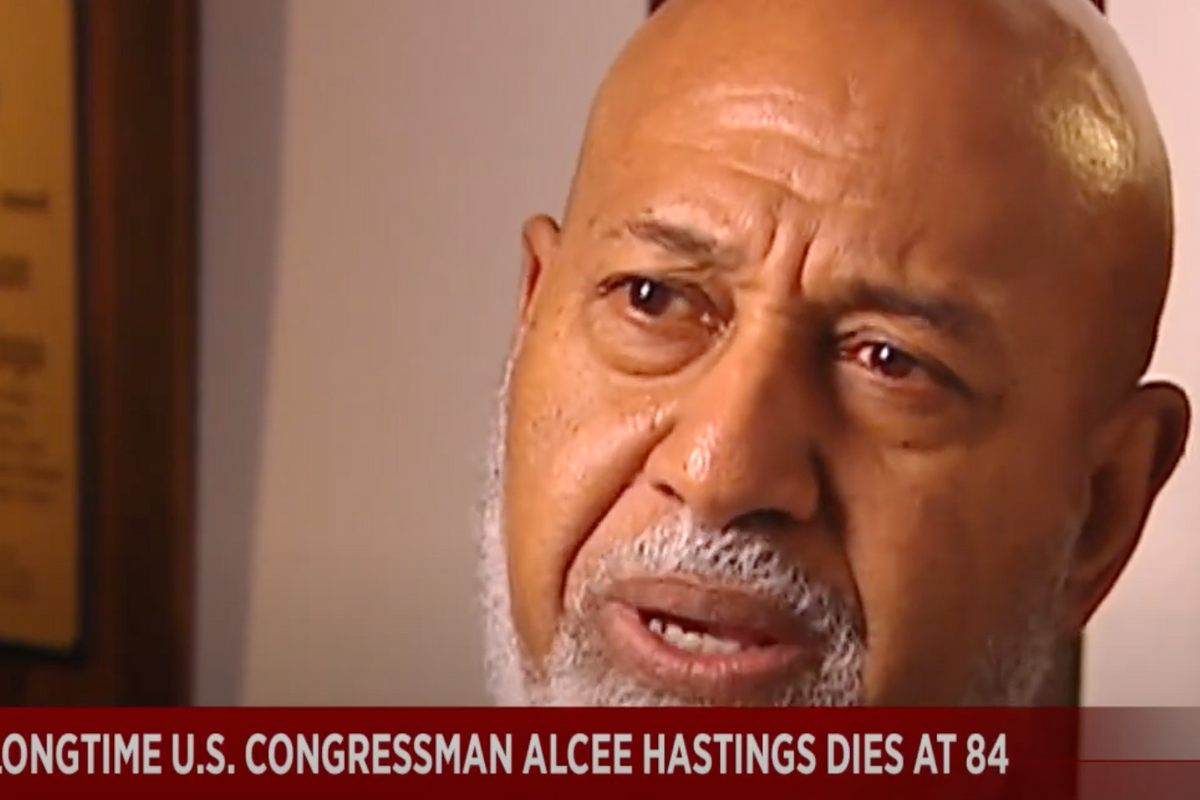 Florida Congressman Alcee Hastings died Tuesday morning after an almost two-year battle with pancreatic cancer. He was 84. Hastings's life has enough material for several compelling biopics: Born in Altamonte Springs, Florida, he attended college at Howard and Fisk universities and in 1963 graduated from law school at Florida A&M. He moved to Fort Lauderdale and partnered with W. George Allen, the first Black student to earn a law degree from the University of Florida.
Although currently a Democratic stronghold, Broward County was not a welcoming place for Black people in the early 1960s. It existed in a state of racial apartheid like most of the South and even the North, if more subtly. Fort Lauderdale's whites-only public beach at Las Olas Boulevard wouldn't be integrated until 1964. That's when Hastings and Allen went to lunch at the Cat's Meow, a Fort Lauderdale restaurant that catered to lawyers and judges as long as they were white.
"The waitress said she couldn't serve us," Allen said. "We asked why and she said, 'You know why.' She said because we're black. The owner came out and said that was his policy. So we sued him. The owner's lawyer called up and said, 'Let's settle.' So he opened his doors."
Hastings and Allen navigated a judicial system dominated by racists but successfully fought to desegregate Broward County public schools.
---
Hastings served as a Broward County circuit judge in the mid-1970s before President Jimmy Carter nominated him in 1979 to a new seat on the United States District Court for the Southern District of Florida. Four years later, Hastings was charged with conspiracy to solicit a $150,000 bribe in exchange for giving suspected racketeers a lenient sentence and returning their seized assets. And although Hastings was found not guilty in court, two of his own judicial colleagues filed a secret complaint against him. This eventually reached the House of Representatives, where he was impeached on a 413 to 3 vote.
The Senate easily convicted Hastings, but did not ban him from holding future elected office. Maybe they assumed it wasn't necessary, but Hastings, standing in the rubble of his judicial career, was undaunted. He announced a run for Florida governor on the very day he was removed from the bench. That didn't work out. Neither did a run for Florida secretary of state in 1990.
Then came an unlikely comeback in 1992. Hastings came in second during the Democratic primary for Florida's 23rd Congressional District, but he'd later score an upset victory over Lois Frankel in the runoff. He never lost another election. Hastings served in the House from 1993 until his death.
I've known Alcee for many years. He was a fierce fighter for civil rights and racial justice, and a great partner i… https://t.co/LcMzsz9kAE

— Rep. Lois Frankel (@Rep. Lois Frankel) 1617721591.0
After redistricting, Hastings represented Florida's 20th Congressional District, which includes most of the majority-Black neighborhoods in Fort Lauderdale where he started his legal career. Although his seat is safely Democratic, it's up to GOP Governor Ron DeSantis to schedule a special election. He's shady enough to wait until 2022, but if he's honorable for once, the special election will likely take place in a few months.

And including the hole left by Rep. Hastings, the partisan makeup of the House now stands at 211 Republicans, 218 Democrats, and six vacancies. This is what we call OH SWEET LORD.
Hastings was often described as outspoken and sometimes controversial. He objected to counting the electoral votes from Florida after the disputed 2000 election, and he also objected to counting the electoral votes from Ohio in 2004. He had harsh words for Sarah Palin in 2008 (not unreasonably) and was downright brutal when it came to the former White House squatter, whom he described in 2016 as a "sentient pile of excrement." (I'm not convinced, though, that the one-term loser is that much smarter than what the average dog leaves behind on your yard.)
But he genuinely cared about the people he represented. He didn't go to Washington just to make scenes.
From the Sun Sentinel:
Hastings sometimes used his influence in subtle and unseen ways. A few years ago, riding from one political event to another on a major thoroughfare in an African American neighborhood in his district, the car went over an unusually rough set of railroad tracks. Hastings turned to an aide with an instruction to get in touch with the railroad, and lean on it to get the crossing fixed.

His agenda was broader than race. Hastings advocated on behalf of women's rights and LGBT people, and he was keenly interested in world affairs, championing Israel and serving as chairman of the Commission on Security and Cooperation in Europe, known as the Helsinki Commission.
Although his primary race with Frankel was bitterly contested — enough that at one point he called her a racist bitch — Hastings endorsed her run for Florida's 22nd Congressional District in 2012.
"We buried the hatchet. That's what grown people do," he said in an interview at the time. "I have a life to live, and I can't go around being mad at people because we had political differences."
It's a nice sentiment! We're not sure how much it still applies.
Follow Stephen Robinson on Twitter.
Looking for someone to give that cash to? Why not us?
Stephen Robinson
Stephen Robinson is a writer and social kibbitzer based in Portland, Oregon. He writes make believe for Cafe Nordo, an immersive theatre space in Seattle. Once, he wrote a novel called "Mahogany Slade," which you should read or at least buy. He's also on the board of the Portland Playhouse theatre. His son describes him as a "play typer guy."