Republican Legislators To Repeal Fourteenth Amendment, Making Things Yet Again More Awkward For John McCain
News
August 03, 2010 02:01 PM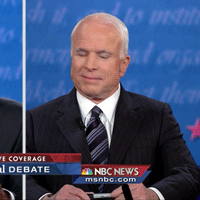 Senate Minority Leader Mitch McConnellhas decided to join his party's greatest thinkers in their innovative new idea to change the Constitution to repeal the part of the 142-year-old Fourteenth Amendment that children born in the United States are citizens. "I haven't made a final decision about it, but that's something that we clearly need to look at. Regardless of how you feel about the various aspects of immigration reform, I don't think anybody thinks that's something they're comfortable with." Except, perhaps, Americans born in the U.S. who are from immigrant families are comfortable with it. Oh, are those not people? Then let us note that basically all Americans have lived comfortably with that part of the Constitution for 142 years. Anyway, the important thing is the comical lengths John McCain took to try not to have to support this crazy idea.
---
"We're talking about the stimulus right now," McCain said, before darting off to the elevators down the hall from the Senate studio, where he again declined to take a question. Reporters eventually caught up with McCain in the basement of the Capitol, where he was walking toward to the man-operated train connecting the Senate with the Russell office building.

TPMDC asked, "Do you support the Minority Leader's push for hearings into the repeal of birthright citizenship?"

"Sure, why not?" McCain said briefly.

"Do you support the idea itself?"

"I support the idea of having hearings," McCain said.

"Do you have a problem with the 14th amendment?" another reporter asked.

"You're changing the constitution of the United States," McCain said. "I support the concept of holding hearings."

"I support the concept of holding hearings," McCain repeated, turning to the rail car conductor.

"Let's go!" he snapped.
In general, watching McCain completely shed every fiber of his convictions is both sad and funny, but this particular anecdote is just funny. Hengh! We should umm—MOVE IT, BOY—hengh, hengh, umm, hearings. Hengh! Hengh! [The Hill/TPM]