Rex Tillerson Burned Down Deep State, Also State Department
News
April 05, 2018 03:08 PM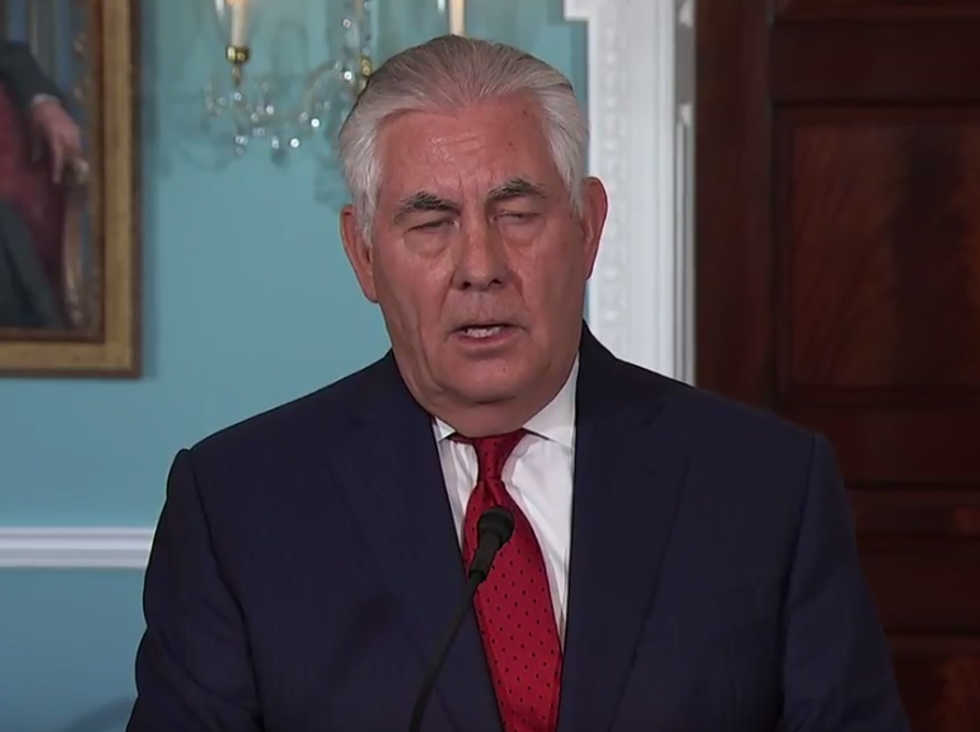 Gone but not forgotten
---
All I want for Passover is the confidence of a white dude with a Masters in Business Administration! Politico's Nahal Toosi has a gonzo story out today on how Rex Tillerson almost MBA'ed the State Department to death with management consultants. Did those douchbags from Deloitte know dick about diplomacy? They did not! And yet they were only too happy to offer their opinions on America's foreign policy apparatus for the low-low price of $300/hour. And the country was saved!
See, Rex Tillerson was the CEO of ExxonMobil. And if there's one thing CEOs know, it's that government is full of waste, fraud, and hordes of dimwits who need businessmen from The Real World(™) to show them how to work the electric pencil sharpener. So even though Tillerson was headed out to pasture, his wife grabbed him by the ear and told him, "God's not through with you." And thus the State Department got its great, white savior. Hosanna!
Supremely confident in his ability to manage an organization he knew nothing about, Tillerson set about pushing out longtime staffers with their generations of diplomatic experience. Do we have an ambassador in South Korea yet to manage our relationship with "Little Rocket Man?" Nope! But gutting the State Department fit in well with Trump's plan to cut its budget by almost $60 billion per year. No money for career professionals, aka Obama holdovers! But they could make it rain on consultants from Deloitte, whose contract ceiling was lifted from nearly $140 to $265 million.
As many as 90 consultants worked on the project, according to one document. Many of the consultants have spent extensive time at the State Department, meeting with top officials, collecting and analyzing data, creating PowerPoint presentations and leading group discussions with skeptical employees.
Hillary Clinton had already initiated an internal Quadrennial Diplomacy and Development Review with people who actually understand how the State Department works. But she's just a Deep State harpy! What you need are a bunch of MBAs to tell you how the world really works.
"They would say something like, 'If I said to you, 'Get me some water,' you'd know to get a cup and go to the sink and bring me back the water, but if you said that to someone in China, they might just scoop up some water from a puddle on the ground.' And they said this to a room full of diplomats!" the staffer said.
Well, that is just true!
After facing massive criticism, including from Republican Senators who said no fucking way were they going to cut State's budget by 30%, Tillerson scaled the giant redesign down to an "Impact Initiative" focused on improving technological efficiency. The Department was already transitioning to Microsoft 365, but the MBAs had A BIG IDEA. Why not transition faster? That's why they make the big bucks!
Prior to Tillerson's arrival, for example, State Department officials had already decided to adopt cloud services, including Microsoft Office 365. But a newly accelerated pace for that shift has some staffers concerned about security.
Digital insecurity? Rex Tillerson, you go directly to email jail!
Check out this Twitter thread from Toosi, which is ... hoooboy!
5/To top it off, he didn't share most of the details of the redesign with lawmakers; what little info he offered was vague consultant-speak. (I mean, that s**t is its own language.) Congressional aides first learned of the dollar amounts from … me.

— Nahal Toosi (@nahaltoosi) April 5, 2018
Liz Dye
Liz Dye lives in Baltimore with her wonderful husband and a houseful of teenagers. When she isn't being mad about a thing on the internet, she's hiding in plain sight in the carpool line. She's the one wearing yoga pants glaring at her phone.