Rick Perry In Terrible Trouble Over Possible Execution Cover-up
News
October 12, 2009 02:48 PM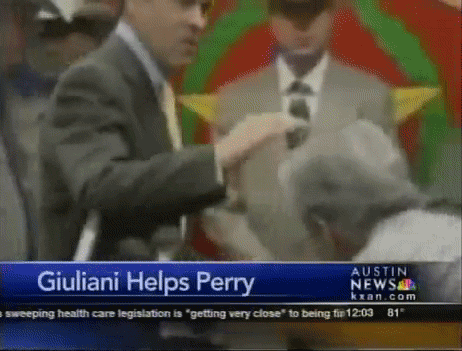 Evilhair-petting secessionist madman Rick Perry, Texas "Governor for Life," is in some hot poop nowadays over what else, randomly executing everyone. But the scandal lay in the cover-up, of course: why won't Rick Perry release official documents from the day of an execution in 2004, showing that the person he killed was probably innocent? And why is he firing the state official investigating the circumstances of this execution and requesting these documents? Probably because Rick Perry never read them, or read them and didn't care. Don't want to spoil a good killin' for the public, after all.
---
The Houston Chronicle had an excellent summary of this whole thing, yesterday:
Just 88 minutes before the February 2004 execution of Cameron Todd Willingham, Gov. Rick Perry's office received by fax a crucial arson expert's opinion that later ignited a political firestorm over whether Texas, on Perry's watch, used botched forensic evidence to send a man to his death.

In a letter sent Feb. 14, three days before Willingham was scheduled to die, Perry had been asked to postpone the execution. The condemned man's attorney argued that the newly obtained expert evidence showed Willingham had not set the house fire that killed his daughters, 2-year-old Amber and 1-year-old twins Karmon and Kameron, two days before Christmas in 1991.

On Feb. 17, the day of the execution, Perry's office got the five-page faxed report at 4:52 p.m., according to documents the Houston Chronicle obtained in response to a public records request.

But it's unclear from the records whether he read it that day. Perry's office has declined to release any of his or his staff's comments or analysis of the reprieve request.
More terrible things:
Just months before the controversial removal of three members of a state commission investigating the forensics that led to a Texas man's 2004 execution, top aides to Gov. Rick Perry tried to pressure the chairman of the panel over the direction of the inquiry, the chairman has told the Tribune.

Samuel Bassett, whom Perry replaced on the Texas Forensic Science Commission two weeks ago, said he twice was called to meetings with Perry's top attorneys. At one of those meetings, Bassett said he was told they were unhappy with the course of the commission's investigation.

"I was surprised that they were involving themselves in the commission's decision-making," Bassett said. "I did feel some pressure from them, yes. There's no question about that."
This is like "Troopergate," but in Texas, and involving more death. It should also remind anyone who's seen Errol Morris' documentary The Thin Blue Line -- one of THE best movies ever, period -- of how the Texas justice system operates at its worst: some terrible crime happened? Find the first suspect, do whatever you can to kill him. Makes everyone feel safer.
(And don't investigate afterwards!)
Perry's office quiet on expert's arson report [Houston Chronicle via Burnt Orange Report]
Cameron Todd Willingham: Former head of Texas forensics panel probing 1991 fire says he felt pressured by Gov. Perry aides [Chicago Tribune]