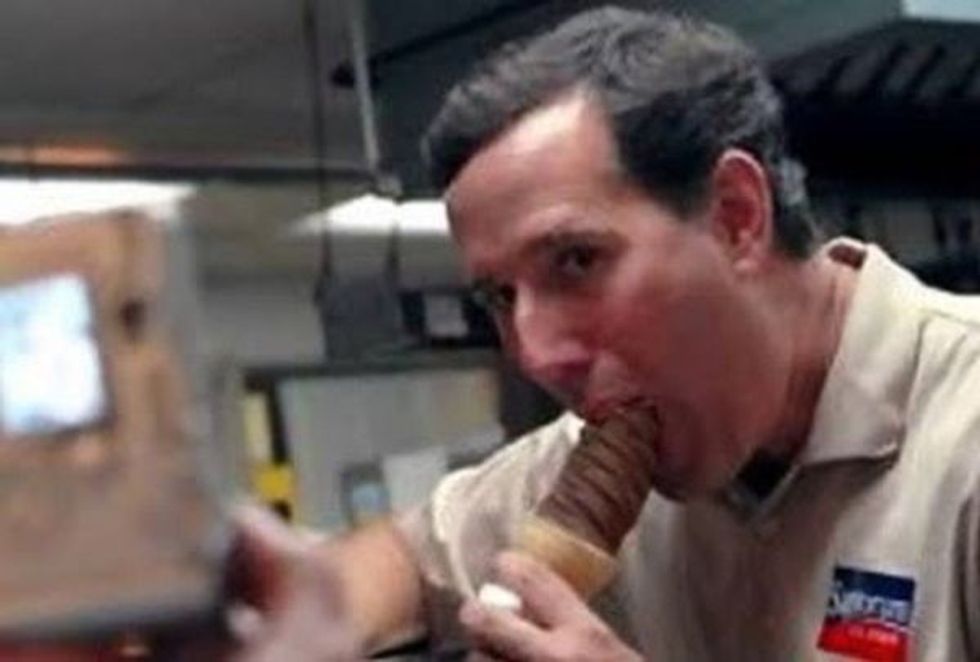 Warrior president.
---
Rick Santorum, whose polling throughout the primary season hasn't risen higher than Rick Santorum's dick when he discovers sexts from his wife's hot abortion doctor ex-boyfriend, has sent out a fundraising email. No, we do not know how the Washington Post got it, since Santorum has no supporters aside from this one chick in Iowa named Peggy. Maybe she got the email and put it on Dave Weigel's MySpace wall, who can say?
Anyway, Santorum would like to get in on some of this "CNBC is the meanest debate lover!" action, since he's apparently still running for president, and who's the only "candidate" who's gone to war with the big bad lamestream media and the ISIS and won? It is Rick Santorum!
Shhhh, stop literally LOLing all over your keyboards. Let him 'splain:
President Obama is chicken!

Yeah, I said it… because someone had to!
[contextly_sidebar id="az0uARVsLFELjT5yR6mCYjwd5XShOPeT"]
Like when President Chicken killed bin Laden with his big bad presidenting dick, the thing dumbshit "Mission Accomplished" codpiece-wearing pansy Dubya couldn't do? Kidding, we know Republicans are just upset about Obama mocking all those whiny teething bumblefucks crying to their mommies about the Republican debate. His face looked like this at the time: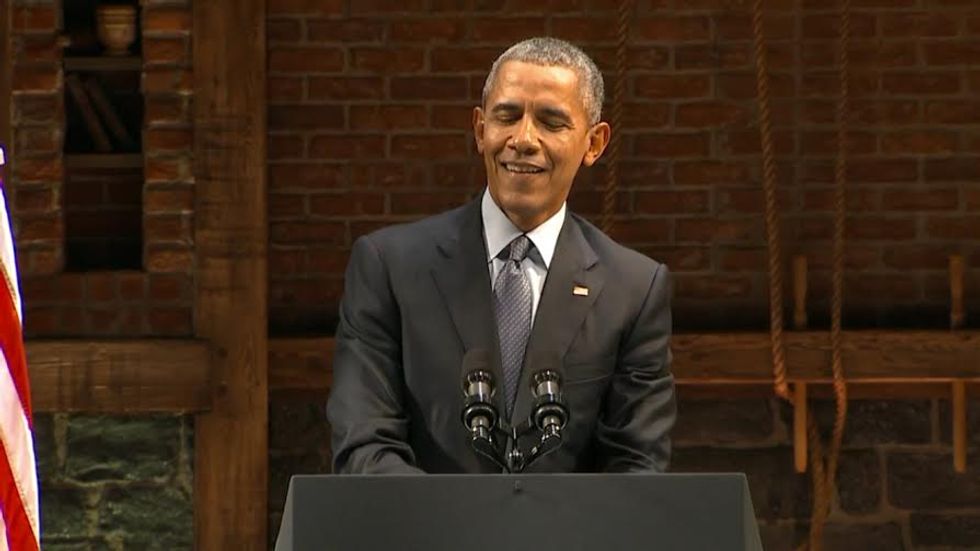 U R DUMB LOL
Continue, Rick:
But last week's CNBC debate was a joke and everyone knows it!

Now President Obama mocks us – CONSERVATIVES - for standing up to CNBC? Give me a break! He doesn't have the guts to appear with Sean Hannity or Mark Levin, let alone take on radical world leaders!
[contextly_sidebar id="ncPQ4d3Fv66oI7hrpvqB4UNLito7jFdc"]
Obama goes on Fox News. Look, here he is with Bill O'Reilly, smiling and nodding and doing his best not to laugh. Hannity and Levin are, shall we say, beneath the president. Barry Bamz doesn't like to punch down.
But yeah, Obama is TOTALLY making fun of the candidates for bein' a-scared of those big liberal CNBC moderators, like Rick Santelli, who threw the first teabag into cousin-marrying America's willing, sexually aroused mouth. Such liberal. Many unfair!
Go on, Rick:
I've taken on the ladies of The View. I've gone toe-to-toe with Bill Maher. And I've debated Rachel Maddow and won.

More importantly, I've taken on ISIS and Iran. They know who I am and I know who they are!
Oh, yr Wonkette has to get up and change our Larry Lessig panties, for we just giggle-peed a little bit!
WHEW! OK, we are back now and we have dry panties. We are racking our brain and trying to remember the time when Rick Santorum went on "The View" and beated up Barbara Walters, Whoopi Goldberg and Joy Behar, or maybe drowned them in a vat of his own santorum, but we are not finding it! Wouldn't that have made the news?
We found these videos from September! In the first one, Whoopi asks him a question, and the audience laughs at him. Also he lies about Planned Parenthood and crisis pregnancy centers a lot:
And then in this video, Raven-Symoné asks him why he is such a gay-hating asshole, and the audience cheers the questions. They do not cheer his responses:
Rick Santorum can has TKO? No, he cannot, because he is a fucking loser.
[contextly_sidebar id="SE5Fa0TQIM5siCiUp3oOJW9VcBiwrikT"]
As to his other claims, we THINK when he says he "debated Rachel Maddow and won," he means to say, "I made up shit about the Supreme Court and Rachel Maddow corrected me a whole bunch." Common mistake, when wingnuts get interviewed by Maddow. (Hi Rachel, yr Wonkette still loves you!)
And finally, and oh dear God, the ISIS thing. To hear him tell it, you'd think he took his flaccid dick over to the deserts of Iraq and gave those terrorist boys a good talkin'-to! Maybe he droned their faces off, by playing clips of himself on "The View."
[contextly_sidebar id="fJyf11BlgOMbcnCKnExH4XgQkx4VTwMc"]
But no. He is talking about that sad, hilarious time ISIS put a glossy photo of him in the terror organization's version of "Tiger Beat" (motto: Kind of like Politico, but Death To America!) and labeled him AN enemy. And he was real excited, because they used his pussified words about how OMG big and scary ISIS is, as a propaganda to prove that they were, in fact, OMG big and scary.
These are the things poor Rick Santorum, who will never even be president of his wife's sex thoughts about the aforementioned abortionista ex-fuckbuddy, is beating his chest about, in the newsletter he sent to his "supporters."
We'd pity him if we weren't still LOLing.
Evan Hurst
Evan Hurst is the managing editor of Wonkette, which means he is the boss of you, unless you are Rebecca, who is boss of him. His dog Lula is judging you right now.
Follow him on Twitter RIGHT HERE.