Rick Santorum Campaign Now Selling Sweater Vests
News
January 10, 2012 02:30 PM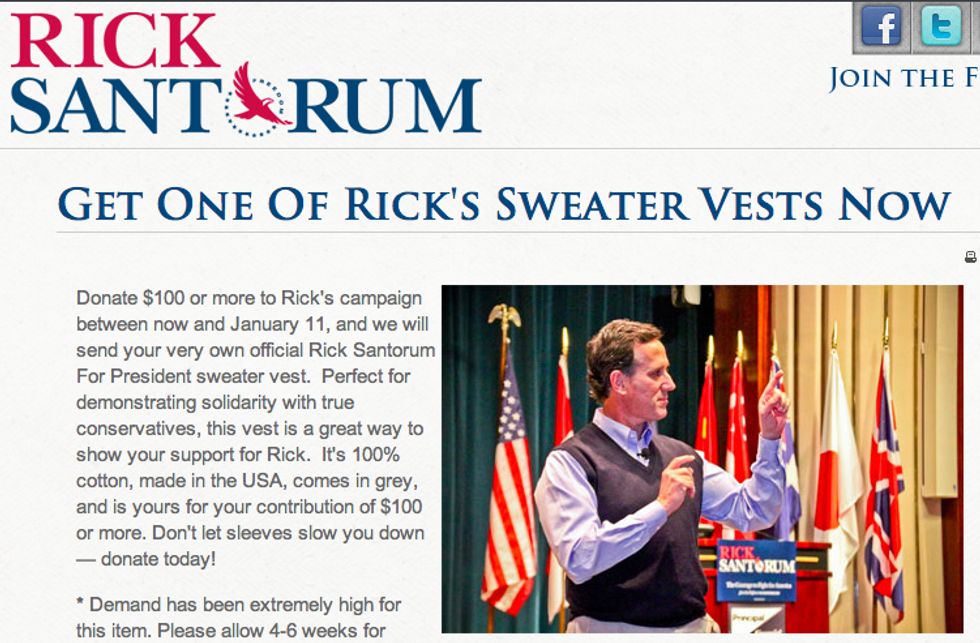 Pictured is this bossy new page in the merch section of Rick Santorum's official website. Yes, our dreams have come true. Rick Santorum has read all the Google alerts about his sweater vests, he sees that he has received the coveted honor of being called a Trend by the New York Times ("For Santorum, Sweater Vests Seen As Comfortable"), and one young, happening social-media savvy piece of fresh meat on his campaign team has responded by allowing you to own one of "his" armpit-aerating sartorial staples, a necessity for anyone with anger management issues, because anger causes sweat, for just $100.
---
But please take heed of the fine print at the end of the above-the-fold area:
* Demand has been extremely high for this item. Please allow 4-6 weeks for delivery. Thanks again for supporting Rick's campaign.
Thanks again. But four to six weeks? Santorum will be nothing but an improper noun by the time this thing arrives. There's a place on this page where you can actually CHOOSE how much you want to pay for the sweater vest (retail value: $4, shockingly made in America and not Vietnam) in question. Do you want to pay the maximum of $2,500? You could do that. But you only have until January 11, i.e. tomorrow. SO HURRY IN/ON NOW! THIS DEAL WON'T LAST! [USA Today]