Rick Santorum Has One Supporter In Iowa, And Her Name Is Peggy
Featured
June 09, 2015 12:45 PM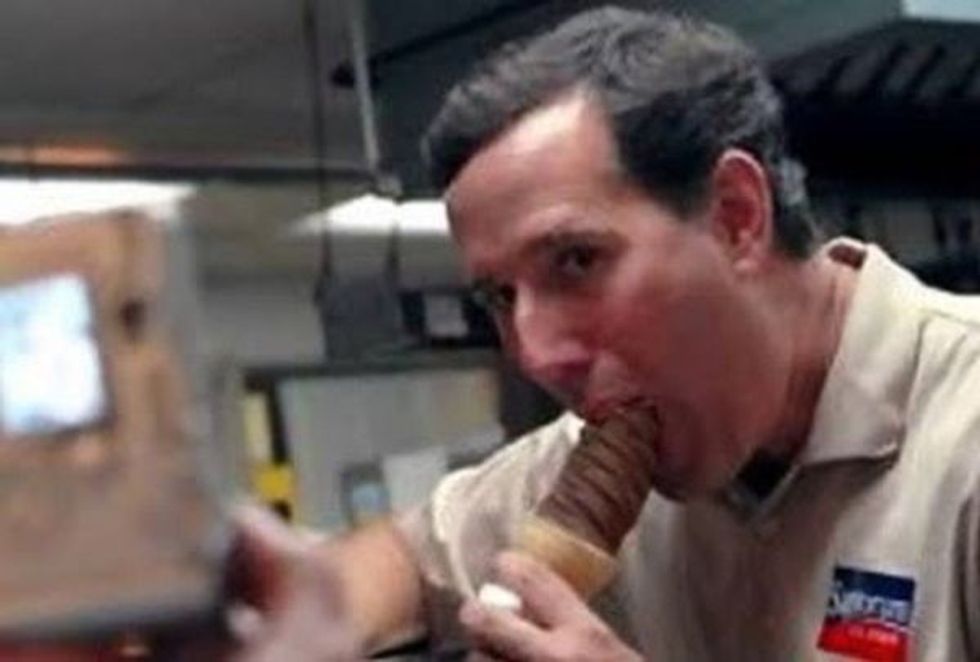 Poor Rick Santorum. He has been trying so hard to get somebody to care about the fact that he is running for president, but nobody does. And in a race to see which GOP candidate can out-wingnut them all, by hating the gays and the 'bortions and the Messicans THE MOST, Santorum loses, not because his heart isn't in the right place, but because he comes across as sad and pathetic. But there is a light at the end of the tunnel! The light's name is Peggy, and she is Santorum's one supporter:
---
When just one Iowan showed up to Rick Santorum's 2 p.m. campaign stop at a restaurant here Monday, the winner of the 2012 Iowa caucuses made a quick decision: Might as well order lunch.

"I haven't eaten, actually, all day," he said to his guest, Peggy Toft, an insurance agent and chair of the county's Republican Party.
[contextly_sidebar id="oVSpNtLYylnMKIFdlTnkRlnrYoLaPjUO"]
Ms. Toft was there to help "the presidential candidate" select his lunch, advising him Darrell's Place is "known for their breaded tenderloins, but there's a lot of good choices here." So Santorum, pandering properly, got himself some tenderloin, and also onion rings, which was probably a stupid choice, because when you have only one supporter, it's not a great idea to drive her away with Santorum breath.
But good news! The Des Moines Register reports that the party REALLY got started soon after, because THREE MORE HUMAN BEINGS showed up at the restaurant, and they did not immediately recoil in horror at the presence of a man who thinks he's Nelson Mandela and cuddles with dead fetuses. The people came to the table, and they talked to him, probably about how they're going to vote for Ted Cruz or Hillary Clinton or any one of the presidential candidates whose name is not Santorum.
[contextly_sidebar id="OZUOzQeoykZt866JtnqobtNpDrve4cgQ"]
Ha ha, just kidding, they asked him if he still hates the gays real good, and yes, he does:
One newcomer, Glen Meyers, a minister from nearby Exira, asked Santorum for his thoughts on same-sex marriage. Santorum called it a threat not just to family but religious liberty.

"This is where the left is saying, 'Here is what your belief system should be, and anyone who does not toe the line, you're a hater, you're a bigot, you're intolerant and you will not be tolerated,'" Santorum said.

The pastor seemed pleased with the response: "That was pretty good."
Glen! When it was just Peggy, we were worried, but now that Glen has entered the picture, we're pretty sure we can say this presidential campaign has Santorum-entum! (GET SOME.)
Anyhow, don't worry about poor Santorum and his lack of supporters. This is all part of THE PLAN:
For Santorum, who's making a second go at the Republican nomination for president, the low turnout wasn't surprising, he said, but all part of the plan.

He spent 2011 building momentum in Iowa by touring all 99 of the state's counties, speaking one on one to voters in sparsely populated stretches of the state. He scraped together two committed caucusgoers here, another two there, ultimately defeating Mitt Romney, the GOP's eventual nominee, by 34 votes in Iowa.
So Santorum only has to go to, like, a million more diners and find a million more Peggys and Glens, and then he can be president of US America? Great plan, Loserface.
[Des Moines Register via Politico]
Evan Hurst
Evan Hurst is the managing editor of Wonkette, which means he is the boss of you, unless you are Rebecca, who is boss of him. His dog Lula is judging you right now.
Follow him on Twitter RIGHT HERE.