Rick Santorum Has Sexxy Advice For Barack Obama: Stop Being Pathetic About Iraq
News
August 21, 2014 04:28 PM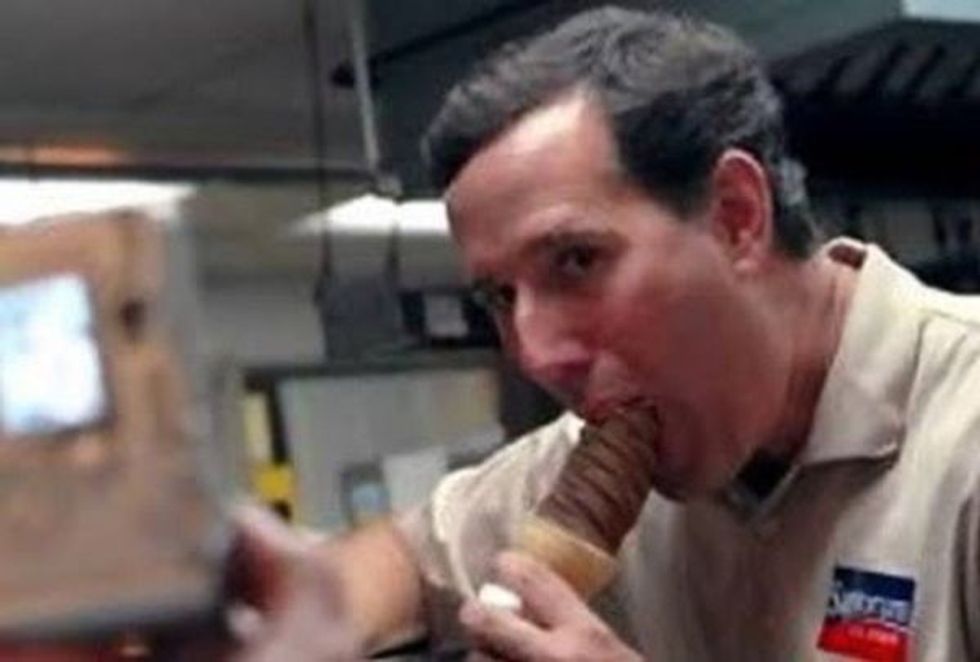 ---
On Monday, Rick Santorum dropped by the Family Research Council's "Washington Watch" radio program, and he shared some of his foreign policy expertise with host and FRC head Tony Perkins. A couple of insights: Iraq is a mess because Barack Obama failed to strong-arm Iraqi President Nouri Al-Maliki into accepting a new status-of-forces agreement. Maliki insisted on sticking to the arrangement that he'd negotiated with George W. Bush, which required a U.S. withdrawal by 2010, but Santorum gives a hint of how he'd be a super diplomatic president who would make the rest of the world respect us. Since the U.S. had more or less put Maliki in office, Obama should have just gone to Maliki and said, "We'll have a Status of Forces Agreement ... or else." That's how America does international relations, for heaven's sake: by bullying our allies into submission, like Jesus advocated. But did Obama make Maliki an offer he couldn't refuse? No, the dumb weakling. Santorum continued:
I can't imagine a president being that weak for someone who is wholly-dependent on the United States for being where he is and we couldn't get an agreement out him. That shows you how pathetic this president really.
And speaking of pathetic and weak, Santorum also explained that because of Obama, Iran has gained entirely too much influence over the Shiite-led Iraqi government, which is just one more example of how this weak president has gone back in time and make things happen during the Bush administration. If only he would use his time machine for good!