Rick Santorum Is Worried Exxon-Mobil CEO Rex Tillerson Might Love The Environment Too Much
Science
December 16, 2016 03:24 PM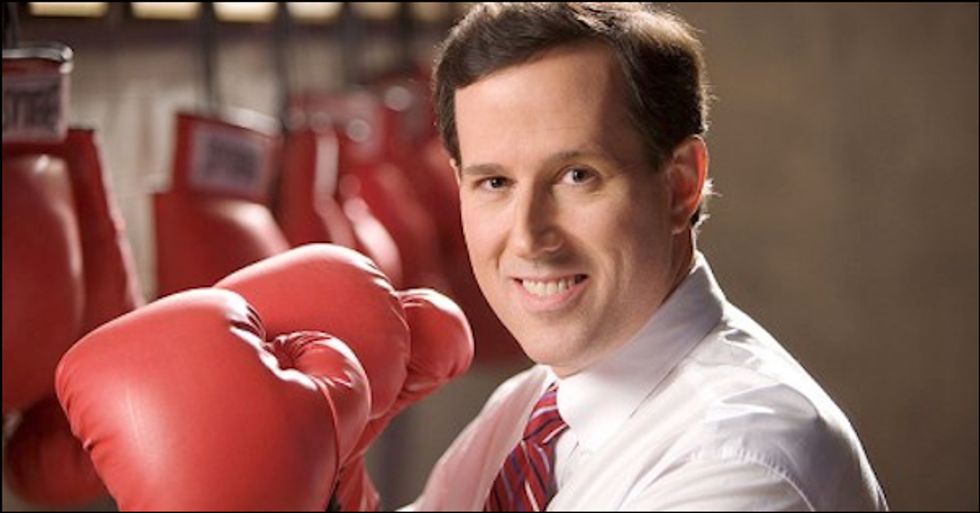 He's ready for a fight!
---
Of all the concerns a reasonable person might have about Donald Trump installing Rex Tillerson, CEO of Exxon-Mobil, as secretary of State, the fact that he might just love the environment too much is probably not one of them! Unless, of course, you are Rick Santorum!
Speaking to WABC radio's Rita Cosby, Santorum explained that he is pretty concerned that Exxon-Mobil is just way too environmentally friendly for his taste.
"Well, Exxon has been ... let's just say, involved in the climate change discussion, accepting the alarmist view of climate change, and suggesting things like carbon taxes and the like."
Tillerson's support for a carbon tax was because he thought it would be cheaper and less annoying to his company than regulations are, and his company is currently being investigated for supposedly having tried to suppress climate change research, but no matter! It's all or nothing for Santorum! It is not enough to simply destroy the environment, you have to do it while also insisting it is impossible to destroy the environment.
Tillerson's view, essentially, is that man-made climate change is real, but who cares, there's money to make! And if things get really bad for some reason, we'll figure out a way to deal with them! And make more money that way! The free market will solve everything!
That's not enough for Rick Santorum, no siree! What Rick Santorum needs is to be patted on the head and told that man-made climate change 100 percent definitely does not exist, because God would never let that happen, and besides that, he gave humans "dominion over the earth" to do what they want with it, and to use it "for our benefit not for the Earth's benefit."
Santorum is resolute when it comes to his belief that anthropogenic climate change is not a thing, even going so far as to demand the Pope take back his statements that it is real and also a problem.
So sorry, dirty hippy Rex Tillerson! Rick Santorum, who holds no public office and has no say in the matter whatsoever, thinks you are a big treehugging jerk.
Robyn Pennacchia
Robyn Pennacchia is a brilliant, fabulously talented and visually stunning angel of a human being, who shrugged off what she is pretty sure would have been a Tony Award-winning career in musical theater in order to write about stuff on the internet. Follow her on Twitter at @RobynElyse