Santorum Not About To Have Obama's Lady Priests Telling Him What To Do
News
February 09, 2012 02:35 PM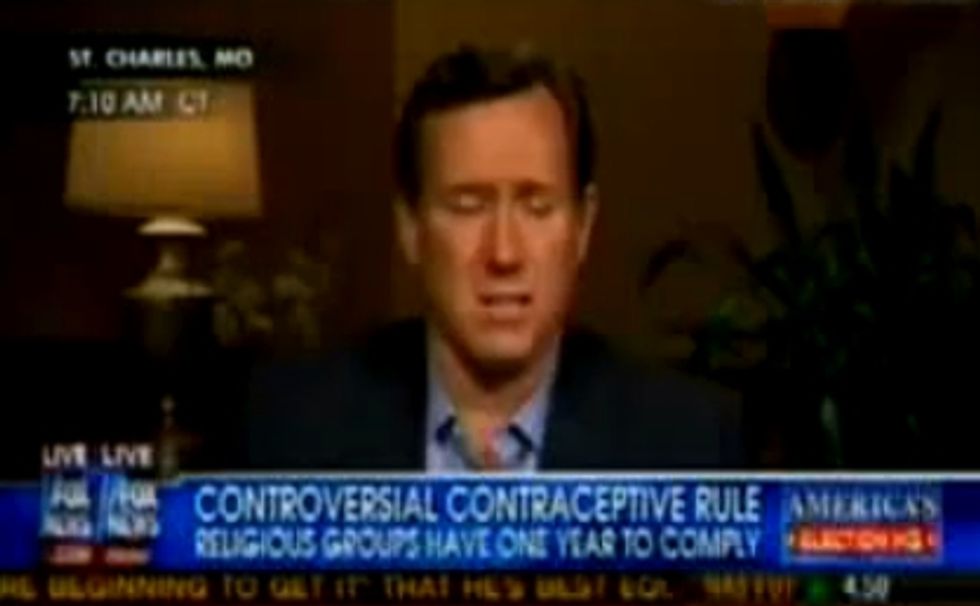 Cadaverous walking smirk Rick Santorum must still be high on endorphins from Tuesday'ssurprise threesome in some meaningless/game-changing voting things. Having seen how turgid the prospects of Abortionplexes and FEMA-officiated gay marriage have been making conservative voters of late, Santorum is preparing a new front in the Culture Wars that, incidentally, also feed and shod his family. So, uh, down with Barack Obama and his quest to force Catholics to ordain lady priests like a bunch of common Episcopalians!
---
Rick voiced his mewling concerns on, where else, the Fox, and there they were captured by Think Progress:
This is a president who, just recently, in this Hosanna-Tabor case was basically making the argument that Catholics had to, you know, maybe even had to go so far as to hire women priests to comply with employment discrimination issues. This is a very hostile president to people of faith. He's a hostile president, not just to people of faith, but to all freedoms.
Think Progress helpfully points out that Rick is full of santorum on this one:
The Obama Administration's brief in the case Santorum cites expressly stated that it would be unconstitutional to tell the Catholic church to do so, a fact that Santorum would have been aware of if he had actually bothered to read the Supreme Court's opinion in Hosanna-Tabor. That opinion explains that the administration "grant[s] . . . that it would violate the First Amendment for courts to apply [anti-discrimination] laws to compel the ordination of women by the Catholic Church ...."
Hmm. Do you think it would still be "kosher" with Rick to abort a lady fetus who is leaning toward the priesthood? [Think Progress]