Rick Santorum Says Rick Santorum Is Nelson Mandela
News
December 06, 2013 02:00 PM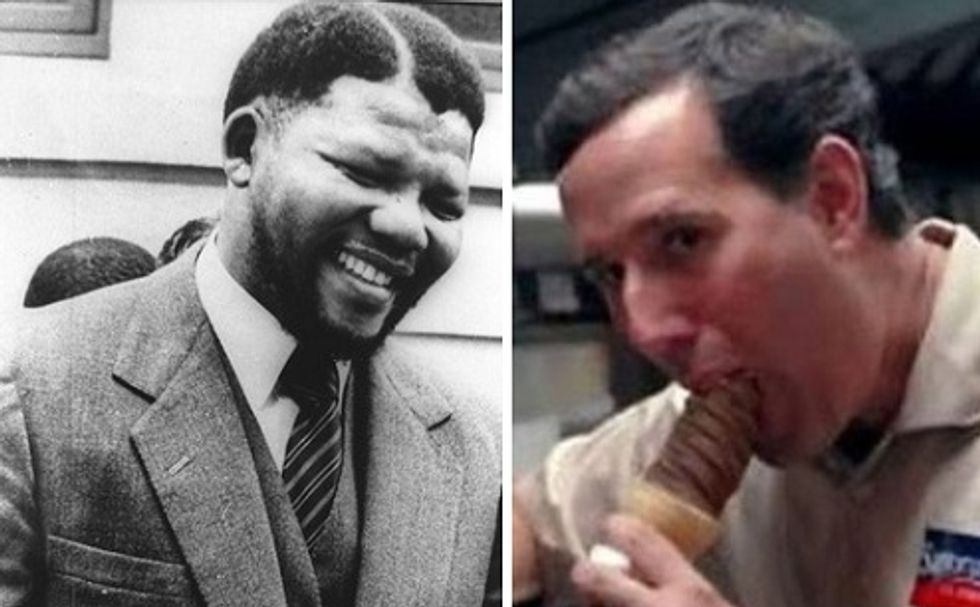 You will note that we have not spent a lot of time last night or this morning subjecting you to OUTRAGE!!!1! via hellish racist bullshit about the passing of Nelson Mandela. This is because we are feeling gentle and celebratory about a great man's life -- how many people get to bear witness to an actual Father of a Nation bending the moral arc of the universe? -- and those irrelevant little sandflies in the darker corners of NRO comments can't ruin it for us no matter how hard they try. (And they have really been trying.)
---
So the following from Rick Santorum is not to make you mad. It's not even maddening! It is just hilarious typical Rick Santorum tonedeaf idiot bullshit, and it is for you to point and laugh. Rick Santorum, how are you like Nelson Mandela?
"He was fighting against some great injustice, and I would make the argument that we have a great injustice going on right now in this country with an ever-increasing size of government that is taking over and controlling people's lives -- and Obamacare is front and center in that."
Oh Rick Santorum, you are so spitty and offensive and stupid. It's actually kind of adorable. Why, even Bill O'Reilly was not being a jerk, explaining that EVEN THOUGH Mandela was a Communist, which is the worstest thing in the world that you can ever, ever be, Mr. O'Reilly could still appreciate that Mandela was a great man for his country and for the cause of freedom itself. If he, Bill O'Reilly, could have good thoughts about a Kenyan South African Marxist Muslin Terrorist (probably), surely the Tea Party could stop mau-mauing everyone who strayed from John Birch Society/Stormfront orthodoxy? Couldn't there be mutual respect even through disagreement?
Hahahahaha, don't be RIDICULOSE. Rick Santorum, of course, declined to agree, as what fun is it being Torquemada if you don't get to burn the RINOs at the stake? Or perhaps he is just so far up his own epistemic closure that his Romney-styley robot brain just spits out "big government" and "Obamacare" even at incredibly stupid times, because he is stupid, and a robot.
Anyway, by all means, Rick Santorum, please go to jail go directly to jail. In 27 years, we will have some grudging admiration for your strength and convictions, even though you'll always be a fascist to us.
Rebecca Schoenkopf
Rebecca Schoenkopf is the owner, publisher, and editrix of Wonkette. She is a nice lady, SHUT UP YUH HUH. She is very tired with this fucking nonsense all of the time, and it would be terrific if you sent money to keep this bitch afloat. She is on maternity leave until 2033.