Rick Santorum Takes Victory Lap Now That Supreme Court Allows Man-Dog Marriages
News
July 08, 2015 11:00 AM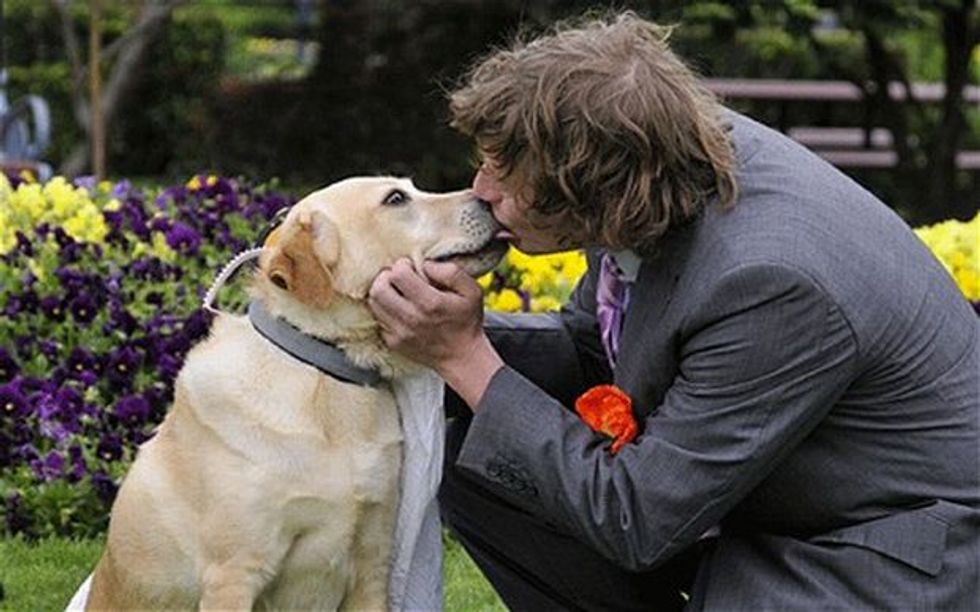 Walking Google joke Rick Santorum took a weird victory lap in Colorado last month when the Supreme Court crammed marriage equality down America's throat, explaining that he had been totally right in 2003 when he predicted that striking down sodomy laws would eventually destroy every family ever and legitimize man on dog relationships.
---
[contextly_sidebar id="4aeCZy4V3JC2rQVBHnakHkCRMomBOHZP"]
RightWingWatch reminds us of Santorum's notorious prediction prior to the Lawrence v Texas decision, which tossed anti-sodomy laws:
If the Supreme Court says that you have the right to consensual sex within your home, then you have the right to bigamy, you have the right to polygamy, you have the right to incest, you have the right to adultery. You have the right to anything. ... Whether it's polygamy, whether it's adultery, where it's sodomy, all of those things, are antithetical to a healthy, stable, traditional family ... In every society, the definition of marriage has not ever to my knowledge included homosexuality. That's not to pick on homosexuality. It's not, you know, man on child, man on dog, or whatever the case may be.
So it turns out that, on the very day of the Supreme Court decision, Santorum was attending the "Western Conservative Summit" in Colorado, where rightwing Christian radio preacher and Colorado state Rep. Gordon Klingenschmitt was on hand to record Santorum's press conference. Klingenschmitt posted the video to his internet "ministry," the "Pray In Jesus Name" show, on Tuesday. We'd say it was a glimpse of the Santorum of yesteryear, but that would imply that he's changed in any way at all since 2003.
Santorum wasted little time proclaiming that he had been absolutely right a dozen years ago:
What I said is if you have the right to consensual sexual activity, then it opens the door to a variety of different things. And this ruling did it. This ruling followed up with what I said would happen if the Supreme Court ruled the way it did and the Supreme Court has followed their line of reasoning that I identified very early on that if consensual sexual activity is a constitutional right, then we have to, we have to, it leads logically, as you saw in the court's opinion, that all things, that all other rights come with that.
We'll confess that we didn't read the Court's decision as carefully as Kaili did, but we're fairly sure there's not a single word in there about "all other rights" -- to marry your dog or your favorite ottoman -- were really included in the decision (though you can, of course, marry your favorite Otto, man).
[contextly_sidebar id="3S7rkCo3fyF52IFKJfhnlF4hSuo6if2P"]
Santorum was then asked if polygamy was going to be legalized next, and while he said that was up to the courts, he lamented, "I don't see a legal basis, based on the decisions they've made, that would argue against that. They've certainly opened the door for a variety of other things that are going to happen." So get ready, America -- it's not just man-on-dog now; before you know it we'll have to recognize group marriages between two men, six women, a Rhodesian ridgeback, and a 1951 Studebaker, and if Christians refuse to bake a cake for that wedding, they'll probably go to jail.