Rick Scott Has No Idea Where This 'Tampa Bay' Place Is
News
November 03, 2011 10:29 AM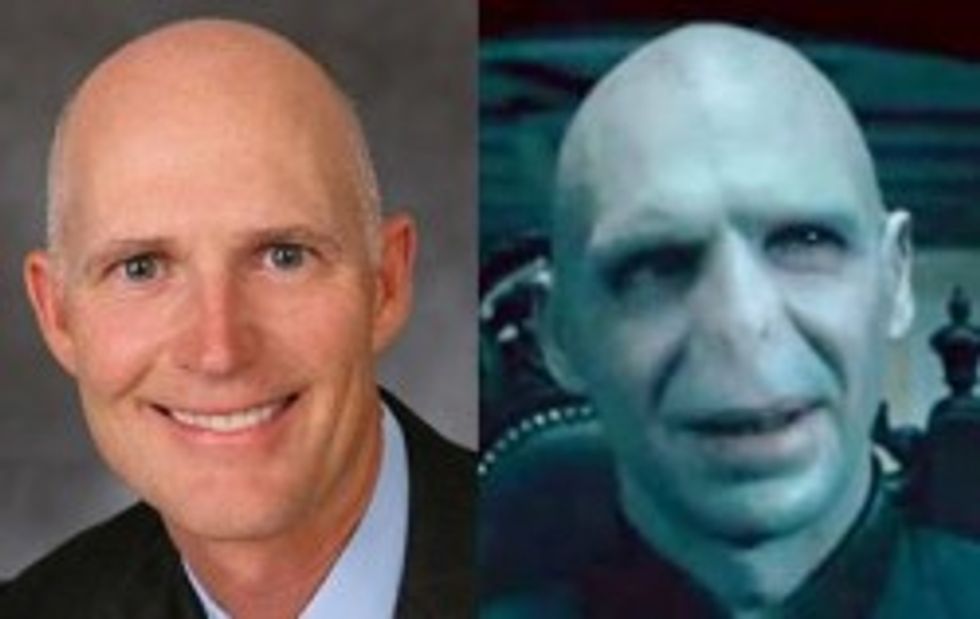 Further proof Rick Scottis a demon robot from outer space: he has not yet not learned where one of the major urban areas in the state he governs is, because he arrived in Florida from his desolate home asteroid-space landfill too recently. When reporters from the St. Petersburg Times mentioned to him that the newspaper will soon change its name to the Tampa Bay Times to reflect the larger area that the paper now covers,Rick droned back in his hollow nasal way, "Does the region call itself the Tampa Bay region? Is that what it calls itself? The region does?" Uhhh.
---
Tampa Bay encompasses Tampa, St. Petersburg and Clearwater and is the state's second-largest metropolitan area. His insane comment delivered with questionable English has a few people wondering whether or not he could possibly be quite this stupid. The official verdict is that, yes, probably yes.
From WTSP.com:
Steve Bousquet, the Tallahassee Bureau Chief for the St. Petersburg Times, tells 10 News he and others were surprised by Scott's answer.

"No he was not joking. He seemed to be a little bit unfamiliar with the term," Bousquet said.

The Governor's answer also surprised others after hearing about his response.

"It's not something we can just laugh off," Tampa council member Frank Reddick said. "I think the governor needs to go get a history lesson," he added.
(A history lesson?) Anyway, maybe not laugh off, but certainly is the kind of thing we can, and must, laugh at. [WTSP.com]