Roast Your Killer Tomatoes And Get Sauced
Recipe Hub
September 03, 2014 11:48 AM
---
I'm pleased to report that Wonkette's community garden in Chicagoland is producing a verifiable crap-ton of tomatoes. We have so many tomatoes and we are giving them away, with enough left for ourselves.
Your garden has about 10 varieties of tomatoes, each related to deadly nightshade, and we totally do not care where their family is from. We care about who these tomatoes are now, and they are not deadly at all. Au contraire! Our tomatoes are more delicious than anything we remember growing last year. The little old lady on the second floor thinks our tomatoes are so good that she leaves thank-you cards for us and gives us actual kisses on our real faces. We are living the life.
Yes, your roasted tomato sauce freezes quite nicely so you can enjoy your delicious summer tomatoes throughout your tomato-less winter. I recommend it on eggplant parmigiana, lasagna, manicotti, and even laid out on spaghetti. Bolognese, if you can.
Roasted Tomato Sauce
6 lbs. tomatoes -- unpeeled, cored and chopped
2/3 c. olive oil
2-ish tbs. kosher salt
Pepper from a mill, go crazy
Red pepper flakes, some
Oregano, fresh -- half a handful
Basil -- fresh, a big handful
Thyme, four stems
Parsley, maybe some
2 heads of garlic, peeled and minced (about 20 cloves)
2 tbs. brown sugar (optional)
Heat the oven to 425º. Mix everything together in a roasting pan, using your hands. Roast for 30 minutes, and then reduce heat to 375º. Stir, roast for an additional 45 minutes to an hour, and stir a few times more until things look caramelized and thick. Remove thyme and oregano stems and let cool for about 15 minutes.
Begin adding a few cups to a food processor on high, and blend until the tomato seeds are no longer visible. If you are feeling kind of foo-foo, crank the sauce through a food mill. Taste test, and add more seasoning as desired. Eat.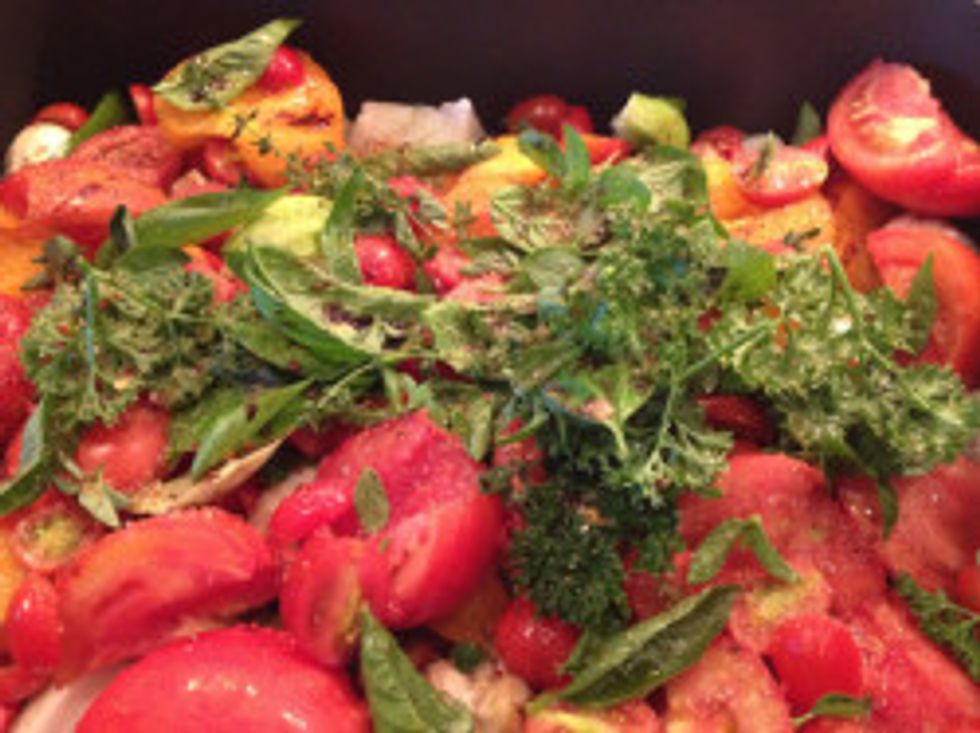 Variations of this recipe would include one green pepper, seeded and halved, and about 12 ounces of whole mushrooms. Remove the pepper and mushrooms after roasting and before processing. Chop both and add to the finished sauce. This recipe fills about four quart-sized freezer bags.
For those of you who can't grow tomatoes, I have great news! Fresh grape tomatoes, from a box and purchased on the cheap, work out well in this sauce. I grow thousands of these and refuse to waste one. Use grape tomatoes along with other varieties. Pick the kinds you know and like. Roll with it. It all tastes better from scratch, no matter what you do.