Romney Robocalls SC Voters Using Santorum's 2008 Endorsement
News
January 17, 2012 02:14 PM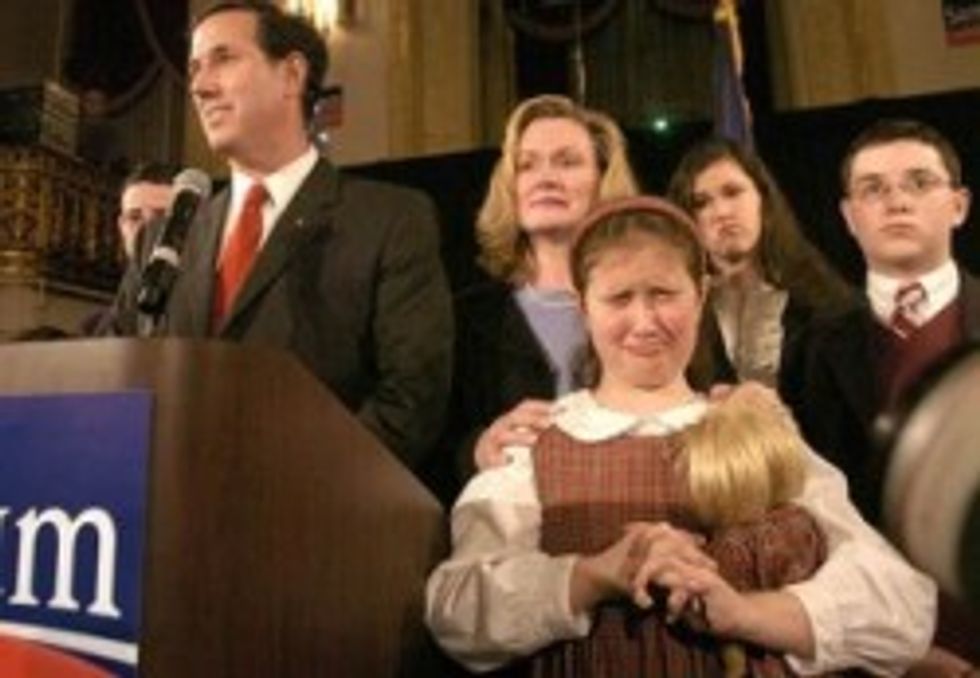 He's not gone yet, but Rick Santorum will arguably be carried out of this campaign kicking and screaming by Mitt Romney, the tyrannical stepfather of the 2012 race, who's just launched robocalls to South Carolina voters that feature audio of Santorum's 2008 endorsement of Romney as the Republican candidate. On a scale of one to disgusting, does this move rank higher than Santorum yelling at people who can't even vote? It's close. But Santorum points out that this ploy could easily confuse voters into thinking that Santorum isn't even running anymore and that he's endorsing Romney in the here and now.
---
The Santorum audio appears as follows:
If you're a conservative, there really is only one place to go right now. I would even argue farther than that. If you're a Republican, if you're a Republican in the broadest sense, there is only one place to go right now, and that's Mitt Romney.
Santorum's response is hilarious. He calls the move "dirty politics," which it most certainly is, but then he says, "I expect that from Barack Obama. I don't ever expect it from a Republican."
"Ever." "Republican."
As for Romney's camp, not even a former diplomat and recent turncoat with no influence on this race could convince him to abandon pursuits like this one and act like an adult. Romney is a total, amoral creep, and that's the platform he's running on. Deal. "We were very pleased to have Sen. Santorum's endorsement of Gov. Romney last campaign and his advocacy of Gov. Romney as 'the candidate who will stand up for the conservative principles that we hold dear,'" said Romney spokesperson Ryan Williams Tuesday.
Santorum says the calls are "smarmy...we can do better than this, folks."
Yes we can. [LA Times]