Ryan Zinke Hates The Fucking Eagles, Man
Guns
October 27, 2017 02:12 PM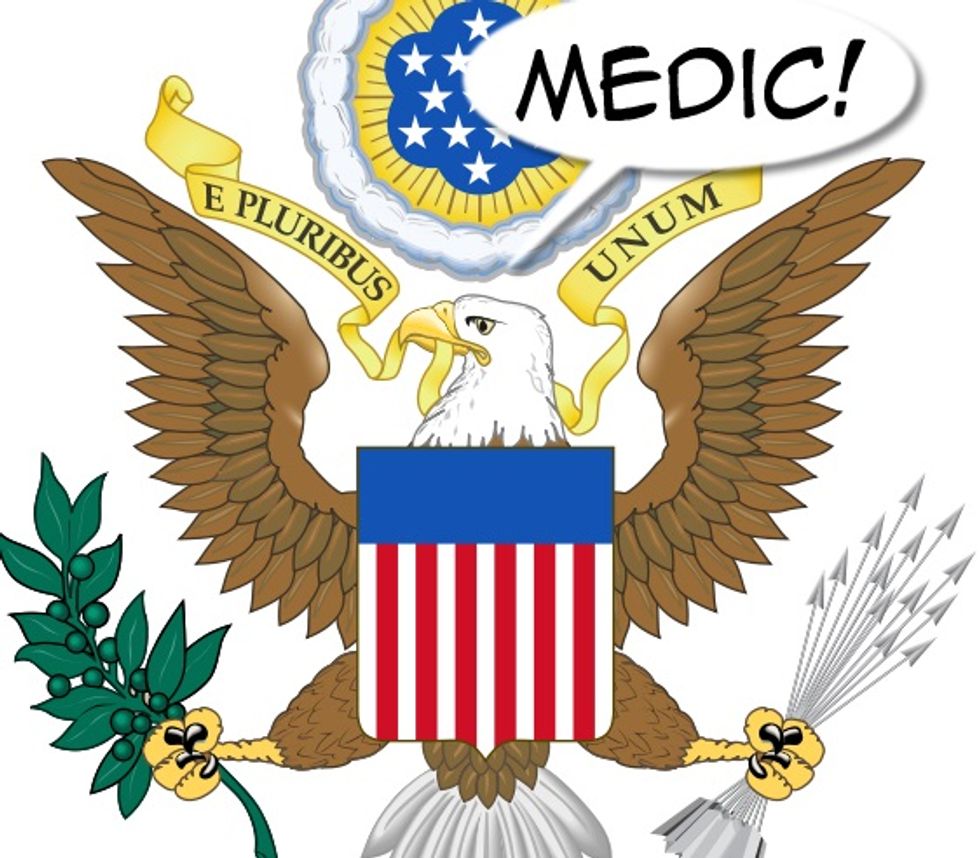 We've got plenty of pictures of them, so it's no big
---
Just the week after he was sworn in as Interior Secretary in March, Ryan Zinke did his part to demonstrate he was down with the new anti-regulation dynamic of the Trump administration by repealing a US Fish and Wildlife Service directive Barack Obama tried to sneak past the American People on the day before Donald Trump was sworn in. The lawless Kenyan dictator had signed an order banning the use of lead ammunition and lead fishing tackle on federally owned lands. The greatest Freedom experts in US America, the National Rifle Association, condemned Obama's last-minute move to protect birds and fish from lead poisoning as Obama's "final assault on gun owners' and sportsmen's rights," just like how he had earlier taken everyone's guns away.
Well, damned if Zinke was going to let that tyranny stand, man, so he not only rescinded that order, but also issued a secretarial order to expand hunting and fishing on federal lands, so that hunters could blast all the lead into the environment they wanted to.
We're sure it's purely a coincidence, but today, NBC Washington reports the Wildlife Center of Virginia has admitted a record-setting 43rd bald eagle suffering from lead poisoning this year. The raptors may be the national bird, but they're disgustingly dependent on Big Government to protect them from stuff like DDT and lead contaminating their food supply, the damned takers. Turns out that bald eagles and other animals, which haven't even consulted with the NRA, can be poisoned by fragments of lead ammunition while scavenging animal carcasses. Eagles can be killed by a lead fragment the size of a grain of rice. The Wildlife Center seems to think that's a problem, not merely the understandable price we must pay for Liberty:
Officials say nearly 70 percent of the eagles admitted had measurable amounts of lead in their blood. Six had lead levels too high for the center's in-house lead analyzer to measure [...]

"When a harvested deer is 'field dressed' -- the practice of removing the internal organs from animals harvested for human consumption – the gut piles that are left behind on the ground can contain extremely small fragments of lead ammunition," The Wildlife Center said in a statement.
Now don't go blaming Ryan Zinke for this one, you damn liberals, because nothing in the NBC Washington story says whether the poisoned eagles encountered lead on federal or private land, so maybe those eagles were trespassing. The Wildlife Center and conservation groups have been urging hunters to switch to non-lead ammunition, but that's only because they're a bunch of crybaby snowflakes who think eagles matter more than the Second Amendment.
Yr Wonkette has so far been unable to confirm the rumor we just started that Secretary Zinke owns a stake in several manufacturers of lead ammunition.
Yr Wonkette is supported by reader donations. Please click here to send us money. No lead slugs of any kind, please.