Sarah Palin And Levi Johnston Now Hate Each Other Because Of Another Infant: "Tripp"
News
December 29, 2009 09:52 AM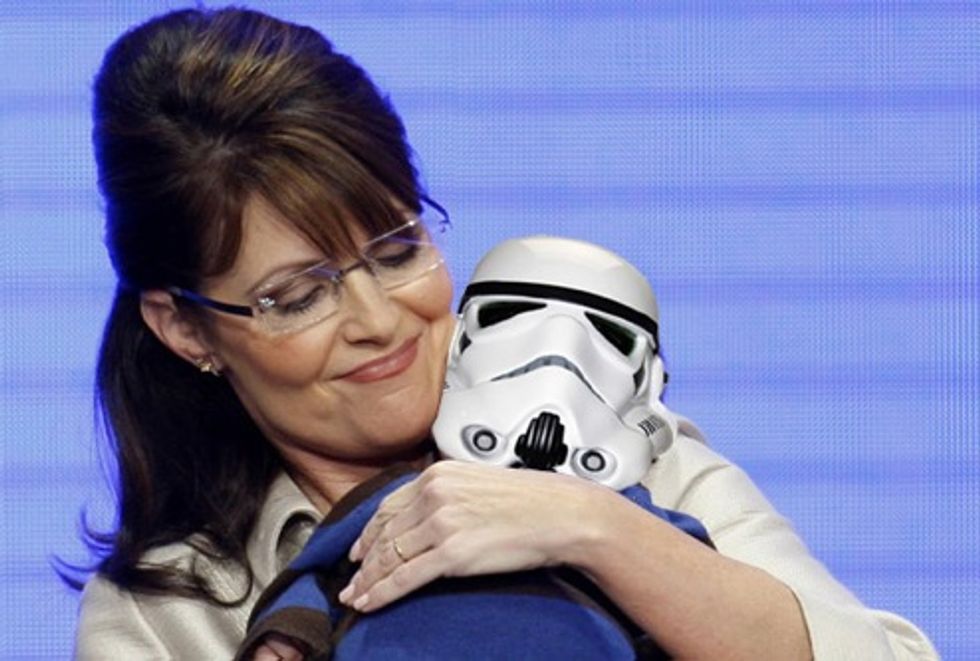 All feuds, legal andotherwise, between Sarah Palin and her teenage daughter's ex-boyfriend can be handily expressed in Mad Lib form: Sarah Palin and Levi Johnston ______ (synonym of "bickered pettily") about the treatment of ______ (member of Palin family under the age of 3), defenseless infant, in a very ______ (antonym of "private") fashion today in ______ ("Alaska"). This latest meta-entanglement, in which Sarah Palin and Levi Johnston took ad hominem digs at one another about the treatment of Tripp Palin, defenseless infant, in a very public fashion today in "Alaska," is no different!
---
See, there is nothing in the world that Levi Johnston would like more than for the custody battle over his kid to be as public as possible. Sarah Palin would like the opposite of this. How delicious!
On Nov. 4, [Bristol] Palin filed for sole custody of Tripp Johnston-Palin, the former couple's son, who celebrates his first birthday today. [Judge] Kristiansen initially issued temporary orders limiting access to the case file and allowing the parties to file under pseudonyms.

Johnston wasn't playing along, however. In an opposition to Palin's motion for a gag order, Johnston's attorney, Rex Butler, said: "Simply put, this matter is public in nature, the courts are not refuges for the scions of the elite to obtain private dispensation of their legal matters because the public at large has an interest in the proceedings."
"Rex Butler"! This is a very well-done Mad Lib.