Scalia & Thomas Have Anti-Obamacare Dinner (Kagan Should Recuse)
News
November 15, 2011 07:18 PM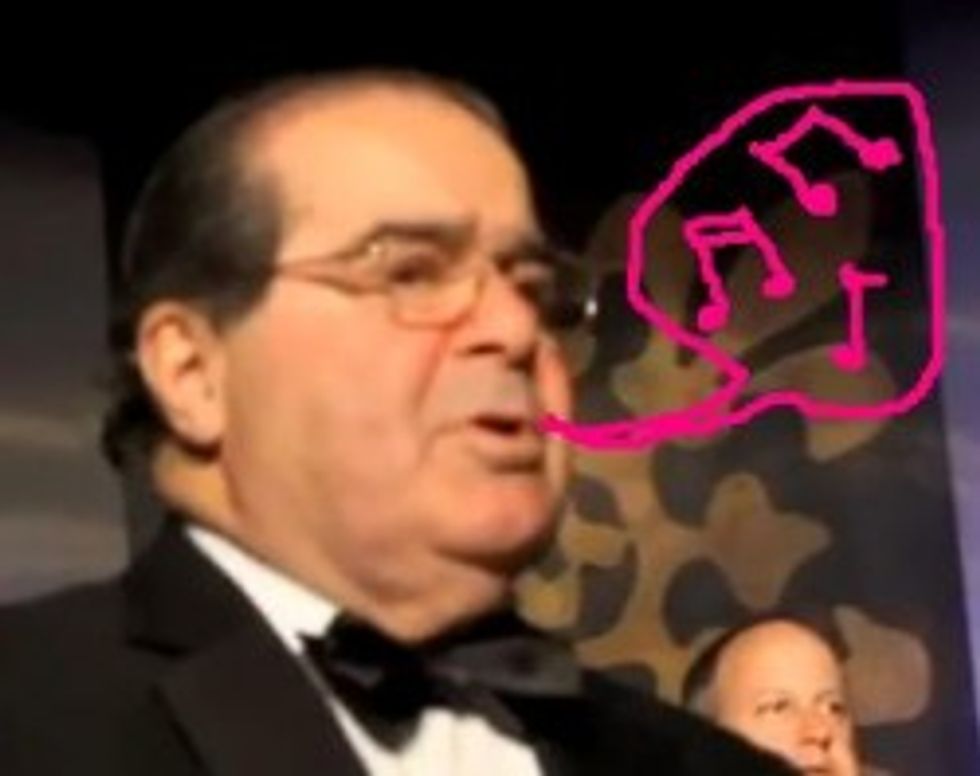 Notorious fringe-right "originalist" boobs Antonin Scalia and Clarence Thomas were so happy with the announcement that the Supreme Court will be hearing a challenge to the health care reform law that they celebrated immediately afterward by boozing it up with the legal team thatwill be arguing against the law. According to the Los Angeles Times, the Scalia/Thomas duo hit a Federalist Society dinner to pretend to listen to what other people think about the Obamacare law before they eventually and inevitably knock it down.
---
From the LA Times:
Clement's law firm, Bancroft PLLC, was one of almost two dozen firms that helped sponsor the annual dinner of the Federalist Society, a longstanding group dedicated to advocating conservative legal principles. Another firm that sponsored the dinner, Jones Day, represents one of the trade associations that challenged the law, the National Federation of Independent Business.

Another sponsor was pharmaceutical giant Pfizer Inc, which has an enormous financial stake in the outcome of the litigation. The dinner was held at a Washington hotel hours after the court's conference over the case. In attendance was, among others, Mitch McConnell, the Senate's top Republican and an avowed opponent of the healthcare law.

The featured guests at the dinner? Scalia and Thomas.
As an interesting side note, today, if you went to the Drudge Report, you'd see the screamer headline "JUDGE NOT: KAGAN CHEERED OBAMACARE PASSAGE." That link goes to a story about the nefarious emailing activities of now-Justice Elena Kagan, who, back when Obamacare passed, expressed a certain amount of excitement about it to a fellow Harvard Law elitist. Of course she wasn't even a justice then, and as far as we know Supreme Court justices are at least allowed to have opinions (right?), but all the same the wingnut blog post helpfully points out that "a Supreme Court justice must recuse from 'any proceeding in which his impartiality might reasonably be questioned.'"
The March 2010 email exchange between Kagan and Tribe raises new questions about whether Kagan must recuse herself from judging cases involving the health-care law that Obama signed – and which became the target of legal challenges – while Kagan was serving as Obama's solicitor general and was responsible for defending his administration's positions in court disputes.
So Kagan must obviously recuse herself, due to an email she sent before becoming a Supreme Court justice … but Scalia and his mini-me didn't show any sort of bias at all during their wonderfully timed wine-dine orgy with the anti-Obamacare plaintiffs' lawyers. [LAT]