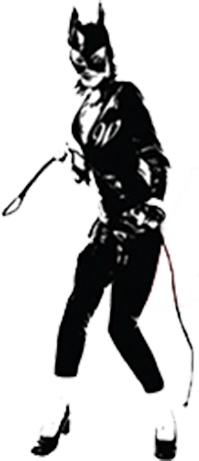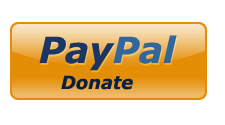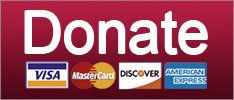 Environment
The kids are more than all right.
February 12, 2020 01:17 PM
British high school students would very much like to have a human-friendly planet when they're older, thank you very much. So instead of just waiting for Parliament to finally get funkadelic with teaching about climate in the nation's schools, they've produced their own bill that would mandate a climate education program and other steps to make sure their voices are included in UK climate policy. Seems a reasonable demand, since they and their kids will be living with the consequences of decisions being made right now.
The "Teach the Future" campaign was launched by 17-year-old Joe Brindle, who the Guardian reports "is preparing for his A-levels in Devizes, Wiltshire" — which we believe has something to do with graduating from wizarding school. Brindle's motivation is pretty straightforward: He says he's "angry about the injustice that is allowing the most vulnerable people in the world to suffer from the actions of the richest and most powerful."
Isn't that just typical of the selfishness of youth? Not a single bit of empathy for investors in fossil fuel companies.
Environment
It's not global warming, it's bad guys. Shoot the bad guys!
January 08, 2020 09:07 AM
The horrifying Australian wildfires have (finally) gotten worldwide attention, and vividly illustrate the environmental catastrophes that are becoming increasingly common with climate change. Hotter temperatures dry out ecosystems, resulting in more stuff that's likely to burn, leading to hotter, faster-spreading fires. And people fleeing their homes and tweeting photos of Martian-looking skies with the hashtag #apocalypse. Twenty-six people have died and Australia's rural firefighting force, largely made up of volunteers, is exhausted but still going, because what else are they going to do?
Or maybe it's all a HOAX! That's the conclusion of a whole bunch of rightwing assholes who have taken to Twitter to insist that the record wildfires are really evidence of a wave of arson. There's no actual wave of arson, but why bother with mere facts? Monday, police in New South Wales released statistics on arrests relating to the fire season, noting that 183 people are facing legal penalties for various infractions. Forty-seven were accused of "discarding a lighted cigarette or match," 53 for "failing to comply with a total fire ban," and 24 with setting fires deliberately. The Sydney Morning Herald notes that, of those arson cases, "None of those fires are threatening the South Coast," where the worst, headline-grabbing fires are. That would be zero.
Environment
Government says this is no time to talk about climate. Have some respect for all the koalas that died.
January 02, 2020 10:43 AM
Australia, as we mentioned New Year's Eve, is on fire. Wildfires have burned roughly 12 million acres in the country since September and killed at least 15 people; by comparison, the 2018 wildfires in California, which killed about 100, burned 1.9 million acres. Here's a map of current fires (within 72 hours) on the continent, via researchers at Western Australian universities: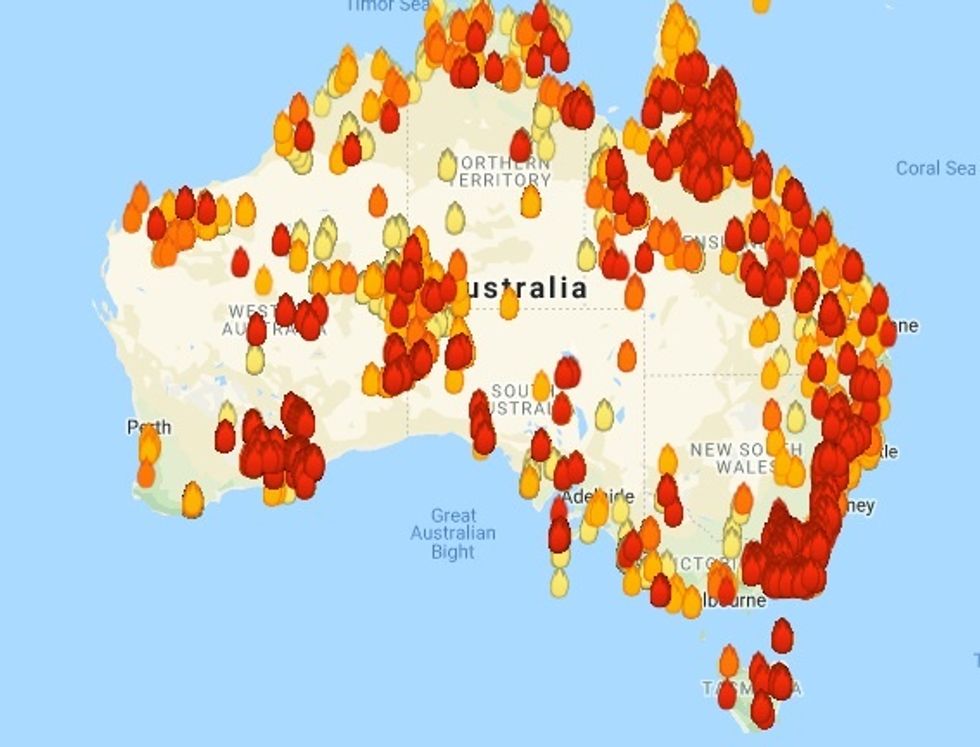 New South Wales has declared a week-long state of emergency, giving authorities greater powers to coordinate disaster and evacuation response, like closing roads and utilities.

Some of the numbers from Australia's bush fires are simply terrifying:
The blazes made breathing the air in Sydney as bad as smoking 37 cigarettes and have killed 480 million animals, environmental officials told the Times in the United Kingdom, including nearly one-third of the koalas in one of Australia's most populated koala habitats in an area 240 miles north of Sydney.
Half a billion animals. Sure, a lot of Australian wildlife wants to kill you, but that's still horrible. On Monday, a volunteer firefighter in New South Wales died when a 10-ton fire truck was knocked on its side by a fire tornado, a term we've learned here in the USA too.
Environment
Most of us. Just not the people in charge.
December 31, 2019 03:00 PM
Let's start with good news on climate: In poll after poll, large majorities of Americans say they agree climate is a major concern and that the government needs to do more to reduce carbon emissions. More than three-quarters of adults and teens agree that human activity is affecting the climate, and a majority think it's not too late to find solutions. Some people are shaky on the scientific details; a Washington Post/Kaiser Family Foundation poll earlier this month found that
43 percent of adults and 57 percent of teens cited "plastic bottles and bags" as a "major" contributor to climate change, which is incorrect. That response may echo a recent burst of news media attention to plastic pollution in the oceans.
But the main point is that big majorities know that burning fossil fuels is heating up the planet, so if some people drive less and recycle more plastic, that's not a terrible thing. How's this for encouraging? Among Republicans, a majority of millennials and Gen-Z young'uns want more government action on climate, too. Baby steps -- teach your parents well, young Rs.
Environment
Gosh who could have seen that coming how very surprising we are astonished.
December 26, 2019 01:30 PM
Last week, Donald Trump unleashed yet another unhinged lie-filled rant claiming wind turbines cause American Bird Carnage. As Wonkette's Liz Dye pointed out, nah, many times more birds are killed by buildings and domestic cats, though generally not at the same time. Then, on Christmas Eve, the New York Times ran a major story on a very real threat to far larger numbers of birds: the Trump administration's decision to gut the Migratory Bird Act in 2017, by changing how the law is enforced.
The report is based on a trove of government documents and emails about the new enforcement priority -- really a policy of nearly complete non-enforcement. The administration has effectively eliminated any penalties for companies that kill birds or destroy their habitats, and is now actively discouraging industry as well as state and local governments from taking actions to protect wild birds.
Wouldn't you know it, Trump's bitter tears about all the poor birds being murdered by wind energy aren't just fake; his own policies pose a far greater environmental risk. Isn't that a surprise.
Environment
Wooden shoe like to see other countries do that too?
December 24, 2019 11:58 AM
The Supreme Court of the Netherlands ruled on Friday that the country's government must sharply cut national carbon emissions by the end of 2020, the first time a nation's courts have demanded such specific action on climate. The ruling mandates a reduction in greenhouse gases to 25 percent of 1990 levels.
Because of climate change, "the lives, well being and living circumstances of many people around the world, including in the Netherlands, are being threatened," Kees Streefkerk, the chief justice, said in the decision. "Those consequences are happening already."
The Dutch government has already committed to cutting greenhouse gas emissions, though its environmental agency estimates the planned cuts would come to 19 to 25 percent of 1990 levels. Now the higher end of that target is the minimum that must be met. That could require the complete closure of coal-fired power plants, including some opened in the last decade. GOOD.
And here's an advantage that this and other lawsuits against European national governments have: The group that filed the lawsuit, the Urgenda Foundation, based some of its arguments in human rights laws. Pity the US no longer considers those relevant!
Journamalism
Vote for New Jersey vaccine law postponed at last minute.
December 17, 2019 02:39 PM
The New York Times, the paper of Robin Thicke records, won't stop with the "both sides" nonsense, even when one of the "sides" has measles. The New Jersey legislature tried to pass a law ending religious exemptions to vaccine requirements for students attending any public or private school and college. This seemed a good idea because schools are often buildings containing other people, many of whom don't want to catch infectious diseases. The bill was postponed, however, because legislators faced angry protestors shouting, "Don't touch my child!" To clarify, no one was going to touch anyone's child. That's creepy. The law would merely have prevented parents from unleashing an army of Typhoid Marys on New Jersey schools.
Here's how the Times summed up the debate in a tweet yesterday. It's screen-captured in case it's removed after Dean Baquet accidentally wanders into the Times offices.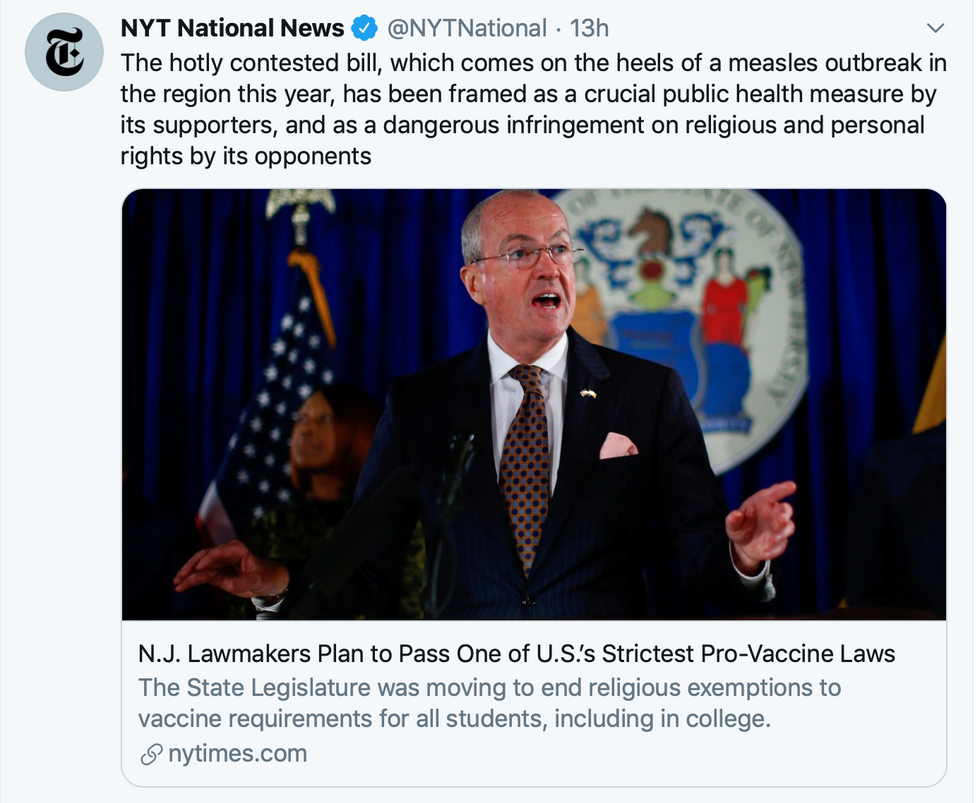 The New York Times
Science
They're not about to let Big Room Scheduling push them around.
December 13, 2019 11:48 AM
At the New Jersey statehouse Thursday, hundreds of angry anti-vaxxers packed into a hearing room to demand their voices be heard. It was the wrong hearing room, but they demanded to be heard anyway, because this is America.
The crowd wanted to express their opposition to a bill that would eliminate the state's religious exemption for vaccine requirements, but they somehow ended up in a room where a completely unrelated hearing for New Jersey Transit was scheduled. And no, they weren't going anywhere -- just like ambulances in Fort Lee.
Gosh, you mean to say that even when they were informed of the facts and advised that if they wanted to achieve their aims, they should literally change where they stood, they refused to listen? Seems like that's very on-brand. Good for them, refusing to be told how to live their lives by a bunch of so-called "experts" and "authorities."