Scott Brown Drives His Man-Truck To Victory In Massachusetts Or Whatever: Your Final Primary Wrap-Up!
News
September 10, 2014 11:36 AM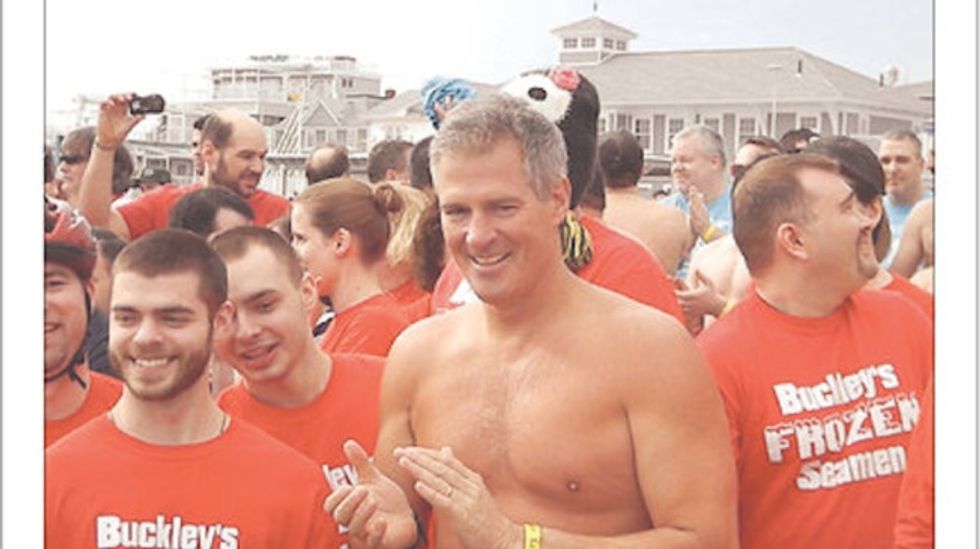 ---
The last primaries of 2014 took place last night, and there's a fun upset-not-upset in the mix! Up in the Commonwealth of Massachusetts (God Save It! © Charles P. Pierce), lantern-jawed newcomer Seth Moulton became the first Democrat in 22 years to unseat a sitting congressman in a primary, beating scandal-plagued John Tierney by eight whole points. Get us up to speed here, Boston Globe, because not all of us are hardy lobstermen living on Boston's North Shore.
Tierney, the veteran North Shore congressman, has been politically vulnerable since 2010 when his wife, Patrice, was convicted on federal tax charges in connection with her brothers' illegal offshore betting operation. But after twice prevailing against Republican challengers, he was felled in Tuesday's primary by a fellow Democrat who appealed to voters' frustration with intransigence in Washington and made a compelling case for change.
While rare, Tierney's loss is not a huge surprise, even in a one-party state like Massachusetts. In 2012, with an Obama-lovin' wind at his back, Tierney only managed to eke out a 1.1 percent victory. Add in the fact that Seth Moulton is a handsome, Harvard-educated Marine veteran whose wife wasn't convicted of tax fraud, and it becomes a little more obvious why Tierney lost. But Tierney didn't go down without a fight.
Tierney, 62, enlisted the backing of party leaders including Senator Elizabeth Warren and House minority leader Nancy Pelosi, who in recent weeks lent their heft to advertising, fund-raising, and get-out-the-vote efforts aimed at igniting the Democratic base.
Not our Lizzy Dubs! Argle bargle, 'Lizbeth, argle bargle we say!
Just north of the Tierney-Moulton fight, Scott Brown drove his man-truck to victory in the GOP primary in his adopted only-place-he's-ever-called-home state of New Hampshire. Brown is likely to get his pert, perky DILF butt handed to him by Jeanne Shaheen in the general, but that's boring and we need a narrative for this story ... need to find something that a non-specific "many" people were watching on primary night ... Hmm, Politico, can you help us out?
Brown, now running for Senate as a New Hampshirite, was expected to win the GOP nomination and did so handily. But many were waiting to see if Brown could break the 50 percent threshold at the end of the night, viewing it as a sign of his overall strength.

With 87.4 percent of precincts reporting, he had 49.5 percent of the votes, according to the AP.
Works for us! Sen. McDreamy (also © Charles P. Pierce) is now off and running in the general, where his campaign is expected to lean heavily on the ol' Misspelling Women Voters Names tactic.
Other elections! In Delaware, the GOP bench is lookin' mighty thin, since the guy who won last night is the same guy who lost by about a billion points two years ago.
Northern Delaware businessman Kevin Wade has won the state's Republican primary for U.S. Senate. [...] Wade is making his second Senate bid, having lost a 2012 race to incumbent Democrat Tom Carper, Delaware's senior senator, with 29 percent of the vote. [...] Wade, who didn't enter the race until early July, has raised only a few thousand dollars.
In the state of New York -- which we are reliably informed is really a state of mind -- Gov. Andrew Cuomo crushed the anti-corruption campaign of Fordham law professor Zephyr Teachout (real name, no gimmicks). Cuomo won with 62 percent of the vote, but Talking Points Memo thinks that's a "closer-than-expected margin," which it kinda-sorta is. Teachout got the coveted Jill Lepore bump, but it wasn't enough to take down an incumbent whose campaign big-timed Teachout from the start.
Cuomo didn't hold a victory party Tuesday, which was in keeping with his tactic of ignoring Teachout's candidacy throughout the primary. He did release a statement that congratulated his rival and her running mate, Tim Wu, for "engaging in the democratic process and having the courage to make their voices heard," according to the AP.
Andrew Cuomo would like to congratulate the ADORABLE campaign he demolished for "having the courage" to think it had a chance. What a cute little anti-corruption campaign you ran, says Andrew Cuomo! Now scurry back to your ivory tower, Professor Weak Challenger, because Andrew Cuomo has work to do, and those briefcases full of cash aren't going to collect themselves.
Rhode Island also had a primary last night, but it was teeny-tiny, and have you ever even been to Rhode Island? You have not, you liar.
[Boston Globe/ Politico/ WTXF/ TPM]
Follow Dan on Twitter.